NEW!

Corner & Top 10


Concert Calendar
& Mailbag


Comprehensive Index


New CD Reviews


Index to Artist Guides
NEW!


Best of 2022

The Original Chart (1990-2010)

21st Century Chart (2000-2020)
NEW!

The New Generation Chart (2010-2030)
Southern Soul CD's, MP3's


Best of Pages
About the Music
About Us
Links
Home

"Broke Down Man"
Tazz Calhoun
Composed by Tommy Tee
This isn't so much a nod to the artist
Tazz Calhoun as it is a tribute to the song, "Ain't Gonna Bump No More (With A Big Fat Woman)," originally done by Joe Tex.

Three years ago--2008--marked the appearance on the chitlin' circuit of yet another wildly likable version of the "Ain't Gonna Bump" classic, this time called "I Wanna Bump" by new Southern Soul artist John Haley.

By your Daddy B. Nice's count, that made a total of at least three popular versions of the Joe Tex classic to be recorded in the last five years, making "Ain't Gonna Bump" one of the key classics in the contemporary Southern Soul canon.

Here's the list of songs that picnic on the novelty-song lyrics and delectable, mid-tempo melody of "Bump," a tempo--it would only be fair to mention--that James Payne achieved by slowing down the disco-oriented Tex original, and that Tazz maintained by following that deeper Southern Soul groove.

See "Ain't Gonna Bump No More (With No Big Fat Woman)" by Joe Tex
(the original).

Listen to "Fat Woman (Ain't Gonna Bump No More) by James Payne (the rocking Southern Soul version that brought the song back to the contemporary chitlin' circuit).

Then listen to Tazz Calhoun's rocking answer-song to James Payne's "Fat Woman"--the female response.

Listen to Tazz singing "(Ain't Gonna Bump With No) Broke Down Man" on YouTube.

"Now Joe Tex and James Payne,
You all started this mess.
Now it's my time to clown.
Yes, I knocked you down."

And finally, in 2008, "Bump" re-emerged with its melody intact, including a fine, seductive female back-up:

"I Wanna Bump (With Somebody's Woman)" by John Haley

Note that Tazz's (Theresa Calhoun's) "Broke Down Man" from the It's All Good CD (Mardi Gras 2005) was out of print for a time, with a few used copies obtainable for around $9-$18.

(Note also that a used copy of Joe Tex's "Greatest Hits" was selling for more than $300!)

Now Mardi Gras Records appears to have reissued the CD or found some remainders on the back shelves that survived Katrina, because Daddy B. Nice's affiliate now has new copies available.

Sample or Buy It's All Good CD.

Unfortunately, MP3's aren't available. Both "Broke Down Man" and "Stroke It Easy" are on YouTube, however.

Listen to Tazz singing "(Ain't Gonna Bump With No) Broke Down Man" on YouTube.

****************

"Stroke It Easy" is one of those rough and raggedy chitlin' circuit anthems that are all the more remarkable for being written and executed with no pretensions.

Listen to Tazz singing "Stroke It Easy" on YouTube.

Tazz sings the bare-bones lyrics with a straight-ahead, barn-burning delivery. The simplicity of her plain but sturdy vocal technique and the low-budget, programed arrangement lend "Stroke It Easy" an appeal to rural and small-town Southern audiences for the very reason the song wouldn't appeal to urban audiences raised on the histrionic techniques popularized by such shows as "American Idol."

Message, not technique, is at the core of its popularity.

Over the years, your Daddy B. Nice has often wondered why no other CD's from Tazz, nor even any other songs from her only CD, It's All Good, ever made an appearance on the radio.

I never knew until I listened to some of the sound samples from the album in doing research for this Artist Guide that Tazz hadn't settled on the Southern Soul style, even within the framework of her single album.

Ironically, for a performer seemingly born to sing in the Southern Soul style, at least half of the songs on It's All Good are in the urban R&B mold of Whitney Houston, Mariah Carey and the like.

None of these songs, of course, ever saw the light of day on chitlin' circuit radio, and in fact, songs like "Lonely Night," "Nearer" and "Way You Do Me" feature an unrecognizable Tazz--a cabaret singer versed in jazz techniques--a totally different artist.

"Give Me The Nasty" is a blend of funk and hiphop. Only one other song, "You Made Your Bed Hard," is a true Southern Soul-based tune.

In the end, the CD is sabotaged by its lack of focus. Tazz isn't sure what kind of singer she is, or wants to be. Remarkably, her extraordinary talent for Southern Soul is squandered by her own lack of belief in her ability to be a meaningful contributor to the genre.

But the two spectacular down-home songs from the CD, "Broke Down Man" and "Stroke It Easy," are undeniable keepers--fine examples of the bad-mamma-jamma style of legendary genre artists like Denise LaSalle and Barbara Carr.


About Artist:

Theresa (Tazz) Calhoun's only CD, It's All Good, (Mardi Gras Records) arrived in 2005.

The two singles from the album, "Stroke It Easy" and "Broke Down Man," became extremely popular on the Stations of the Deep South that year, and continue to grace Southern Soul deejays' rotations to this day.

The Southern Soul Now! CD
(Mardis Gras, 2006) compilation includes Tazz's "Stroke It Easy."

--Daddy B. Nice
Song's Transcendent Moment
"Well girls, I don't know about you,
But I just about had it
With the 'Big Fat Woman' song.

First of all,
You came over here
And asked me to dance
In your high-water, bell-bottom pants. . .

I ain't gonna bump no more
With no broke-down man.
I ain't gonna bump no more
With no broke-down man.

Saddest thing that I've ever seen,
It ain't my fault that he can't handle me."
Tidbits
1.

July 2, 2011:

See Daddy B. Nice's Artist Guide to James Payne to read more about the Joe Tex original--"Ain't Gonna Bump No More With No Big Fat Woman"--and the James Payne cover that captivated the Southern Soul audience and inspired Tazz's "response."



If You Liked. . . You'll Love
If you liked An-Jay's "She's Got The License (I've Got The Man)" or Queen Isabella's "I Hear You Knocking (But You Can't Come In)," you'll love Tazz's "(Ain't Gonna Bump With No) Broke Down Man."


EDITOR'S NOTE

Over the last year I've been dropping hints to the younger musicians.

"Be watching because there's going to be something coming on the site that'll be a real blessing for the younger people."

And I've also been telling a lot of deserving new artists to bide their time, that their day to be featured in a Daddy B. Nice Artist Guide was coming, and long overdue.

Now, at last, the day has come.

The great Southern Soul stars are mostly gone. There's a new generation clamoring to be heard.

Rather than waiting years to go online as I did with the original Top 100, this chart will be a work-in-progress.

Each month five new and never-before-featured artists will be showcased, starting at #100 and counting down to #1.

I estimate 50-75 new Artist Guides will be created by the time I finish. The other 25-50 Guides will feature artists from the old chart who are holding their own or scaling the peaks in the 21st Century.

Absent will be the masters who have wandered off to Soul Heaven. And missing will be the older artists who for one reason or another have slowed down, become inactive or left the scene.

The older generation's contributions to Southern Soul music, however, will not be forgotten.

That is why it was so important to your Daddy B. Nice to maintain the integrity of the original Top 100 and not continue updating it indefinitely.

(Daddy B. Nice's original Top 100 Southern Soul covered the period from 1990-2010. Daddy B. Nice's new 21st Century Southern Soul will cover the period from 2000-2020.)

When I constructed the first chart, I wanted to preserve a piece of musical history. I heard a cultural phenomenon I was afraid might be lost forever unless I wrote about it.

There will be no more changes to the original chart. Those performers' place in Southern Soul music will stand.

But I see a new scene today, a scene just as starved for publicity and definition, a scene missing only a mirror to reflect back its reality.

The prospect of a grueling schedule of five new artist pages a month will be daunting, and I hope readers will bear with me as I gradually fill out what may seem at first inadequate Artist Guides.

Information from readers will always be welcome. That's how I learn. That's how I add to the data.

I'm excited to get started. I have been thinking about this for a long time. I've already done the bulk of the drawings.

In a funny way, the most rewarding thing has been getting back to doing the drawings, and imagining what recording artists are going to feel like when they see their mugs in a black and white cartoon. Hopefully----high! An artist hasn't really "made it" until he or she's been caricatured by Daddy B. Nice.

In the beginning months, the suspense will be in what new stars make the chart. In the final months, the suspense will be in who amongst the big dogs and the new stars is in the top twenty, the top ten, and finally. . . the top spot.

I'm not tellin'.

Not yet.

--Daddy B. Nice

Go to Top 100 Countdown: 21st Century Southern Soul

Honorary "B" Side
"Stroke It Easy"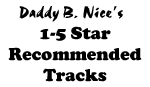 Broke Down Man


CD: It's All Good
Label: Mardi Gras


Sample or Buy
It's All Good




Stroke It Easy


CD: It's All Good
Label: Mardi Gras


Sample or Buy
It's All Good




You Made Your Bed Hard


CD: It's All Good
Label: Mardi Gras