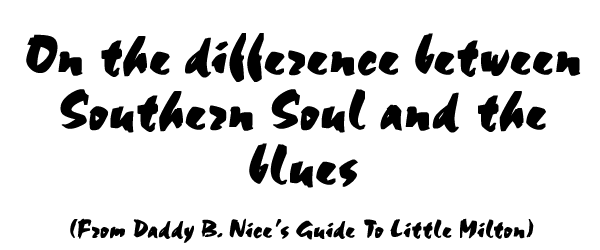 One of the hardest things for a newcomer to get a handle on is the relationship of Southern Soul-style rhythm and blues to traditional blues. In my meanderings around the Delta through the years, I've come to the conclusion that every radio station and every deejay has a distinctive approach. All Southern disc jockeys, however, would agree that Southern Soul does refer to a genre distinct from straight-ahead blues. Southern Soul descends from the classic R&B of the sixties (which, in addition to Motown, Philly, Memphis, and Chicago-style rhythm and blues includes rock, country, pop, and many other influences) while the "blues," of course, traces its roots through a decidedly narrower lineage of blues musicians.
The frustration of those of us who are spreading the gospel of the "new" rhythm and blues stems from the fact that the marketplace as reflected in "Billboard's" blues charts reflects only traditional blues. It's not the fault of the charts. Traditional blues is the only music the majority of the music-buying public associates with the genre, or even knows exists.
Naturally, this engenders a "circle-the-wagons" mentality on the part of Deep South deejays and station managers. They're naturally protective of the emerging Southern Soul scene, and they understand that frequent radio airplay is the "nourishment"—the photosynthesis, if you will--the emerging genre needs to grow. When your Daddy B. Nice drives north to Memphis or west to New Orleans from the epi-center of the music in central Mississippi, he always does so with a certain regret because he knows that the magical and still-fragile world of Southern Soul will begin to dissolve on his radio air waves, and that the more traditional blues legacies of Memphis and New Orleans will begin to take over—take over, at least, any "alternative" spot not already monopolized by commercial R&B.
But Southern Soul deejays do insert straight-ahead blues into their rotations. Some, like DJ Outlaw of Jackson's WMPR, emphasize it. After all, who knows better than black deejays the significance of the blues?
So you'll hear O.V. Wright's "A Nickel And A Nail." You'll hear B.B. King's "I Paid The Cost To Be The Boss." King, by the way, still comes back to his hometown, Indianola, Mississippi, for a celebration that annually embraces the current headliners of Southern Soul.