NEW!

Corner & Top 10


Concert Calendar
& Mailbag


Comprehensive Index


New CD Reviews


Index to Artist Guides
NEW!


Best of 2022

The Original Chart (1990-2010)

21st Century Chart (2000-2020)
NEW!

The New Generation Chart (2010-2030)
Southern Soul CD's, MP3's


Best of Pages
About the Music
About Us
Links
Home

"Good Loving Woman"
Sergio Davis
Composed by Sergio Davis & Keith Pledger
Sergio Davis reminds me of the late Reggie P. in his younger days: an oversized talent without the benefit of a lot of the career planning and marketing wherewithal that help a career get off the ground, and--also--a young musician who for all his giftedness may not always make the best decisions or be the best judge of his own work.

As a result, Sergio Davis is little known and scantily distributed beyond his Mobile, Alabama base--the tip where southern Alabama, southern Mississippi and southern Louisiana meet, as if for a neighborly confab.

Davis has a rich voice and on "Good Loving Woman" he comes into his own: a get-her-into-bed ballad that transcends its familiar material through the sheer magnetism of Sergio's vocal, the fine saxophone accompaniment which carries the melody, and the inspired keyboard riffs--synth'ed horns--which incongruously but happily support the live sax.

The three elements mesh with amazing ease, although the synthetic brass may cause pause at first to fans not used to the programming ubiquitous in Southern Soul. Eventually, though, the somewhat bizarre contrast of the full-bodied "live" sax and the programmed horns dissolves, and the listener is left with the beauty at the core of the melody and the quality of Sergio Davis' top-notch delivery.

Listen to a sample or buy an MP3 of Sergio Davis' "Good Loving Woman" while you read on. . .

There's not a reason in the world "Good Loving Woman" couldn't be a mainstream hit ballad in any decade, including this one, other than that the song has only been heard and will only be heard in this tiny, musically-rich region of the country, the Delta, a region--unfortunately--that most Americans think of only in the past tense, aka "the blues."

It's the public's loss, and if history is any indicator they will come around, but only eventually, or when Sergio is too old to do much about it. That's the way its always been, and probably always will be.

What Sergio may need more than anything is the will to go forward, and fan interest is what whets that artistic flame. If so, he has your Daddy B. Nice's attention.

With one album to his credit, Sergio Davis has put out a couple of new singles over the last few years, like "feelers" building towards a new CD, and "Something, Something," with a creative bass line and a fuzzy-toned rhythm-keyboard hook, is another good one. There's a Stevie Wonder influence, both in the syncopated "jump" of the beat and the fresh, sophisticated arrangement.

Like "Somethin' Somethin'," the majority of Sergio Davis' songs are party tunes, straight up for an audience on a party night--"I Came To Party," "Start It Up," "Weekend" and the like--and Davis brings a special vocal flavor to most of them.

"Good Thang Gone Bad," a catchy, ambling mid-tempo romp, is the best of the Sergio Davis club jams. The artist sings over a rocking mid-tempo beat punctuated with hand claps, providing ample proof Davis is already an accomplished and seasoned singer on his first and so far only CD.

"I Came To Party," another uptempo track, was quite popular in the Deep South back in the day, in particular 2005 through 2006, when the songs first appeared on the Start It Up CD.

Listen to Sergio Davis singing "I Came To Party" Live on YouTube.

But "Good Loving Woman," Sergio's signature ballad, rises above them, a happy accident or a perfect storm. It occupies a realm of Southern Soul heaven far above the rest of Davis' work, carrying on the tradition of such classics of the genre as Ernie Johnson's "I'd Rather Share You With Someone Else" and Glenn Jones' "Baby, Come Home."

Watch for Sergio Davis' new single, "Let's Go," on Daddy B. Nice's Top Ten "Breaking" Southern Soul Singles for August 2011
--Daddy B. Nice
About Sergio Davis
A native of Mobile, Alabama, Reginald "Sergio" Davis benefited from the influence of a gospel-singing family--the Davis Family--and a jazz/R&B-singing mother. After high school Davis formed a decade-plus musical partnership--Mix Match--with friend Keith Burns, and in 1997 he was hired as a writer/producer by Morris Day of The Time.

In 2005 Davis released his first and only solo album, Start It Up, on the Lyric label. The CD spawned a number of popular Southern Soul radio singles: "Good Loving Woman," "Good Thang Gone Bad," "Start It Up" and "I Came To Party."

Multi-instrumentalist Davis performed all parts on all of the tracks with the exception of the saxophone solo on "Good Loving Woman" (by Mario Parrish) and keyboard/guitar parts (by Mark Smith). Co-producer and co-writer Keith Pledger also shared background vocals with Davis.
Song's Transcendent Moment
"Let's turn the lights down low.
I've got something I want to show you.
I want to give you my love
Because you know you deserve the best of me.

I want to share with you everything
Because you know I'll treat you right
And I don't want you to say no, girl.
I hope you'll be with me tonight
I'm going to love you right.

Because you're my good-loving woman.
Your love is good.
Good-loving woman."



Tidbits
1.

July 22, 2011.

Watch Sergio Davis singing Live on YouTube.

Listen to Sergio Davis singing "I Came To Party" Live on YouTube.

Listen to Sergio Davis singing "Let's Do It Again" Live on YouTube (2010).

If You Liked. . . You'll Love
If you liked Glenn Jones' "Baby Come Home," you'll love Sergio Davis' "Good Loving Woman."


EDITOR'S NOTE

Over the last year I've been dropping hints to the younger musicians.

"Be watching because there's going to be something coming on the site that'll be a real blessing for the younger people."

And I've also been telling a lot of deserving new artists to bide their time, that their day to be featured in a Daddy B. Nice Artist Guide was coming, and long overdue.

Now, at last, the day has come.

The great Southern Soul stars are mostly gone. There's a new generation clamoring to be heard.

Rather than waiting years to go online as I did with the original Top 100, this chart will be a work-in-progress.

Each month five new and never-before-featured artists will be showcased, starting at #100 and counting down to #1.

I estimate 50-75 new Artist Guides will be created by the time I finish. The other 25-50 Guides will feature artists from the old chart who are holding their own or scaling the peaks in the 21st Century.

Absent will be the masters who have wandered off to Soul Heaven. And missing will be the older artists who for one reason or another have slowed down, become inactive or left the scene.

The older generation's contributions to Southern Soul music, however, will not be forgotten.

That is why it was so important to your Daddy B. Nice to maintain the integrity of the original Top 100 and not continue updating it indefinitely.

(Daddy B. Nice's original Top 100 Southern Soul covered the period from 1990-2010. Daddy B. Nice's new 21st Century Southern Soul will cover the period from 2000-2020.)

When I constructed the first chart, I wanted to preserve a piece of musical history. I heard a cultural phenomenon I was afraid might be lost forever unless I wrote about it.

There will be no more changes to the original chart. Those performers' place in Southern Soul music will stand.

But I see a new scene today, a scene just as starved for publicity and definition, a scene missing only a mirror to reflect back its reality.

The prospect of a grueling schedule of five new artist pages a month will be daunting, and I hope readers will bear with me as I gradually fill out what may seem at first inadequate Artist Guides.

Information from readers will always be welcome. That's how I learn. That's how I add to the data.

I'm excited to get started. I have been thinking about this for a long time. I've already done the bulk of the drawings.

In a funny way, the most rewarding thing has been getting back to doing the drawings, and imagining what recording artists are going to feel like when they see their mugs in a black and white cartoon. Hopefully----high! An artist hasn't really "made it" until he or she's been caricatured by Daddy B. Nice.

In the beginning months, the suspense will be in what new stars make the chart. In the final months, the suspense will be in who amongst the big dogs and the new stars is in the top twenty, the top ten, and finally. . . the top spot.

I'm not tellin'.

Not yet.

--Daddy B. Nice

Go to Top 100 Countdown: 21st Century Southern Soul

Honorary "B" Side
"Somethin' Somethin'"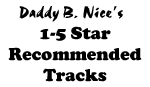 Good Loving Woman


CD: Start It Up
Label: Lyric






I Came To Party


CD: Start It Up
Label: Lyric






Start It Up


CD: Start It Up






Anytime, Anyplace


CD: Start It Up