NEW!

Corner & Top 10


Concert Calendar
& Mailbag


Comprehensive Index


New CD Reviews


Index to Artist Guides
NEW!


Best of 2022

The Original Chart (1990-2010)

21st Century Chart (2000-2020)
NEW!

The New Generation Chart (2010-2030)
Southern Soul CD's, MP3's


Best of Pages
About the Music
About Us
Links
Home

"Dog Kinda Love"
Dicky Williams
Composed by Ken Massey & Dicky Williams
Practically everything I know about Dicky Williams I owe to my longtime colleague in the Southern Soul field, Blues Critic (Dylann DeAnna). Years ago, Blues Critic was in my ear about this phenomenal, underground, hard-luck, X-rated blues musician.

I had never heard of Dicky Williams, so Blues Critic started feeding me some pretty far-out music. Williams was a "screamer," and his lyrics were fearless and often explicit.

Years passed, and Dylann DeAnna branched out into the music business. One of the first albums his new label, CDS, released was I'm Back Again, a new album by Dicky Williams.

Blues Critic had remained true to his passion. I'm Back Again, with the well-conceived addition of the Ken Massey Group, jump-started Dicky Williams' career, gave him a semblance of legitimacy he hadn't enjoyed since the nineties with Ichiban and Ace, and--above all--introduced him to a larger audience.

"Dog Kinda Love," the centerpiece of the album, is far and away Williams' most successful and accessible tune. The heart of the song is as mellow a hook as you'll hear, and yet Dicky wrenches unbelievable contortions upon it, like a nineteeth century blacksmith pounding on an anvil.

Ken Massey's easy-going electric lead guitar wends its way through Dicky's wild stanzas like a friend and faithful, steadying influence. One can easily see how the combination of black-street-cred' (Williams) and white-blues-guitar (Massey) would appeal to fans of Eric Clapton and the like.

Tellingly, I've never heard Dicky Williams played on a chitlin' circuit, "land-line," non-Internet Southern Soul station, which makes him more of a traditional blues artist, I suppose, than a true Southern Soul star.

On the other hand, "Dog Kinda Love" and the majority of Dicky Williams' songs aren't typical blues. They stretch into popular music in just the way all Southern Soul songs do--musically and lyrically. Moreover, the emphasis is always on the singer, not the guitar: just the reverse of most contemporary blues, i.e. B. B. King and Buddy Guy.

"You need a dog kinda love.
One that won't turn you down.
Dog kinda love.
The best thing you ever found.

Dog kinda love,
Always faithful and true.
Dog kinda love,
Never turn his back on you."

Ken Massey's guitar riff perfectly complements Williams' wailing, upper-register style. While Dicky sings as if someone's pinching his essentials with a pliers, Massey cooly riffs away, as if floating by on a cloud. Only once, on the long solo that closes out "Dog Kinda Love," does Massey let it all out Hendrix-style. But it's the give-and-take, Williams-in-your-face vs. Massey-subtle contrast of styles that makes the song a classic.

Dicky Williams' "Dog Kinda Love" was included on the sampler Slammin Southern Soul: Remixes And Dance Jams in addition to the I'm Back Again CD. The tune was also remixed by Simeo and released as a subsequent single.

Williams' catalog, which he's reported numbers hundreds of songs, is full of overlapping and recycled tunes in the inevitable manner and storied tradition of long-seasoned, long-underground musicians such as Roy C.

"Everything Is Everything," first recorded on the Full Grown Man CD, is the source from which Williams recycled "Sugar Daddy's Back." on the I'm Back Again CD.

Sugar Daddy's Back" is as charismatic as "Dog Kinda Love" both in tempo and melody and boasts an even finer female background and chorus. Alyssa Massey contributes backing vocals on "Dog Kinda Love," while Drea Lynn, in a more expanded role--both vocals and dialogue--does the honors on "Sugar Daddy's Back."

"I wanna come back!" she barks (no pun intended) at Dicky.

"I took care of you and your five kids
For twenty long years--"

Williams snarls back (and not addressing, you'll notice, who fathered them, although he does address the DNA issue later in the song)), but abruptly Dicky turns and purrs lke a pussy cat--

"As soon as I get back
I'm gonna buy you a brand new Cadillac,

'Cause I love the way you love me,
When you lay me on my back."

Williams' many songs are liberally populated with pimps, whores and hustlers, and even his wry and sometimes gruesome accounts of domestic life--such as "Sugar Daddy's Back"--are colored by his street-wise perspective.

"And while I was paying your bills,
You let another man come here and live."

--Dicky reminds the errant woman in "Sugar Daddy's Back."

"They say your new car is breaking down.
You had to thumb a ride from strangers
Just to get to town.

I'm sorry to hear that, babe,
About your flat feet being on the ground.

But your Sugar Daddy
Is gonna put an end to that."

Of all the "sugar daddy" songs the chitlin' circuit has produced over the last twenty years, Dicky Williams' "Sugar Daddy's Back" may provide the most vivid picture of what a "sugar daddy" really is. Dicky Williams' Sugar Dadddy's got pride and insecurity, commitment and flakiness, hope and resentment--all going on at once and evident in the space of four minutes.

Only some kind of genius can communicate such pure and complicated emotions, and the fact that Dicky Williams does it with such rawness is his simultaneous talent and curse. You either embrace the sweaty carnality of the Williams universe or you don't.

For those of us who do, the issue is Willams' consistency. With a talent this monstrous, it's a shame the music of Dicky Williams couldn't have been channeled to more effect over the years, just as it's a shame the existing work hasn't found an audience. The material deserves an audience, and if it doesn't come from today's fans, it will certainly find a last refuge with the collectors.


About Artist

North Carolinan Dicky Williams's tenuous musical career began with "Tee Na Na" (1960) one of many nonsense-syllable, novelty singles popular in the late fifties and early sixties, but other than a few random singles in the Otis Redding/Stax vein or Chuck and Chick Willis style, Williams could not produce a debut album until a generation later with 1984's Triple Dyn-o-mite.

Red Negligee, White Whiskey & Blue Lights, Williams' second album, did not appear until another half-dozen, troublingly unproductive years had passed. The title tune was a powerful, country-influenced R&B hybrid, but the centerpiece of the collection was a song that would become Williams' signature tune, an Otis Redding-like piece of Southern Soul titled "In The Same Motel" ("I was in Room 103/ She was in Room 104") that actually foreshadowed Z. Z. Hill's "Cheating In The Next Room" (1987) and similar chitlin' circuit motel-themed classics of the late eighties and nineties.

The most fruitful period in Williams' career followed: three consecutive albums released on the small but respected R&B Indie label out of Atlanta, Ichiban Records, in the late 80's and early 90's: In Your Face (1989), I Want You For Breakfast (1991) and Full Grown Man (1995).

These obscure sets solidified Dicky Williams' underground reputation for bawdy and explicit material and put Dicky Williams in the company of many of the pioneers of contemporary Southern Soul, featuring such worthy examples of the genre as: "Come Back Pussy," "I Want You For Breakfast," "Everything Is Everything," "Beer Drinking Man" and "President Of The Blues."

In the late 90's, the Ichiban Records company failed, filing bankruptcy and leaving the artists without royalties for their work. (Ichiban was resurrected later as a hiphop label.)

Like many of that era's Southern Soul artists, Williams' career again fell on hard times. Over the next decade, while Southern Soul was beginning to flourish at Malaco, Ecko, and other indie Southern Soul labels, Williams' output languished.

Two obscure and scantily distributed collections followed over the next decade until, at last, the indie Southern Soul label CDS signed Williams to a contract and released I'm Back Again (2007). The album featured a collaboration with the blues/jazz guitarist Ken Massey and spawned a popular single, "Dog Kinda Love."

Most recently, with producer Jerry Teel, Williams released a "country-gospel" album (Unity Deep, 2011).

Dickie Williams Discography:

Triple Dyn-O-Mite (Backfire, 1978)

Red Negligee, White Whiskey & Blue Lights (Backfire, 1986)

In Your Face (Ichiban, 1989)

I Want You For Breakfast (Ichiban, 1991)

Full Grown Man (Ichiban, 1995)

Where Would I Be Without My Woman (Bald Eagle, 1996)

Did The Dog Get It All (Blues Recount, 2003)

I'm Back Again (CDS, 2007)

Hell's Gonna Be Crowded (Unity Deep Productions, 2011)

--Daddy B. Nice
Song's Transcendent Moment
"If you're blind
He will lead you.
If you're hungry
I know he'll feed you."
Tidbits
1.

August 7, 2011:

Listen to Dicky Williams singing "Dog Kinda Love" on YouTube.

Listen to Dicky Williams singing "Come Back Pussy" on YouTube

Listen to Dicky Williams singing "In The Same Motel" on YouTube.

If You Liked. . . You'll Love
If you liked Willie Clayton's "Wiggle (In The Middle)," you'll love Dicky Williams' "Dog Kinda Love."
Honorary "B" Side
"Sugar Daddy's Back"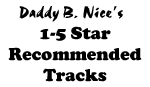 Dog Kinda Love


CD: I'm Back Again
Label: CDS






Sugar Daddy's Back


CD: I'm Back Again
Label: CDS






Everything Is Everything


CD: Full Grown Man
Label: Ichiban






In The Same Motel


CD: In Your Face
Label: Ichiban


Sample or Buy
In Your Face




Love And Sex Is Not The Same


CD: I'm Back Again
Label: CDS






No Other Man's Hands


CD: Southern Soul And Party Blues, Vol. 1
Label: CDS






Beer Drinking Man


CD: Full Grown Man
Label: Ichiban






Did The Dog Get It All


CD: I'm Back Again
Label: CDS






Loving One Woman At A Time


CD: I'm Back Again
Label: CDS






Come Back Pussy


CD: In Your Face
Label: Ichiban


Sample or Buy
In Your Face




President Of The Blues


CD: Full Grown Man
Label: Ichiban