NEW!

Corner & Top 10


Concert Calendar
& Mailbag


Comprehensive Index


New CD Reviews


Index to Artist Guides
NEW!


Best of 2022

The Original Chart (1990-2010)

21st Century Chart (2000-2020)
NEW!

The New Generation Chart (2010-2030)
Southern Soul CD's, MP3's


Best of Pages
About the Music
About Us
Links
Home

"Yo Dress Is Too Short"
Bob Steele
Composed by Bob Steele
Life With Women by Bob Steele is one of the great one-time CD's in contemporary Southern Soul. Great hooks. Real instruments. Great songs. What's not to like?

Steele is an accomplished singer and I'll pay him the highest compliment: his voice--a saloon-tinged tenor with a touch of country--is almost invisible, so good are his vocal performances, so at one with the material. You think about the song, not the singer.

And "Yo Dress Is Too Short," the signature tune at the heart of the album, is destined for the top shelf of Southern Soul singles along side the music of such brilliant but shortened-career stars as Eddie Holloway, Maurice Wynn and Jesse Graham.

Listen to Bob Steele singing Yo Dress Is Too Short" on YouTube while you read.

The inspiration for "Yo Dress Is Too Short" came from Syl Johnson's Willie-Mitchell-produced "Dresses Too Short," written by Syl and C. Smith and recorded in Memphis.

Steele didn't copy the song. He took a part of it--the "dresses too short" phrase--coupled it with a few bars of preamble ("Hey baby"), saddled it to a freight-train-like rhythm section and stoking, rock-blues guitar, addressing the woman directly in the first person.

"Hey baby,
Don't you think your dress is too short?

Hey baby,
Don't you think your dress is too short?

All the things in your closet,
You put on something I never bought."

I've had a lot of personal history with this kind of woman--I imagine many men have--and we owe a great debt to Bob Steele for memorializing the feminine phenomenon.

"You keep telling me
That everything is okay.
Don't watch what they do,
Don't hear what they say."

This is exactly what my woman used to tell me after she'd go behind the bushes to pee in public places. In fact, it may be one of the few under-told stories in contemporary relationships. On the one hand, you have the possessive man--is there any other kind? He finally hooks up with the extroverted lady who makes everybody's head turn like a bobble-head doll. What a triumph!

But now he's "got" her, what's he gonna do?

In the privacy of the house, things couldn't be better, but out in the street and down at the mall the mighty dub conquerer has to put up with the aroused looks, hands and hormones of every Tom, Dick and Harry, friend or enemy.

What a responsibility! What a grump it can make of a man!

And in the club? Oh my--don't even go there.

"Now when we go dancing
The fellas go wild.
I don't mind you dancing,
But I don't like your style.

When you bend over
With your head between your legs,
I can't imagine
What's being said.

Hey, baby,
Don't you think your dress is too short?"

"Yo Dress Is Too Short" is one of those rare songs that actually fills a relatively unoccupied niche in the detritus of millions of popular songs recorded in the last fifty years. It would be a valuable addition to rhythm and blues even if it were just a solid outing, but it is much more, primarily because its poker-faced wit instantly connects with any man who hears it.

The same subtle humor is embedded in the album's title, Life With Women.

Women read magazines and talk to each other, neither of which men much do.

Men need a manual for living with women. But--hey--men hate reading manuals.

Men, Life With Women fills the bill in an entertaining way.

And "Yo Dress Is Too Short" isn't the only good cut. At least three other songs--"Girl's Got It Going On," "Tell The Truth" and "It Must Be Jelly,"all solid singles--garnered more than their fair share of air play back in 2004 and 2005, when the LIFE WITH WOMEN album broke.

Listen to Bob Steele singing "Girl's Got It Going On" LIVE in a park with dressed-up jitterbugging grown folks on YouTube. (Scroll down to "Tidbits" section for various other YouTube links.)

The overlooked gem of the album is "Across The River (I Took A Ride On The Other Side)," which is a sort of super-charged, Southern Soul "Wolverton Mountain" (by Claude King).

"Across The River" has stallions, spectral women and a densely woven canvas of images too far out to decipher with any certainty, but the mystery of the story is overwhelmed by the outright magnetism of the melody, the pounding bass, the moody arrangement and--the crowning touch--Steele's multi-layered vocal on the chorus.

Steele's influences are many. Robert Cray may come closest, if only because of Steele's emphasis on a top-notch, guitar-driven live band.

Steele's music, in turn, seems to have influenced rising young Southern Soul star Will Easley, another singer with a strong, country-tinged delivery and a propensity for propulsive beats.

We can only hope that Bob Steele eventually gets this "one-CD monkey" off his back and comes back with another helping of wisdom--more years of living with women have gone by, after all--but if he doesn't, Life With Women will stand as one of the most likable and beguiling Southern Soul collections of the last decade.

--Daddy B. Nice
About Bob Steele
Alabama-based Bob Steele attended Alabama A&M, where he started his first band with his now-deceased brother. He went on to form and play in the Zodiac Funk Band before pursuing a solo career.

Bob Steele's lone album, Life With Women, was published by the Sound Mindz label out of Birmingham, Alabama in 2004. The album featured Norris Jones on guitar, Connie Jackson on saxophone and Steele on keyboards and guitar. It was produced by Steele with help from Jackson, and Steele wrote 11 of the 12 tracks.

The Southern Soul single from CD, "Yo Dress Is Too Short," has gone on to become Steele's signature tune.
Tidbits
1. September 2, 2011:

Listen to Bob Steele singing "It Must Be Jelly" on YouTube.


Listen to Bob Steele's "Girl's Got It Going On" on YouTube.

Listen to Bob Steele singing "Girl's Got It Going On" LIVE on YouTube.

If You Liked. . . You'll Love
If you liked Creedence Clearwater Revival's "Born On The Bayou," you'll love Bob Steele's "Yo Dress Is Too Short."


EDITOR'S NOTE

Over the last year I've been dropping hints to the younger musicians.

"Be watching because there's going to be something coming on the site that'll be a real blessing for the younger people."

And I've also been telling a lot of deserving new artists to bide their time, that their day to be featured in a Daddy B. Nice Artist Guide was coming, and long overdue.

Now, at last, the day has come.

The great Southern Soul stars are mostly gone. There's a new generation clamoring to be heard.

Rather than waiting years to go online as I did with the original Top 100, this chart will be a work-in-progress.

Each month five new and never-before-featured artists will be showcased, starting at #100 and counting down to #1.

I estimate 50-75 new Artist Guides will be created by the time I finish. The other 25-50 Guides will feature artists from the old chart who are holding their own or scaling the peaks in the 21st Century.

Absent will be the masters who have wandered off to Soul Heaven. And missing will be the older artists who for one reason or another have slowed down, become inactive or left the scene.

The older generation's contributions to Southern Soul music, however, will not be forgotten.

That is why it was so important to your Daddy B. Nice to maintain the integrity of the original Top 100 and not continue updating it indefinitely.

(Daddy B. Nice's original Top 100 Southern Soul covered the period from 1990-2010. Daddy B. Nice's new 21st Century Southern Soul will cover the period from 2000-2020.)

When I constructed the first chart, I wanted to preserve a piece of musical history. I heard a cultural phenomenon I was afraid might be lost forever unless I wrote about it.

There will be no more changes to the original chart. Those performers' place in Southern Soul music will stand.

But I see a new scene today, a scene just as starved for publicity and definition, a scene missing only a mirror to reflect back its reality.

The prospect of a grueling schedule of five new artist pages a month will be daunting, and I hope readers will bear with me as I gradually fill out what may seem at first inadequate Artist Guides.

Information from readers will always be welcome. That's how I learn. That's how I add to the data.

I'm excited to get started. I have been thinking about this for a long time. I've already done the bulk of the drawings.

In a funny way, the most rewarding thing has been getting back to doing the drawings, and imagining what recording artists are going to feel like when they see their mugs in a black and white cartoon. Hopefully----high! An artist hasn't really "made it" until he or she's been caricatured by Daddy B. Nice.

In the beginning months, the suspense will be in what new stars make the chart. In the final months, the suspense will be in who amongst the big dogs and the new stars is in the top twenty, the top ten, and finally. . . the top spot.

I'm not tellin'.

Not yet.

--Daddy B. Nice

Go to Top 100 Countdown: 21st Century Southern Soul

Honorary "B" Side
"Across The River (I Took A Ride)"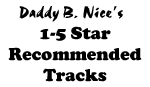 Yo Dress Is Too Short


CD: Life With Women
Label: Sound Mindz






Across The River (I Took A Ride)


CD: Life With Women
Label: Sound Mindz






Girl's Got It Going On


CD: Life With Women
Label: Sound Mindz






If Loving You Is Wrong


CD: Life With Women
Label: Sound Mindz






But You


CD: Life With Women
Label: Sound Mindz






It Must Be Jelly


CD: Life With Women
Label: Sound Mindz






Tell The Truth


CD: Life With Women
Label: Sound Mindz