NEW!

Corner & Top 10


Concert Calendar
& Mailbag


Comprehensive Index


New CD Reviews


Index to Artist Guides
NEW!


Best of 2022

The Original Chart (1990-2010)

21st Century Chart (2000-2020)
NEW!

The New Generation Chart (2010-2030)
Southern Soul CD's, MP3's


Best of Pages
About the Music
About Us
Links
Home

"She Threw A Monkey Wrench In My Game"
Walt Love
I first became aware of Walt Love around 2005, when I heard a Clarence Carter-like singer doing a song called "(They Call Me) Mr. Love." Carter isn't Love's only influence (on another song, "Candy Sweet," he sounds like Marvin Gaye) but "Mr. Love" has a particularly seductive groove and arrangement.

The song begins with a deep, country-drenched "good evening" voice:

"I guess everybody's been talking and asking
'Who is Mister Love?'" Love intones. "And they say I sound like. . . "

Love doesn't quote the name, but it's obvious to any low-level student of rhythm and blues that it's Clarence Carter, not the mumbled "this or that person" Love actually inserts.

The Carter homage is appealing because the musical bond between the two seems instinctual and based on real similarities in vocal tone (robust) and emotional temperament (sunny).

Walt's vocal on "Mr. Love" isn't as deep and powerful as Carter in his prime, but his voice-overs are a bulls-eye mimicry. Love's singing is actually higher in register and lighter in tone. Nevertheless, Love's voice is charismatic, his vocals unself-conscious and appealingly simple and direct, especially on "Mr. Love" and Love's two other trademark tunes, "I Had To Change My Game (She Threw A Monkey Wrench In My Game)" and "The Rabbit Got Da Gun."

"I Had To Change/She Threw A Monkey Wrench," under one or another title, has been on every one of Walt Love's albums, first as "I Had To Change" on the Don't Go album. In 2003 it pops up on the Take Me Back To The Old School Party album as "I Had to Change (She Threw a Monkey Wrench in My Game."

In 2008 it shows up on Love's third album as "She Threw a Monkey Wrench (Original)," and New Millenium Blues (the fourth CD) has the final say (to date), "She Threw a Monkey Wrench in My Game."

"She Threw A Monkey Wrench" is all about the uptempo, swinging music. The lyrics are so ubiquitous they go in one Southern Soul ear and out the other:

"I was out
Riding the other day.
You wouldn't believe
What I saw.
My old lady
Was with another man.
They were kissing
And holding hands.

I stood there
Hurting deep inside. . . "

You get the drift, but you don't get the feeling of despair you'd get in a deeper foray into the subject via an Otis Redding, an O. V. Wright or a James Carr. Walt Love is "sunny-side up." So that when Walt Love hits the chorus of all of "Monkey Wrenches" four versions, he's disclaiming:

"I had to change
My ways.
She threw a monkey wrench
In my game."

It's strictly player-to-player, not-quite-grown-folks stuff, with the emotional depth of a sandbox, and yet the song is undeniably addictive, musically speaking. And it's done with panache. In its way, it's perfect.

Walt Love has a lot in common with Walter Waiters, another artist who found success with a personalized tempo and signature hook, spread through songs based on variations of the same chords (in Waiters' case, "Careful Woman/Don't Scratch My Back").

Walt Love's trio of great songs are likewise musically intertwined. "Da Rabbit Got Da Gun" is really a reworking of the original "(They Call Me) Mr. Love," with the hook tweaked ever so slightly and speeded up, with new lyrics.

"It ain't no fun," Love sings,
"When the rabbit
Got the gun.

It ain't no fun
when you lose
The one you love."

What the fan is given in these songs of Walt Love is the pain of loss diluted to such an extent it can be danced to. Everything in the music--the perky tempos, the catchy hooks, the tasteful background vocals--is inspired to lift up, to stimulate.

"They call me
Mister Love.
I'm the one
Who can't
Get enough love....

I'm six foot tall,
Dark and smooth.
Hey ladies
Let's get that groove."

New Millenium Blues (Monkey Wrench, 2010), Walt Love's latest album (as of this writing) came out under the artist name "Walt Luv." It's full of radio-worthy singles accumulated over the last decade along with Walt's latest single, "I Wanna Come Back."

One caveat. Walt Love also flirts with jazz and nu-soul, as in "Girl I Really Need You" and "New Millenium Blues."

Actually, "New Millenium Blues" first appeared on the Take Me Back To The Old School Party CD way back in 2003.

For the most part, however, Walt Love stands for uptempo, light-hearted Southern Soul.
--Daddy B. Nice
About Walt Love
Carolinan Walt Love entered the music business in the eighties as a writer, producer and performer. His first CD, Don't Go (Walt Love, 2000), showcased Love's signature single, "I Had To Change."

His second CD, Take Me Back To The Old School Party (Walt Love) appeared in 2003, reprising "I Had To Change" under the title "She Threw A Monkey Wrench In My Game." The CD also introduced the songs "Mr. Love" and "New Millenium Blues."

Mr. Love, the third CD, came out in 2008, exposing the public to "The Rabbit Got Da Gun" while once again reprising some of the best songs ("Mr. Love," "She Threw A Monkey Wrench") from the two previous discs.

New Millenium Blues (Monkey Wrench, 2010), Love's fourth CD, was published under the artist name "Walt Luv." Once again, Love's established hits ("Rabbit Got Da Gun," "Monkey Wrench," in addition to the title tune) were prominently featured.

Walt Love currently resides in the Raleigh, North Carolina area.


Tidbits
1.

October 27, 2011: Name change

The publication of Walt Luv's (Walt Love's) New Millenium Blues in 2010 begs the question: Why did this worthy and under-rated songwriter/performer change the spelling of his name?

With at least three previous CD's published under the name "Walt Love," the switch to "Walt Luv" will only deter the name recognition--the "branding"--necessary for the artist to achieve a wider audience.

When, for example, would-be fans type the name "Walt Love" into a search engine blank, they'll never find "New Millenium Blues," the new CD. And when, on the other hand, fans type "Walt Luv" into the search engine, they'll never find his previous CD's.

Other artists have made similar name-tweaking prededents--for instance Bobby Jones (aka Bobby Jonz)--with similar attendant fan confusion.

Frequently the impetus for changing a performance name comes from a desire on the part of the artist to branch out into a different musical genre or career phase that might be seen as a radical departure from the previous work, but New Millenium Blues is very much an extension of Love's (Luv's) catalog.

DBN

If You Liked. . . You'll Love
If you liked Lee "Shot" Williams' "She Made A Freak Out Of Me," you'll love Walt Love's "She Threw A Monkey Wrench In My Game."



EDITOR'S NOTE

Over the last year I've been dropping hints to the younger musicians.

"Be watching because there's going to be something coming on the site that'll be a real blessing for the younger people."

And I've also been telling a lot of deserving new artists to bide their time, that their day to be featured in a Daddy B. Nice Artist Guide was coming, and long overdue.

Now, at last, the day has come.

The great Southern Soul stars are mostly gone. There's a new generation clamoring to be heard.

Rather than waiting years to go online as I did with the original Top 100, this chart will be a work-in-progress.

Each month five new and never-before-featured artists will be showcased, starting at #100 and counting down to #1.

I estimate 50-75 new Artist Guides will be created by the time I finish. The other 25-50 Guides will feature artists from the old chart who are holding their own or scaling the peaks in the 21st Century.

Absent will be the masters who have wandered off to Soul Heaven. And missing will be the older artists who for one reason or another have slowed down, become inactive or left the scene.

The older generation's contributions to Southern Soul music, however, will not be forgotten.

That is why it was so important to your Daddy B. Nice to maintain the integrity of the original Top 100 and not continue updating it indefinitely.

(Daddy B. Nice's original Top 100 Southern Soul covered the period from 1990-2010. Daddy B. Nice's new 21st Century Southern Soul will cover the period from 2000-2020.)

When I constructed the first chart, I wanted to preserve a piece of musical history. I heard a cultural phenomenon I was afraid might be lost forever unless I wrote about it.

There will be no more changes to the original chart. Those performers' place in Southern Soul music will stand.

But I see a new scene today, a scene just as starved for publicity and definition, a scene missing only a mirror to reflect back its reality.

The prospect of a grueling schedule of five new artist pages a month will be daunting, and I hope readers will bear with me as I gradually fill out what may seem at first inadequate Artist Guides.

Information from readers will always be welcome. That's how I learn. That's how I add to the data.

I'm excited to get started. I have been thinking about this for a long time. I've already done the bulk of the drawings.

In a funny way, the most rewarding thing has been getting back to doing the drawings, and imagining what recording artists are going to feel like when they see their mugs in a black and white cartoon. Hopefully----high! An artist hasn't really "made it" until he or she's been caricatured by Daddy B. Nice.

In the beginning months, the suspense will be in what new stars make the chart. In the final months, the suspense will be in who amongst the big dogs and the new stars is in the top twenty, the top ten, and finally. . . the top spot.

I'm not tellin'.

Not yet.

--Daddy B. Nice

Go to Top 100 Countdown: 21st Century Southern Soul
Honorary "B" Side
"(They Call Me) Mr. Love"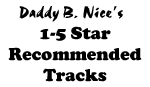 She Threw A Monkey Wrench In My Game


CD: Mr. Love
Label: Mr. Tee






(They Call Me) Mr. Love


CD: Mr. Love
Label: Mr. Tee






I Had To Change (My Game)


CD: Don't Go
Label: Walt Love






I Wanna Come Back


CD: New Millenium Blues
Label: Monkey Wrench






Take My Bitter Like My Sweet


CD: Don't Go
Label: Walt Love






Candy Sweet


CD: Take Me Back To The Old School Party
Label: Walt Love






Don't Go


CD: Don't Go
Label: Walt Love






Somebody To Call My Own


CD: Don't Go
Label: Walt Love