NEW!

Corner & Top 10


Concert Calendar
& Mailbag


Comprehensive Index


New CD Reviews


Index to Artist Guides
NEW!


Best of 2022

The Original Chart (1990-2010)

21st Century Chart (2000-2020)
NEW!

The New Generation Chart (2010-2030)
Southern Soul CD's, MP3's


Best of Pages
About the Music
About Us
Links
Home

"Never Coming Home"
Betty Padgett
March 16, 2013: NEW ALBUM ALERT

Sample/Buy Betty Padgett's new I Didn't Take Your Man (You Gave Him to Me) CD

**********

Seasoned by decades of singing funk, disco and lounge R&B, soul diva Betty Padgett boasts one of the surest deliveries in Southern Soul music. Her "Never Going Home" is an out-and-out anthem, its ferocious guitar hook, chug-a-lug-lug rhythm section and lusty chorus perfectly complementing Padgett's snarling but vulnerable vocal.

"Work two jobs.
Clean and mop.
I did everything for you.

Wash your clothes.
Pressed and fold.
All because I love you."

But that, as you might guess, was then. This is now.

Listen to Betty Padgett singing "Never Coming Home" on YouTube while you read.

Betty's spoken introduction tells you everything that is to follow:

"This is all I want to say to you. Every time I turn around, some woman is always in my face, and pretends to have my best interests at heart. But she really can't wait to tell me what she saw you doing last night. Don't get me wrong now. It hurts. But I know that time will heal the heartache, and pretty soon I won't even remember what you look like. They say that everybody plays the fool. And you know what? Your game is over."

And the fun is just beginning. From the seductive opening notes of its bluesy guitar riff, the song presents Betty adopting the righteous tone of the wronged woman with such convincing proof you have to imagine even the men in the audience rearing up and clapping hands in rhythm.

"Never Coming Home" examines all of the usual reasons a woman stays with a man--a house, a car--and then rejoices in the independence and empowerment that comes with negating those financial and emotional crutches. The woman gets her own house. The woman gets her own car.

As Betty makes clear:

"Those nice clothes you wear,
I bought.
That fancy car you drive,
I helped you buy."

And while her no-good man was out there spending money on "Tamika, Tanya and Tiki," Betty was saving her money.

"You see, I went out
And bought a bigger house
I have a much nicer car.

You know that's mine.
And when I turn the key,
Ain't nobody can get in but me.

That's why
I'm never coming home.
Never coming home.
I can make it on my own."

But the ultimate reason "Never Coming Home" is so effective is its musical chassis. Few Southern Soul songs have such a propulsive groove, and even fewer possess such great percussion and lead guitar work.

"Never Coming Home" also brings a taste of rock and roll and funk to its Southern Soul gumbo. The timing of the different phases of the arrangement is exquisite. Verses, choruses and voice-overs enter and exit the tune's stage like characters in a standing-room-only hit comedy.

And Betty? She's the heroine, simultaneously wronged and victorious. She's captured the essence of what is feels like to be free and independent, and she does it with just the right amount of revenge and humor.

The song carries an unusual power, a musical muscle that many of Padgett's other popular tunes--"He Made My Day," "Sneaking Around" "Shook It Off," "In The Middle Of Fallling In Love," "I Made It"--also carry, but not with the such dazzling synchronicity.

Betty Padgett is a relative newcomer to the Southern Soul market, but her catalog--with "Never Coming Home" as the crown jewel--is already substantial. Her three 21st-century albums tout a singer who's both tough as nails and eminently likeable, with a "been-there-done-that" street wisdom that is tailor-made for the chitlin' circuit.

--Daddy B. Nice
About Betty Padgett
Betty Padgett was born in Newport, New Jersey. In her early teens her family moved to the Miami-Fort Lauderdale area of Florida, where Padgett started an all-female disco/funk quartet called Betty & The Q's in the early 70's. Padgett subsequently signed on as a singer with Joey Gilmore & The T.C.B. Express, a Fort Lauderdale funk band with whom she toured off and on, both nationally and internationally, throughout the seventies and eighties.

South Florida soul singer Milton Wright helped Padgett release her first single, Sugar Daddy, which became a regional hit in the mid-seventies. Wright also wrote and arranged Padgett's self-titled debut CD, featuring a two-part "Sugar Daddy," in 1975. (The Luv N' Haight label reissued Padgett's debut with the "Sugar Daddy" 12" single in 2009.)

In 1981 Padgett released her second album, Sweet Feeling (Sundown). Although she continued to sing and tour, a long hiatus followed before she recorded her next CD, 30 Second Man, (Two TT's) in 1998.

Padgett toured Florida and the Gulf Coast with Motel Mel and her band The Right Stuff through the early years of the 21st century. Then, as Southern Soul music became more popular, Padgett released a succession of CD's conceived to capitalize on the renewed interest in traditional rhythm and blues: 2004's Closet Lover (Heaven Bound), 2006's Never Coming Home (Meia) and 2009's The Real Deal.

With Southern Soul singer Ricky White assisting with arrangements and vocals, Never Coming Home, featuring Padgett's title tune and hit single, was particularly successful with Southern Soul deejays and fans.

Betty Padgett's Discography:

Betty Padgett (Luv N' Haight, 1975)

Sugar Daddy (Ultra Production Corp, 1976)

Sweet Feeling (Sundown, 1981)

30 Second Man (Two TT's, 1998)

Closet Lover (Heaven Bound, 2004)

Never Coming Home (Meia, 2006)

The Real Deal (Brimstone, 2009)


Tidbits
1.

December 22, 2011: Here is a selection of Betty Padgett YouTube music videos.

Listen to Betty Padgett singing "Sneaking Around" on YouTube.

Listen to Betty Padgett singing "Never Coming Home" on YouTube.

Listen to Betty Padgett singing "I Found A Love" on YouTube.

Listen to Betty Padgett singing 30-Second Man" on YouTube.

Listen to Betty Padgett singing "I Made It" on YouTube.

Listen to Betty Padgett singing "It Would Be A Shame" on YouTube.

If You Liked. . . You'll Love
If you liked Aretha Franklin's "Chain Of Fools," you'll love Betty Padgett's "Never Coming Home."



EDITOR'S NOTE

Over the last year I've been dropping hints to the younger musicians.

"Be watching because there's going to be something coming on the site that'll be a real blessing for the younger people."

And I've also been telling a lot of deserving new artists to bide their time, that their day to be featured in a Daddy B. Nice Artist Guide was coming, and long overdue.

Now, at last, the day has come.

The great Southern Soul stars are mostly gone. There's a new generation clamoring to be heard.

Rather than waiting years to go online as I did with the original Top 100, this chart will be a work-in-progress.

Each month five new and never-before-featured artists will be showcased, starting at #100 and counting down to #1.

I estimate 50-75 new Artist Guides will be created by the time I finish. The other 25-50 Guides will feature artists from the old chart who are holding their own or scaling the peaks in the 21st Century.

Absent will be the masters who have wandered off to Soul Heaven. And missing will be the older artists who for one reason or another have slowed down, become inactive or left the scene.

The older generation's contributions to Southern Soul music, however, will not be forgotten.

That is why it was so important to your Daddy B. Nice to maintain the integrity of the original Top 100 and not continue updating it indefinitely.

(Daddy B. Nice's original Top 100 Southern Soul covered the period from 1990-2010. Daddy B. Nice's new 21st Century Southern Soul will cover the period from 2000-2020.)

When I constructed the first chart, I wanted to preserve a piece of musical history. I heard a cultural phenomenon I was afraid might be lost forever unless I wrote about it.

There will be no more changes to the original chart. Those performers' place in Southern Soul music will stand.

But I see a new scene today, a scene just as starved for publicity and definition, a scene missing only a mirror to reflect back its reality.

The prospect of a grueling schedule of five new artist pages a month will be daunting, and I hope readers will bear with me as I gradually fill out what may seem at first inadequate Artist Guides.

Information from readers will always be welcome. That's how I learn. That's how I add to the data.

I'm excited to get started. I have been thinking about this for a long time. I've already done the bulk of the drawings.

In a funny way, the most rewarding thing has been getting back to doing the drawings, and imagining what recording artists are going to feel like when they see their mugs in a black and white cartoon. Hopefully----high! An artist hasn't really "made it" until he or she's been caricatured by Daddy B. Nice.

In the beginning months, the suspense will be in what new stars make the chart. In the final months, the suspense will be in who amongst the big dogs and the new stars is in the top twenty, the top ten, and finally. . . the top spot.

I'm not tellin'.

Not yet.

--Daddy B. Nice

Go to Top 100 Countdown: 21st Century Southern Soul

Honorary "B" Side
"Old Man, Young Man"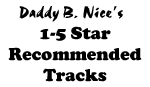 Never Coming Home


CD: Never Coming Home
Label: Meia






Old Man, Young Man


CD: The Real Deal
Label: Brimstone






Sneaking Around


CD: Never Coming Home
Label: Meia






He Made My Day


CD: 30 Second Man
Label: Two TT's






Hey Boy


CD: Never Coming Home
Label: Meia






I Made It


CD: The Real Deal
Label: Brimstone






In The Middle Of Falling In Love


CD: Closet Lover
Label: Heaven Bound


Sample or Buy
Closet Lover




Shook It Off


CD: The Real Deal
Label: Brimstone






30 Second Man


CD: 30 Second Man
Label: Two TT's


Sample or Buy
30 Second Man




I Didn't Take Your Man (You Gave Him to Me)


CD: I Didn't Take Your Man (You Gave Him To Me)
Label: Select-O-Hits






I Found A Love


CD: Never Coming Home
Label: Meia






It Would Be A Shame


CD: Sugar Daddy
Label: Ultra Production






I Can't Love You No More


CD: Sweet Feeling
Label: Suntown


Sample or Buy
Sweet Feeling