NEW!

Corner & Top 10


Concert Calendar
& Mailbag


Comprehensive Index


New CD Reviews


Index to Artist Guides
NEW!


Best of 2022

The Original Chart (1990-2010)

21st Century Chart (2000-2020)
NEW!

The New Generation Chart (2010-2030)
Southern Soul CD's, MP3's


Best of Pages
About the Music
About Us
Links
Home

"Poonanny Be Still"
Poonanny
Composed by Poonanny
July 22, 2018: Poonanny lives on!
See Daddy B. Nice's Mailbag.
Listen to Poonanny singing "I Can Do Bad By Myself" on YouTube.
August 28, 2014: Storied Chitlin' Circuit Comedian Joe Poonanny Passes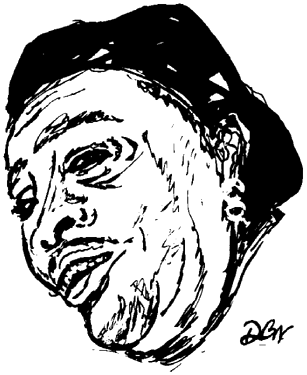 The Boogie Report sent out a press release this morning stating:

Services for Joe 'Poonanny' Burns will be Wednesday, September 3rd, 12 Noon, at New Bethal Baptist Church, 1730 11th Avenue North, Bessemer, Alabama. In lieu of flowers the family requests donations be made in the name of "Poonanny" To THE BLUES FOUNDATION HEART FUND.

DBN notes: Poonanny reportedly died in a Birmingham, Alabama hospital on Wednesday, August 27, 2014. Jerry (Boogie) Mason, owner of "Boogie Report," got his start in the music business working for Poonanny.

******

To automatically link to Poonanny's charted radio singles, awards, CD's and many other references on the website, go to "Poonanny" in Daddy B. Nice's Comprehensive Index.

*******

Daddy B. Nice's Original Profile: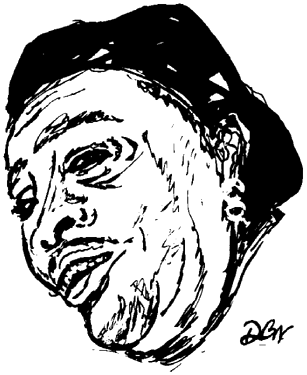 Chuck Berry, who by the way deserves more credit (musically, at least) than Elvis for creating rock and roll, once confided to an admirer that he had wanted in the worst way to write:

"There once was a colored boy
Named Johnny B. Goode."

--Instead of:

"There once was a country boy
Named Johnny B. Goode."

Black musicians pay a price to make their music accessible to the white world. The music of Poonanny is unique precisely because it's as far to the other extreme--inaccessibility--that you can get on record. A linguist from the Northeast would need a Rosetta stone and a three-year fellowship to interpret "Poonanny Be Still."

But Southern Soul fans needn't worry. The words don't matter. The James Brown groove, the Bootsy Collins-style bass and the utter euphoria and pandemonium of the crowd in the background rewards even the first-time listener who, like a tourist in a country whose language he doesn't understand, still revels in the sheer spectacle.

After years of performing in obscure Deep South venues and accumulating word-of-mouth notoriety, Joe Poonanny recorded his first LP for Waldoxy Records, Poonanny Be Still, in 1993. The cover art aptly and wryly represented the comedic material of the disc, displaying a crowded Southern kitchen complete with a bemused Poonanny cringing in the face of his bat-wielding mother-in-law.

Anchored by a tough-as-nails bass line, "Poonanny Be Still," the title track, featured all of the elements that define Poonanny's oeuvre: a browbeaten and unsavory husband, a contentious but earthy wife, and the meanest mother-in-law south of the Mason-Dixon line.

"Hey fellas--I'm talking to the men out there.
Have you all ever had a woman that lived with her mama?

I've got this woman that live with her mama,
And her mama don't like me.

Her mama got a big fat nappy head, and she be Going around telling everybody
I'm too old for her daughter--
And her daughter taught me everything I know!"

Poonanny narrated their carnival-like domestic struggles to a raucous audience of cheering, jeering and laughter. The track was more monologue than song, with a delivery so impenetrable that anyone uninitiated in Southern black life and speech (99% of whites and perhaps nearly that percentage of today's urban blacks) was bound to find its message and charm impenetrable.

That is why, to telescope a long and storied career, it was such a fortuitous development when Poonanny recorded the Jimmy Lewis-penned "That Baby Ain't Black Enough" in 2001 (from the CD That Baby Ain't Black Enough, Waldoxy 2001). Lewis-composed songs revel in the humorous and colorful details of life in the Deep South, and the lyrics to "That Baby Ain't Black Enough" were no exception.

"I should be a happy guy.
But when they
Showed me the baby,
I wanted to cry."

"That Baby Ain't Black Enough" was not only the perfect subject matter for Poonanny--it exposed him to a much larger audience than his chitlin'-circuit soap operas had ever reached. One of the funniest moments in all of Southern Soul music occurs during the silent pause following the nurse's statement, "Congratulations, Mr. Poonanny. Here's your eight-pound baby boy."

Poonanny finally says, "Huh? Huh?" as if he had just fainted and revived.

"That baby ain't black enough.
That baby's eyes are green.
See if you got another baby back there,
Nice and dark like me."

Poonanny is not for everyone. More off-color than X-rated, the contemporary folklorist's catalog is nevertheless an acquired taste for the uninitiated. But audiophiles who revel in the lost art of oral story-telling and the risque side of poor-black Southern culture will love the dense, almost foreign patois of Poonanny's under-rated vocals, and relish the exotic exuberance the recordings capture.


--Daddy B. Nice




About Poonanny

Joe Poonanny was born in Birmingham, Alabama. Beginning his professional career as a drummer, Poonanny gradually moved into managing bands and clubs in the 70's. But he found his true calling performing humorous, off-color songs and monologues, gaining a reputation as the "Godfather" of the chitlin' circuit.

Distrustful of the music business, Poonanny neither sought nor accepted recording contracts throughout much of his career, but in 1993--persuaded by Tommy Couch, Jr. of Jackson's Malaco Records--he signed with Waldoxy Records and released his debut disc, Poonanny Be Still.

Waldoxy went on to release a series of LP's under Poonanny's name in the 90's, culminating in perhaps his finest CD, That Baby Ain't Black Enough (Waldoxy, 2001), featuring Poonanny's hilarious rendition of Jimmy Lewis' novelty hit.

Poonanny has also recorded covers of such Southern Soul classics as Latimore's "Let's Straighten It Out" and Clarence Carter's "Strokin'." Johnnie Taylor's fans will enjoy the track, "Big Head Money," which scales down Taylor's "big head hundreds" into denominations more familiar to the majority of us, namely "big-head" fives, tens and twenties.

Poonanny continues to tour and headline chitlin' circuit festivals.

Poonanny's Discography

1993 Poonanny Be Still! (Waldoxy)

1994 The Grindin' Man (Waldoxy)

1996 Poonanny (Waldoxy)

1996 Ponyrider (Waldoxy)

1998 Brand New Cadillac (Waldoxy)

2001 That Baby Ain't Black Enough! (Waldoxy)

2006 The Signifying Monkey (Sh*t Talking)






Song's Transcendent Moment

"She knelt down on the covers.
She locked up on that door.
That girl started doing something.
She started from my toes.

My knees started shaking
Like a wagon wheel.
And every time I hollered out,
She said, 'Poonanny be still!'"





Tidbits

1.

Poonanny's version of "My Ding-A-Ling," the old Chuck Berry tune, is probably the most definitive of its many covers. If you've never heard it, try listening to it. You'll get a feeling of deja vu. "My Ding-A-Ling" is contained on Poonanny's Brand New Cadillac CD (Waldoxy, 1998.)

2.

August 30, 2014: The Best of Poonanny on YouTube

Listen to Poonanny singing "Hole In Your Drawers" on YouTube.

Listen to Poonanny singing "Beat Your Meat" on YouTube.

Listen to Poonanny singing "Clean Out Your Dresser" on YouTube.

Listen to Poonanny singing "Brand New Cadillac" on YouTube.




If You Liked. . . You'll Love

If you loved Ernie K-Doe's early-sixties' hit, "Mother In Law," you'll love Poonanny's "Poonanny Be Still."




Honorary "B" Side

"That Baby Ain't Black Enough"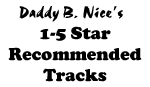 Poonanny Be Still


CD: Poonanny Be Still
Label: Waldoxy






That Baby Ain't Black Enough


CD: That Baby Ain't Black Enough
Label: Waldoxy






Big Head Money


CD: That Baby Ain't Black Enough
Label: Wilson






Hole In Your Drawers


CD: Poonanny Be Still
Label: Waldoxy






Mama Tell A Lie


CD: Poonanny Be Still
Label: Waldoxy






Mississippi Shuffle


CD: The Signifying Monkey
Label: Joe Poonanny






Strokin'


CD: Poonanny Be Still
Label: Waldoxy






Drowning Man


CD: That Baby Ain't Black Enough
Label: Waldoxy






Let's Straighten It Out


CD: Poonanny Be Still
Label: Waldoxy






Hair On Her Legs (That Long)


CD: That Baby Ain't Black Enough
Label: Waldoxy






My Ding-A-Ling


CD: Brand New Cadillac
Label: Waldoxy