NEW!

Corner & Top 10


Concert Calendar
& Mailbag


Comprehensive Index


New CD Reviews


Index to Artist Guides
NEW!


Best of 2022

The Original Chart (1990-2010)

21st Century Chart (2000-2020)
NEW!

The New Generation Chart (2010-2030)
Southern Soul CD's, MP3's


Best of Pages
About the Music
About Us
Links
Home

"It's Too Late"
Gus Geeter
R.I.P....GUS GEETER......LEFT US FRIDAY NIGHT...MAY 10, 2013....WE MISS YOU ALREADY GUS.....THE SOUND MINDZ FAMILY

See Daddy B. Nice's Mailbag

************

Born Augustus Geeter, the son of Thomas & Jessie Geeter, Gus grew up in Montgomery, Alabama. He Attended Booker T Washington High School, and as a youth, he sang with his brothers in churches around his hometown.

Gus served in The U.S. Army for a number of years, and after his discharge from the military, he lived and performed in Los Angeles. Upon his return to Montgomery, he joined one of the most popular bands in Alabama, at the time, King Tutt & The Untouchables. This is where Gus picked up the nick name "Bullet Bad Gus".

A DJ by the name of Jack The Playboy started calling him "Bullet Bad Gus" after hearing him sing. Bullet Bad Gus continued to perform with King Tutt for several years before forming his own band, Bullet Bad Express.
--Daddy B. Nice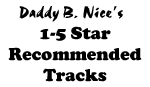 It's Too Late


CD: Big Leg Woman
Label: Sound Mindz


Sample or Buy
Big Leg Woman



I'm Tired Of Being Alone MP3


CD: I'm Tired Of Being Alone MP3
Label: Sound Mindz





Your Love Is Killing Me


CD: Bullet Bad Is Back (Out Of Print)
Label: Gus Geeter