NEW!

Corner & Top 10


Concert Calendar
& Mailbag


Comprehensive Index


New CD Reviews


Index to Artist Guides
NEW!


Best of 2022

The Original Chart (1990-2010)

21st Century Chart (2000-2020)
NEW!

The New Generation Chart (2010-2030)
Southern Soul CD's, MP3's


Best of Pages
About the Music
About Us
Links
Home

"You're My Gold"
Joe "Blues" Butler
Re-Posted from Daddy B. Nice's New CD Reviews
April 23, 2017:
JOE "BLUES" BUTLER:
Full Figured Woman (Nikkie Records) Four Stars **** Distinguished Debut By A New Southern Soul Artist.
You may dismiss FULL FIGURED WOMAN too quickly, as I did, on first listen. The lead vocals are obviously the product of a singer with limited resources, as evidenced by a "speaking" style farther simplified and accentuated by hanging onto single notes, sometimes for whole phrases. And when the melody calls for higher notes, you can practically see the singer's Adam's apple bobbing up and down, reaching for the note to avoid being flat. So southern soul fans should be warned that vocal power, passion and technique--the usual signs of a newcomer within the genre--don't apply here.

The artist, Joe "Blues" Butler, is not a newcomer, nor is he a young man. Born in 1944 in Sunflower, the tiniest of hamlets a little north of Indianola (northeast of Leland/Greenville on the famed east-west corridor of Highway #82 through the Mississippi Delta), birthplace of Willie Clayton and so many others, Butler is a seasoned blues practitioner who has recorded a number of CD's on a little-known label out of Memphis, Nikkie Records, apparently incorporated in Tennessee in 2010.

Like Jackson, Mississippi, Memphis is a musical hub with archaeological-like layers of blues and R&B which, the deeper you excavate, yield ever more obscure striations of talent and musical activity--performers and songs unfamiliar to even the most dedicated blues and soul lovers. And just like the first time you heard southern soul, there's a response of delight in something bubbling up from the "underground," where nothing was presumed to exist.

Morris J. Williams, a longtime associate of Memphis' flagship independent label, Ecko Records, and a specialist in ferreting out talent perhaps a little less ready for "prime time" than Ecko's showcase artists (O.B. Buchana, Ms. Jody, etc.), is the producer on this album (with Butler exec'ing). Williams assembled an all-live-instruments session at the Ecko studios with an impressive roster of musicians including one of the renowned Hodges brothers, Leroy, on bass, John Ward (Ecko CEO) on lead guitar, Reginald "Crow" Ectoy on drums, Morris Williams and Curtis Jones on keyboards, along with Beale Street's Dr. Robert "Feelgood" Potts (Sheba's father) on harmonica and no less than three brass-section specialists performing tunes by arguably the best songwriter of the current Memphis scene, John Cummings.

And it is the songs, if one is patient enough to given them time to resonate, that ultimately reveal the treasures of FULL FIGURED WOMAN. That, and the insouciance and humor (he never takes himself too seriously) that Joe "Blues" Butler brings to his otherwise one-dimensional vocal presentations.

The album's title tune, "Full Figured Woman," is a bluesy, eye-winking hymn to "big" women in which the artist extols making love to a "full-figured woman until the cows come home." Solid as it is, "Full Figured Woman" is actually my least favorite of the potential singles on this CD simply because it does mimic the familiar "Ecko sound."

The song that really surprised me--and renewed my interest in exploring the album in more depth--is the second offering, "Looking For My Woman." Here the wit hinted at in "Full Figured Woman" bursts into full flower. And once again, the "woman" has a "waist like a wall / And some big old hips".

Few if any young artists could pull off the "loosey-goosey" nonchalance with which the elder-statesman Butler navigates the funny verses of this account of a just-released ex-con calling up all the Memphis area deejays (Arkansas Red, Bobby O'Jay, etc...), asking if they've seen his woman. ("You wouldn't lie to me / Would'ya, Bobby?")

Daddy B. Nice's Top 10 "BREAKING" Southern Soul Singles Preview For. . .

-------MARCH 2017-------

2. "Looking For My Woman"----Joe "Blues" Butler

Fresh, rowdy take on the blues. The production is thin and his singing is undisciplined, but Butler's lighthearted charisma carries the song. The humor is even more apparent in "Looking For My Woman" than in his also-charting "Full-Figured Woman," the title cut of Butler's fifth CD on Memphis' Nikkie Records, and first to be distributed by Memphis' "major" indie label, Ecko Records, marking his national-distribution debut.

Listen to Joe "Blues" Butler singing "Looking For My Woman" on YouTube.

Much of the credit for this album's depth (beyond the obvious kudos to Joe "Blues" Butler himself) must go to songwriter John Cummings and producer Morris J. Although the songs are steeped in traditional blues, they sound fresh, and are executed with fine detail. Witness the captivating "Sinking In The Blues," in which what sounds like a subtle acoustic guitar, possibly a cymbal and even a piano add a shimmering texture to the velvety keyboard background even as the fiery lead guitar and lead vocal set off fireworks in the foreground. The payoff is great blues authenticity combined with great mood and atmosphere.

"You're My Gold" is, if anything, even more impressive. Again the melody seems like you've heard it before--but where? The background instrumentation sounds like an orchestral string section, and it works. There's a pop music accessibility even as the excellent rhythm section and John Ward guitar stress the sepia-steeped blues. Joe "Blues"' lead vocal, despite all its stated faults, emotes to perfection. If you're "into" the album at this point you're no longer even questioning Butler's vocals.

"Mojo Woman" is a killer of a riff, a mean little blues. The live band sounds like it's in a land of pure ecstasy. With exposure, it too could be a powerful single.

Butler pronounces "Ex Old Lady," another humorous--but bitter--track, "ex ol' lady," which comes off to my ear as "X/O lady" (commanding-officer lady).

"She wanna get back with me." (Joe "Blues" sings) "But that will never be." Which, having been through the marital wars, I find hilarious.

In a different vein, "Young Generation Blues" is a replay of the socially-conscious title track of a former Butler release on Nikkie, YOUNG GENERATION BLUES.

And mouth harp enthusiasts can find Dr. Feelgood Potts in prominence on "40 Acres And A Mule" and "Don't Rush Me," which close out the album. Also watch for the Dylanesque harmonica turn by Potts near the end of "Ex Old Lady."

There are twelve tracks in all, and the worst you can say about any of them is that they're common. The best you can say is that they're fantastic, full of surprises, predominately of the kind that make you smile.

FULL FIGURED WOMAN is blues even a strictly southern-soul fan can love. From the live, "black"-sounding instrumentation to the simultaneously laid-back and feisty lead vocals, the album rocks. So move over, Bishop Bullwinkle. There's a new 70-something "young gun" in town.

--Daddy B. Nice

Sample/Buy Joe "Blues" Butler's new FULL FIGURED WOMAN CD at Amazon.


--Daddy B. Nice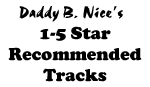 You're My Gold


CD: Full Figured Woman
Label: Nikkie