NEW!

Corner & Top 10


Concert Calendar
& Mailbag


Comprehensive Index


New CD Reviews


Index to Artist Guides
NEW!


Best of 2022

The Original Chart (1990-2010)

21st Century Chart (2000-2020)
NEW!

The New Generation Chart (2010-2030)
Southern Soul CD's, MP3's


Best of Pages
About the Music
About Us
Links
Home

Sassy D.
December 29, 2019:
NEW ALBUM ALERT!
Buy Sassy D.'s THE QUEEN OF SOUTHERN TALK BLUES EP at Amazon.
QUEEN OF SOUTHERN TALK BLUES Track List:
1
Who Dat Bitch Is

2
Sassy Classy

3
Dont Stop Stepping (feat. Mr Amazing)

4
Girls' Night

5
Change My Mind


Daddy B. Nice notes: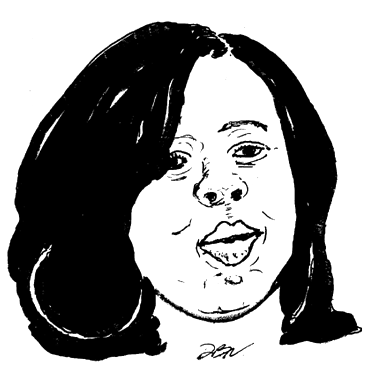 Sassy D's EP with the interesting title ("Queen of Southern Talk Blues") actually came out in 2018, so in terms of calendar years it has been twice overlooked. In retrospect, what makes the description "southern talk blues" even more prophetic and apropos is the relevance of conversational inflections in this former hiphopper's best (and what should be considered her signature) tune, "Change My Mind". Sassy captures a freshness and innocence--a reality-like nonchalance--in "Change My Mind" that recalls the great girl groups of yesteryear: The Ronettes' "Be My Baby," The Crystal's "Da Doo Ron Ron," or Little Eva singing "The Locomotion". What seems like a lyric casually flung out without any thought or agenda but instant communication is actually a rare achievement in artistic lack of self-consciousness.

Listen to Sassy D. singing "Change My Mind" on YouTube.

And when Sassy inserts little humming notes and "Woo!"s between phrases, it seems both crude and charmingly child-like. As the toughness shines through (another echo of the great girl groups) in lines like, "The last man didn't care for me/ He cared more about his damn self" and this superb stanza...

"So my trust got messed up.
There was no more dating.
Had a shield on my heart.
Locked on safety..."

...this seemingly trivial song takes on heartfelt meaning and significance. Nothing else on the five-song EP comes close to the luminosity of "Change My Mind"--apparently one of the reasons the EP didn't make much of an impression--but at least one other song, "Don't Stop Stepping" (feat. Mr Amazing)--is tuneful and satisfying.

What really makes Sassy D. more relevant than the EP might have warranted in 2018 is the noteworthy number of collaborations she's undertaken since. They include a line-up of the genre's heavy-weights:

"Southern Soul" (with Coldrank);

"She Wanna Ride" (with Jeter Jones);

"Look Back At It" (with Adrian Bagher);

...and "They Way You Move" (with Tucka).

Sassy's talent, energy and industriousness make her a young diva well worth watching.

Listen to all the tracks from Sassy D's THE QUEEN OF SOUTHERN TALK BLUES EP on YouTube.

Buy Sassy D's THE QUEEN OF SOUTHERN TALK BLUES EP at Apple.

Listen to Sassy D's QUEEN OF SOUTHERN TALK BLUES EP on Spotify.


***********
To automatically link to Sassy D.'s charted radio singles, awards, CD's and other citations on the website, go to "Sassy D." in Daddy B. Nice's Comprehensive Index.
***********
--Daddy B. Nice