NEW!

Corner & Top 10


Concert Calendar
& Mailbag


Comprehensive Index


New CD Reviews


Index to Artist Guides
NEW!


Best of 2022

The Original Chart (1990-2010)

21st Century Chart (2000-2020)
NEW!

The New Generation Chart (2010-2030)
Southern Soul CD's, MP3's


Best of Pages
About the Music
About Us
Links
Home

Narvel Echols (New Album Alert!)
March 1, 2023:
NEW ALBUM ALERT!
Buy Narvel Echol's new FOR THE LADIES album at Apple.
FOR THE LADIES Track List
1. Don't Be Late

2. Still The Blues

3. Party Like We Used To (feat. BonezV)

4. Top Of The Line

5. Make Love Sometimes

6. Kookie Monsta

7. Freak In The Sheets

8. Through The Storm

9. Get Up

10. Wheeler Truck

11. Spilled Milk

12. Luv Dem Blues

13. For The Ladies

Daddy B. Nice notes: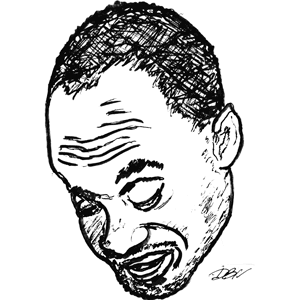 No one beats the bushes for that country talent like your Daddy B. Nice. DJ Mighty Burner, who hosted an early-Saturday-morning show at Jackson, Mississippi's southern soul and gospel station WMPR caught my ear in 2010 with this raw, energetic cut by a young performer out of Greenville, Mississippi, where muddy water runs out of the taps and (say the natives) makes everyone live longer.

"I'm going solo,
For the meanwhile.
I'm going soooo-loooooo
For the meanwhile."

His name was Narvel. He had a three-song set that had come out the previous winter and a two-song set at CD Baby, which specialized in indie artist sales at the time. "Going Solo" became Daddy B. Nice's #1 Single in June 2010. In December of 2013 Narvel made the Top 10 Singles again with a Luther Lackey song titled "Mississippi Twerk". Neither song became popular, however.

There was a lot of skepticism, probably justified, in Narvel's early years. I remember L.J. Echols, whose last name Narvel either shared or appropriated, shrugging him off and correcting my assumption, inserted in a couple of singles reviews, that he was a sibling of L.J. and his sister Krishaunda. And Narvel knocked around for the better part of a decade with little to show for it, trying to find his way.

But in 2020 his career finally ignited with the release of "Ripping And Running" and his breakout single "Pour Me A Drank," which won year-end honors as the "Best Chitlin' Circuit Blues Song" of 2020 and became the anchor track of Narvel's first full-lenth album, Return Of The Country Boy.

Now comes Narvel's second album, "For The Ladies," and it's an impressive follow-up, full of robust melodies and vocals. Comparisons can be made to Ra'shad The Blues Kid, another Mississippi Delta figure, and his worthy pair of 2022 albums, although Narvel's personality may be even stronger and more transparent. And like Ra'Shad, it's refreshing to hear music that derives obvious inspiration from the blues, something of a rarity in current southern soul as aging hiphoppers continue to migrate to the genre.

Previously-released and well-received "Luv Dem Blues" has the nifty couplet: "I've been a lot of places/From coast to coast/And I've met a lot of faces/And partied more than most." "18 Wheeler Truck," a "back-it-up" song (try to wrap your mind around that metaphor) and "Still The Blues" are in the same mold.

But FOR THE LADIES also breaks new ground with surprising production and impressive instrumental textures in such songs as
"Top Of The Line," "Party Like We Used To" and "Spilled Milk". FOR THE LADIES leaves no doubt the once-disregarded Narvel has found his musical mojo.

Listen to all the songs from Narvel Echols' new FOR THE LADIES album on YouTube.

Buy Narvel Echol's new FOR THE LADIES album at Apple.

Check out other appearances by Narvel Echols on the website in Daddy B. Nice's Comprehensive Index.


--Daddy B. Nice
Tidbits
1.
Background on FOR THE LADIES...
Hi, please find attached the link to the new album from Narvel Echols, "For The Ladies". This is a different type album from "Return of The Country Boy". Though keeping strong elements of Blues and Southern Soul, the album is a salute to the Sounds of the South, allowing Narvel to display his versatility in a display we call The Southern Soup that includes elements of Blues, Southern Soul, Funk, and Country Rap Tunes.

The album features a mix of talented producers to include:

Narvel's main long time producer
Jacka, who produced previous Narvel hits, Going Solo, Country Folks Party. Ripping and Running and what has become his biggest hits, Pour Me A Drank.

D Ford, one of the most widely known and sought after producers of today with hits for many artist today, including Arthur Young and FPJ.

T da Wizard. With songs for MeMe Yashal, Low Key Country, Klay Banks, Neko Grinday.

Myles Forrest, aka Rev Slim. Current Grammy winner for his musical and producer contribution to The Urban Hymnal by the Tennessee State University Band that recently won a Grammy for Best Roots Gospel album.

E Walls. Band leader with J Morris Group.

Hope you find something that you like.