NEW!

Corner & Top 10


Concert Calendar
& Mailbag


Comprehensive Index


New CD Reviews


Index to Artist Guides
NEW!


Best of 2021


Top 100 Countdown:
21st Century Southern Soul Artists


Top 100
Southern Soul Songs
21st Century Countdown
(00's - 10's)


Top 100
Southern Soul Artists
(90's - 00's)


Top 100
Southern Soul Songs
(90's - 00's)


Forerunners of
Southern Soul


NEW!


Daddy B. Nice's Top 100 Countdown: The New Generation (Chart In Progress)


NEW!


Top 100
Southern Soul Songs
The New Generation
(Chart In Progress)

Southern Soul CD's, MP3's


Best of Pages
About the Music
About Us
Links
Home

Mississippi Hummin Boy (New Album Alert!)
August 1, 2021:
NEW ALBUM ALERT!
Buy Hummin Boy's new CRUNCH TIME album at Amazon.
CRUNCH TIME TRACK LIST:

1
Good Times

2
Rush (feat. Neicy Redd)

3
Enuff

4
Rock Me Baby

5
2 Legs 2 Thighs

6
Freaky Love

7
Layaway

8
Love Seat (feat. Tip Da Sanga)

9
If She Ain't Country

10
Hennessy (feat. Jeter Jones)

11
Shoo Fly

12
Jody (feat. Donyale Renee)


13
Soul Music (feat. Vick Allen)

14
Weekend (Remix)

15
Toosie Roll (feat. Rodney Da Boss)

16
Shake What Ya Got


Daddy B. Nice notes: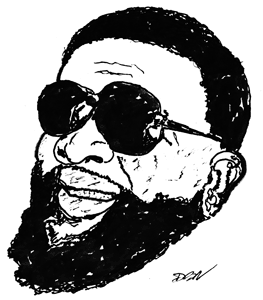 Crunch Time is the second album from Hummin' Boy, aka Mississippi Hummin Boy. The album will seem like a debut for most fans but it was actually preceded by Southern Soul Food (2019), which included the songs "Back On The Market," "Pick 5" and, most prominently, "What I Like," the first Hummin' Boy composition to gain attention across the chitlin' circuit. Released as a single earlier this year, and charting at #9 in February on Daddy B. Nice's "Top 10 'Breaking' Southern Soul Singles, the ballad "You Know What I Like" features the star-studded accompaniment of Sir Charles Jones, Omar Cunningham and Monique.

Crunch Time is very much an extension of everything that made "What I Like" satisfying: excellent songwriting, confident vocals and a thorough immersion in southern soul musical culture, especially considering Devolon Washington (aka Hummin' Boy) was a West Coast native and didn't move to Mississippi until he was eighteen. There, according to blogger Soul Strutter, who seems to have been "in" on Hummin' Boy since the beginning, Washington joined a mass choir and spent many years touring the gospel circuit and even forming his own choir to do the same.

The dues paid in the Bible Belt are everywhere present on this generous and impressive set. "Rush," a beguiling duet with Neicy Redd, comes the closest to the floating-on-a-cloud balladeering of "What I Like". "Layaway" and "If It Ain't Country," however, are getting the lion's share of views out of the gate on YouTube. The latter is a paean to southern country women, while the former gets into personal economics, also the subject of "Enuff," with lyrics that capture the reality of most folks' fiscal situations:

"Take me as I am.
I don't live in no mansion,
I stay in a little old grey house...
Baby, understand that I'm not a rich man.
Baby, understand that I ain't a broke man...
We got everything we need,
But if you want more
We're going to get it, babe.
We doing good but if you want to do better
We're going to do it, babe.
I might not have much,
But I sure have enough."

"Weekend" is a remix of a track previously released on the Sir Charles Jones sampler, Sir Charles Jones & Family Vol. 1. "Just in town for the weekend," Hummin' Boy sings. "Maybe I can find me a girlfriend." "Good Times" is another pleasant tune in the itinerant-performer mode.

Overall, this is music with an old-school flavor. Fans who have been alienated---or let us say left unfazed---by the "new" forms of southern soul can rejoice. Hummin' Boy is true-blue and un-self-consciously country, both in what he sings about and the way he delivers it.

In fact, the production is reminiscent of turn-of-the-century southern soul, when instrumental tracks were as a rule more modest and crude than today's. Hummin' Boy's voice is raspy, with throaty, scratchy interludes, and the mix has a similar quality, like the music is struggling through filters that dilute the clarity. But I believe most fans will forgive these understandable flaws from a young artist whose melodies and lyrics are filled with so much creativity and promise. Guest artists include Jeter Jones, Rodnae Da Boss, Vick Allen, Donyale Renee and Tip Da Sanga.

Listen to all the tracks from Hummin' Boy's CRUNCH TIME album on YouTube.

Buy Mississippi Hummin Boy's new CRUNCH TIME album at Amazon.



--Daddy B. Nice