NEW!

Corner & Top 10


Concert Calendar
& Mailbag


Comprehensive Index


New CD Reviews


Index to Artist Guides
NEW!


Best of 2022

The Original Chart (1990-2010)

21st Century Chart (2000-2020)
NEW!

The New Generation Chart (2010-2030)
Southern Soul CD's, MP3's


Best of Pages
About the Music
About Us
Links
Home

"She's Got The License (I've Got The Man)"
An-jay
Author's Forward, December 31, 2008:

An-jay is an interesting artist from an historical perspective. She hasn't recorded a CD since her debut in 2002, and will--if as seems likely no new product is forthcoming--soon be forgotten.

But with the November 27, 2008 passing of Senator Jones, her producer at Mardi Gras when the I Understand Daddy CD was recorded, her music seems suddenly timely.

An-jay's material represents Senator Jones' early and relatively generic oeuvre, workmanlike, mining the relatively few chitlin' circuit themes that were of surefire Southern Soul interest in the early years of the century, and the names of An-jay's most well-known songs serve as a reminder of what was popular then:

"Love Magic"
"She's Got The License (I've Got The Man)"
"Love Maker"
"House Wrecker"
and "I Thought It Was Me."

When one considers the list doesn't even include "Lonesome Highway" (perhaps her best) and "I Understand Daddy" (a personal song), the album I Understand Daddy shapes us as a remarkably solid Southern Soul CD for 2002 or any year.

DBN

***********************

Daddy B. Nice's Original Critique:

R&B is and probably always will be a male-dominated genre, which makes female performers like An-jay an absolute necessity if for no other reason than they create real-life surrogates for the fantasies of male musicians and songwriters.

Of course, the frequently superior product by Southern Soul songstresses cuts much deeper in significance than just being the "yin" to men's "yang." But every female Southern Soul vocalist understands that the audience clamors for the brief, camera-flash clarity a good song brings to the chaos that is men understanding women and women understanding men.

That said, every chitlin' circuit deejay faces the need to balance and contrast the male-generated songs filling his or her radio rotations with female-generated material. Suppose you're a deejay, and you've just played Rick Lawson's "Too Tight":

"I got a woman,
And I got a wife at home.
I got a girlfriend on the side,
Just as sweet as she can be.

I give a little bit here,
And a little bit there.
I'm trying to be fair.
I'm so tired I can't sleep.
Trying to love three."

Granted, Rick Lawson's example is more far out than usual--he's got three women he's trying to please. Furthermore, let's say that Rick Lawson's "Too Tight" was just the tail-end of a sequence that included Ricky White's "I've Got To Make A Choice (Between My Wife And My Woman)," O. B. Buchana's "I Can't Choose (Between The Two)" and Marvin Sease's classic, "Stuck In The Middle"? What better way to follow that up than a little An-jay?

"They call me a home-wrecker,
But let me tell you the truth.
He's the one that wanted me,
So what's a girl to do?

His wife done found out
About our love affair.
If she'd took care of business,
He woulda still been there.

All I can say is,
It's out in the open,
And may the best woman win."

In fact, "She's Got The License" is the most tradition-bound of all the songs on An-Jay's innovative 2002 CD I Understand Daddy (Mardi Gras).

Barbara Carr ("As Long As You Were Cheating"), Denise LaSalle ("You Should Have Kept It In The Bedroom"), Shirley Brown ("You Ain't Woman Enough (To Take My Man)"), Peggy Scott-Adams ("I Intend To Take Your Place") and Toni Green ("You've Got The Papers (I've Got The Man)") are just some of the many female performers who have mined this peculiarly Southern Soul theme of woman vs. woman--women fighting over men.

Southern Soul women--the characters that people the songs, anyway--also throw their men out for infidelity. But here we are talking about another niche of Southern Soul women, the women who aim to please and accommodate a man, the women who almost take a "masculine" pleasure in competing with other women.

Musically, An-Jay's "She's Got The License" isn't the kind of song that's going to knock you off your feet. But as with so many unspectacular songs, "She's Got The License" has a substantiality that rounds out a deejay's sequence. And An-Jay has the "pipes" to transform a pedestrian melody into a credible character portrait. "She's Got The License" eventually charms by its spareness, by what it leaves out--above all, by the total lack of pretense An-Jay projects.

As the song crescendos, An-jay practically growls with pleasure:

"Now ladies, I really wish
You're listening to what I'm saying,
And do me the favor,
And please your man in bed.

Because I'm on the prowl, baby,
And I'm like a thief in the night.
And if I catch you slipping, girl,
I'll be the one doing him right."

It's extremely convincing.

--Daddy B. Nice
About An-jay
The reclusive An-Jay (A. Evans) debuted on major Southern Soul label Mardi Gras Records of New Orleans in 2002. Her CD, entitled I Understand Daddy (after the title cut, an uncharacteristically personal track), boasted a number of songs--nearly all self-penned--that entered airplay lists across the chitlin' circuit.

Foremost among them was "She's Got The License," which took a place in Southern Soul's "classics" shelf. Among the other songs that garnered substantial airplay (and still can be heard) on the Stations of the Deep South were: "I Thought It Was Me," "Love Magic," and "Lonesome Highway."

Strong material--especially the acapella-like "(Show Me The Way To The) Lonesome Highway"--these four radio singles testified to the ample quality of I Understand Daddy. Close watchers of the Southern Soul scene took note. Unfortunately, years have passed without an An-jay follow-up.

Song's Transcendent Moment
"She's got the license,
I've got the man.
I said her good thing
Is about to come to an end."

Tidbits
The lyrics to An-jay's "Lonesome Highway" are autobiographical in tone.

"I need to know, is anybody lonely?
I'm here to tell you about me.
Excuse me--no, I don't want to cry,
But I've lost my smile,
And somewhere I misplaced my heart."

Towards the end, An-jay even breaks into a spoken monologue--a slice of reality.

"I'm sick and tired of men
Running in and out of my life,
Getting my kids involved.
As soon as my kids get used to them,
They don't want to play 'daddy' any more.
What is it?"

The frustration in "What is it?" is worth the price of the record. "Lonesome Highway" has some of the most trenchant social commentary since Peggy Scott-Adam's "I'm Willing To Be Your Friend."

If You Liked. . . You'll Love
If you loved Barbara Carr's "Footprints On The Ceiling," you'll like An-Jay's "She's Got The License."
Honorary "B" Side
"Lonesome Highway"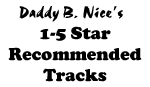 She's Got The License (I've Got The Man)


CD: I Understand Daddy
Label: Mardi Gras






Lonesome Highway


CD: I Understand Daddy
Label: Mardi Gras






End Of The Rainbow


CD: I Understand Daddy
Label: Mardi Gras






I Thought It Was Me


CD: I Understand Daddy
Label: Mardi Gras






Love Magic


CD: I Understand Daddy
Label: Mardi Gras






I Understand Daddy


CD: I Understand Daddy
Label: Mardi Gras