NEW!

Corner & Top 10


Concert Calendar
& Mailbag


Comprehensive Index


New CD Reviews


Index to Artist Guides
NEW!


Best of 2022

The Original Chart (1990-2010)

21st Century Chart (2000-2020)
NEW!

The New Generation Chart (2010-2030)
Southern Soul CD's, MP3's


Best of Pages
About the Music
About Us
Links
Home

"Teddy Bear"
Big Ike
Author's Forward:

The unique bayou bluesman and incipient Southern Soul star, Big Ike (Isaac Martin), died on August 31, 2003, while undergoing gastric bypass surgery. Little known outside Louisiana, the delta artist was just enjoying a modicum of fame due to the radio play given his idiosyncratic single, "Teddy Bear," which your Daddy B. Nice compared at the time to listening to Bob Marley & The Wailer's "I Shot The Sheriff" played backwards. "Teddy Bear" was the musical equivalent of a good haunted-house movie--lyrical, exotic, wild and dangerous.

Big Ike never played a musical instrument. Like Bobby "Blue" Bland (and very few others), he was a vocalist only. In fact, according to one commentator, it was Bobby "Blue" Bland who encouraged Big Ike to attempt a first album--Iz My Turn--in 1994.

Big Ike was a reclusive musician, and even the music professionals in the Deep South who had heard of him seldom if ever saw him in person. But at the time of his death, Big Ike was on the verge of "breaking out," with--among other things--a major blues label (Mardi Gras) recording contract in the works for the Teddy Bear album.

With all of the oil money and casinos in Big Ike's Lake Charles, LA. area, one would have assumed the artist would have always had plenty of work in the gambling spots, but that wasn't the case, according to Larry Benicewicz, in an obituary published in the "Blues Art Journal."

"I played the Star Riverboat casino once and never again," Big Ike said. "The manager told me that once I got on the stage, people would stop gambling to watch the show. I guess what they really wanted was some band to blend into the woodwork, not some group that's gonna cause them [high rollers] to dance and holler."

At the time of his surgery, Big Ike was scheduled to sing at an upcoming Bobby "Blue" Bland concert in Lake Charles. Instead, according to Benicewicz, "It became a memorial service for him hosted by zydeco ace Sean Ardoin (of Zydekool and brother of Chris of Double Clutchin'), who penned many of the songs on the new (Teddy Bear) album. According to Big Ike's widow, there was an enormous outpouring of emotion from a huge crowd which gathered to pay homage to one of Lake Charles' noblest native sons, the sheer number bearing witness to the enormous stature he held in the local blues community."

To read more about Big Ike, go to Remembering Big Ike.

--Daddy B. Nice

*****************************

Daddy B. Nice's Original Critique:

First featured on Mardi Gras Records' blockbuster compilation LP, Ultimate Southern Soul, "Teddy Bear" was the first record by a major Southern Soul label to introduce Big Ike to an audience beyond Houston and New Orleans. "Teddy Bear" (Mardi Gras, 2003) features Ike's midnight-black wailing and laughing in a vocal style honed over decades of playing local clubs in Lake Charles and other cities along the I-10 corridor.

Louisiana born and bred, with the exotic whiff of the bayous and oil refineries clinging to his vocals as tenaciously as Spanish moss, Big Ike's vocal performance and record production on "Teddy Bear" are so atmospheric you can almost visualize the owls staring, the snakes creeping, and the alligators coasting through the murky south Louisiana waters.

Indeed, Big Ike's vocal texture isn't easy to describe. It seems to ooze up from a far away, haunting echo chamber in the deepest hour of the night, lending the relatively straightforward come-hither-woman lyrics of "Teddy Bear" an edge of danger out of all proportion to the words. You can hear the music and even dislike it, but you won't forget it.

"Every night when you come to your bed,
You won't be lonely, baby,
Hear what I said.
I'll be right next to you,
With nothing but a smile on.
I'll be your snuggle babe
All night long.
I'm your teddy bear."

One can imagine delicate members of the feminine sex listening to Big Ike (assisted by his junglelike chorus-mates) with the trepidation of Fay Wray looking up into the massive countenance of King Kong. (Snuggle with you?) But then--and this is the key to the record's success--one can also imagine women big enough, black enough and brave enough to not only withstand Big Ike's intimidating presence (so perfectly captured on the disc) but thrive on it.

The up-tempo "Jook Joint" (also from Teddy Bear, (Mardi Gras, 2003) showcases Big Ike's way with an infectious rocker.

"I've been sitting in this chair all day long,
Thinking about what I'm going to do at five o'clock,
Oh yeah, I've got to get my groove on."

It's one of the happiest, most effervescent juke joint tunes ever recorded. The throwback vocal harks back to the crude but credible masters of early rhythm and blues, and the chug-a-lugging rhythm section and squealing keyboard are a perfect complement to Ike's unique, hair-raising ambience.

--Daddy B. Nice
About Big Ike
Isaac Martin (Big Ike) was born July, 28, 1949 in Lake Charles, Louisiana. He began singing locally with a band called the Episodes, later renamed the Lake City Show Band, and Ike parlayed their early success into one of the most successful regional bands of south Louisiana and east Texas.

Big Ike cut a few singles for small studios over the years, and he and his band opened for many of the stars of the chitlin' circuit, including Denise LaSalle, who helped Ike eventually score a contract with New Orleans' Mardi Gras Records. Teddy Bear debuted in 2003.

The inclusion of Big Ike's "Teddy Bear" on Mardi Gras' sampler, Ultimate Southern Soul, finally brought Big Ike to the attention of the greater chitlin' circuit and assured him a permanent place in the pantheon of outstanding Southern Soul vocalists.

Mardi Gras has featured Big Ike in two compilations since 2003: Ike's "2 Much" on 2004's Hot New Southern Soul, Vol. 2 and "Jody Took My Baby Away" from the Down South Party Mix CD in 2005.

Song's Transcendent Moment
"Turn out the lights, babe,
It's time to party.
Snuggle up,
Snuggle up,
Snuggle up."

Tidbits
1. March 29, 2009. A website named The Lyric Archive amplifies the Big Ike discography, listing the CD Get Ya Mind Right as being released in September 2002 on the Supersound label. DBN.
If You Liked. . . You'll Love
If you can imagine Bob Marley & The Wailers' "I Shot The Sheriff" reincarnated as a song by a massive bluesman in a haunted house on a moonlit bayou, you have a hint of what awaits you upon listening to Big Ike's "Teddy Bear."


































Honorary "B" Side
"Jook Joint"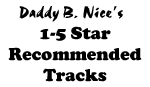 Teddy Bear


CD: Teddy Bear
Label: Mardi Gras






Jook Joint


CD: Teddy Bear
Label: Mardi Gras






End Of The Rainbow


CD: Teddy Bear
Label: Mardi Gras






2 Much


CD: Hot New Southern Soul, Vol. 2
Label: Mardi Gras






Jody Took My Baby


CD: Teddy Bear
Label: Mardi Gras






Lost Without You


CD: Teddy Bear






Stranger


CD: Teddy Bear
Label: Mardi Gras