NEW!

Corner & Top 10


Concert Calendar
& Mailbag


Comprehensive Index


New CD Reviews


Index to Artist Guides
NEW!


Best of 2014


Top 100 Countdown:
21st Century Southern Soul Artists


Top 100
Southern Soul Songs
21st Century Countdown
(00's – 10's)


Top 100
Southern Soul Artists
(90's - 00's)


Top 100
Southern Soul Songs
(90's – 00's)


Forerunners of
Southern Soul
Southern Soul CD's, MP3's
Best of Pages
About the Music
About Us
Links
Home


Sample or Buy



From artists, their familes, friends and fans. . .





From Daddy B. Nice's archives. . .





Over 100 Southern Soul drawings. . .





Original Daddy B. Nice sketches. . .





All caricatures and satirical renderings are untitled. . .





It's a little piece of history. . .





Who want a keepsake, memento or souvenir. . .





To commemorate their time. . .





In the Southern Soul limelight.





Browse through all the Southern Soul satirical sketches in Daddy B. Nice's archives.





Browse through all the Southern Soul sketches in Daddy B. Nice's archives.





Browse through all the Southern Soul collectibles in Daddy B. Nice's Southern Soul Products Store. . .





"Slow Roll It"
The Love Doctor
February 1, 2014: NEW ARTIST GUIDE ALERT!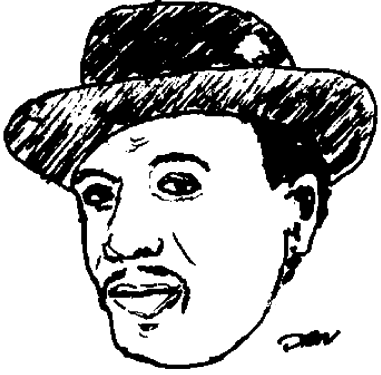 The Love Doctor is now the #26-ranking Southern Soul artist on Daddy B. Nice's new 21st Century Top 100 Countdown.

Go to Daddy B. Nice's new 21st-Century Artist Guide to The Love Doctor.

************


Scroll down this page to "Tidbits" section for the most recent updates to the Love Doctor's page.

************************

Love Doctor fans familiar with this page can also find key entries and links for additional Love Doctor information in Daddy B. Nice's "Comprehensive Index."

************************

Daddy B. Nice's Original Critique:

In 2001 a onetime Chicago-area deejay turned soul singer named The Love Doctor flew over the chitlin' circuit scene and dropped a monster track called "Slow Roll It" like a strapping ten-pound baby from a stork's beak. It arrived as an institution, an instant classic, and it filled up the air waves of the Deep South the way only a classic can--as if it had always been there. Southern Soul artists practically tripped over one another to put out their own interpretations.

"I met a girl much older,
And she whipped that thing on me.
She taught me how to take my time,
And do it right."

In the Love Doctor's version, the singer instructed the younger girls in the audience that it took an older woman--"one that knows what to do, when to do, how to do, and where to do it"--to teach him how to get down and "slow roll it." How to "take my time" and "do it right." Not since Marvin Gaye's "Sexual Healing" had an R&B song so effectively stated the importance of sex to a man's life, or slow, lingering sex as a factor in a woman's pleasure.

"Slow roll it,
Stroke it with the motion."

Young artist/songwriter Sir Charles Jones had written (and contributed back-up vocals) to "Slow Roll It," and while he and the Love Doctor deserved the credit for introducing the tune to the Southern Soul audience, those same listeners tended to forget that The Love Doctor's version had competition--Sheba Potts-Wright's female-oriented remake and Roy C's gritty, soulful cover.

The Love Doctor seemed also to be listening to the Roy C version, with its time-etched character infusing the vocal throughout the stanzas of "Slow Roll It," because his next release--the radio single of "Lies"--took his credentials as a blues vocalist to a deeper level than even his most ardent fans could have imagined.

The artist/composer/producer Jimmy Lewis had released a song the year before called "You Said It, No I Didn't (Lies)." Set up as a call and response between a man and a woman on Lewis' 2002 CD Communication (Mardi Gras Records), the Jimmy Lewis original featured a laid-back duet with Natisse "Bambi" Jones on which the listener could almost imagine the performers shaking their heads at the prospect of such far-out lyrics ever being taken seriously by an audience.

And, predictably, few people noticed. But in 2003 The Love Doctor, flush from the success of "Slow Roll It" and accompanied by Thomisene Anderson, covered "Lies" to impressive effect. Like a paddle wheeler crawling up the Mississippi, the ballad's methodical but mesmerizing beat sucked the listener into a world of comedic domestic turmoil.

"You said you graduated from Penn State," Thomisene sang.

"There you go again," sang the Love Doctor.
"I told you I got my diploma,
When I was in State Penn."

The Love Doctor's duet with Ms. Anderson, the longtime back-up singer to Bobby "Blue" Bland, Little Milton, Ronnie Lovejoy, Z. Z. Hill, Willie Clayton and others, first appeared in the Mardi Gras Records sampler, Ultimate Southern Soul, and in 2004 it became the jewel of the Love Doctor's CD Lies.

"You said you were born in L.A.," Thomisene sang,
"But you were born in the South."

"Where else would I be from, baby," The Love Doctor sang,
"With all this gold in my mouth?"

Listening to the track play out on radio stations throughout the South during the last half of 2003, and again through much of 2004, your Daddy B. Nice heard more deejay testimonials in response to this single piece of music than any other in recent years.

"You said you had a new Mercedes,
Fully equipped with air."

"No, no," said The Love Doctor.
"I said it was a 1953,
And honey, I didn't have no spare."

The song seemed to strike a distinct nerve in the black community, touching upon the deep ambivalence about yuppie-style material success on the one hand and working-class poverty, humility and tenacity on the other.

Thomisene Anderson's "country" vibrato as she sang, "Lies. . . Lies. . . Lies. . ." breathed new life into a technique long gone bankrupt (worn out by Whitney Houston and her many imitators), and The Love Doctor's intensity not only belied his newness to the Southern Soul scene but marked him as a modern master. The Love Doctor had resuscitated the kind of duet not heard since the mid-twentieth century and songs like Brook Benton's and Dinah Washington's "Baby (You've Got What It Takes)."

However, The Love Doctor will always be associated first and foremost with "Slow Roll It," one of a handful of songs that have come to symbolize Southern Soul's bid for a legitimate niche in the long and storied history of Rhythm and Blues. One can imagine even the great Johnnie Taylor listening to "Slow Roll It" on his I-Pod on the way through the pearly gates to Soul Heaven.

--Daddy B. Nice
About The Love Doctor
The Love Doctor was born Lewis Clark and raised in the Memphis area before moving to Illinois and becoming a disc jockey. Under the deejay name "Blues Doctor," he gained a sizable audience and eventually transformed himself into a performer.

He changed his name to The Love Doctor in 1997 and put out a debut disc called Midnight Recipe on a small label (Nutrition). In 2001 he signed with Mardi Gras Records of New Orleans. His initial CD on that label was the reputation-making Doctor Of Love, which included the smash chitlin' circuit hit, "Slow Roll It."

The album marked the emergence of a new Southern Soul star, Sir Charles Jones, who composed all the tracks for the LP and contributed back-up vocals, most notably on "Slow Roll It." The disc also reunited Lewis Clark with his old gospel-music peer from his younger days in the South, producer Senator Jones.

Moaning And Groaning followed Doctor Of Love in 2002. Another Southern Soul star-to-be, Carl Marshall, took over much of the compositional and arranging work that Sir Charles Jones had performed on the Doctor Of Love album.

(Note: Not to nitpick, but Carl Marshall certainly didn't write "Where Are You, Lady?", the Southern Soul classic that Willard Burton composed for Tyrone Davis. Perfunctory credits-writing on Senator Jones' part, no doubt, beyond Marshall's control.)

The CD Lies, with the landmark track, "Lies (You Said It, No I Didn't)," appeared in 2004, although the single had already made a sensation on Southern Soul radio in 2003.

"There's No One Like Mama," with a chorus reminiscent of the 50's Ames Brothers, became the standout track from The Love Doctor's 2004 gospel CD of the same name (Mardi Gras, 2004).

The Love Doctor's Discography:

2001 Doctor of Love Mardis Gras

2002 Moaning & Groaning (Mardi Gras)

2004 Lies (Mardi Gras)

2004 There's No One Like Mama (Hep'Me)

2005 Let's Have Some Fun (Hep'Me)

2007 Stupid (Hep'Me)

2008 At His Best (Senator Jones)
Song's Transcendent Moment
"Gotta kiss her on the toes.
Gotta kiss her on the shoulder.
Gotta kiss her on the navel.
Gotta get a bit bolder."

Tidbits
1. The Love Doctor gained a modicum of air play on many Stations of the Deep South in late 2004 and early 2005 with the track, "Just Another Soul Song" (yet to be featured on an LP).

2. September 7, 2007. The track finally appeared on the Love Doctor's '07 release, Stupid.) The song echoed the style The Love Doctor had used on his Lewis Clark and the C&W All-Stars album There's No One Like Mama. Both the album and the new track were daring in their unashamed emulation of early-fifties' gospel-influenced R&B groups like The Ames and The Mills Brothers.

3. Confused about the performer credit for There's No One Like Mama? That's because the disc was originally put out as a Lewis Clark CD of the same name.

4. (2007): SAY IT AIN'T SO, LOVE DOCTOR!

Your Daddy B. Nice has introduced countless people to specific Southern Soul songs over the years. Few of those songs have touched fans the way the Love Doctor's have. The Love Doctor's precedent-setting, Southern Soul CD, The Doctor Of Love (now out of print), if you'll remember, was the album that introduced "Slow Roll It," "My Forever Love" and "Everyday Woman"--all composed and for the most part arranged by a then-unknown young musical genius named Charles Jones--to the Southern Soul audience.

That creative triumvirate--vocalist extraordinaire The Love Doctor, erstwhile middle-of-the night WMPR DJ Uncle Bobo-slash-producer-Senator Jones, and young creative-dynamo Sir Charles Jones--constituted one of the most promising R&B "sounds" to be heard in years. It was different from anything that was coming out of Southern Soul's two main musical factories, Malaco and Ecko Records, and yet you knew the minute you heard it this was indubitably and eternally "Southern Soul" music.

Typically, even The Doctor Of Love was misunderstood by the mainstream. Here's an excerpt from All Music Guide's contemptuous 2001 review:
"There's bad bad, and then there's just sad bad, and Doctor of Love unfortunately falls into the latter category. . . Nearly every single thing about this album borders on laughable, from the cliche-ridden grooves and outdated production style to the sound itself."

And yet, the fact that a lot of people didn't "get it" made those of us who loved The Love Doctor's "sound" cherish his work that much more. Personally, your Daddy B. Nice couldn't care less if the Love Doctor wanted to hang out on his front porch, munching on pork rinds, with his legs up and his toes wiggling in the sunshine above the unpainted railing.

I wouldn't hold it against him if he never toured again, or if he wanted to burn the midnight oil with that legendary nighthawk, Senator Jones, and sleep all day, if only he'd put out a great record now and then. I'm even willing to entertain the possibility that that kind of undisciplined and unstructured life-of-leisure might be the source of the Love Doctor's and Senator Jones' creativity.

But there's the rub. We Love Doctor fans have waited patiently for new, ground-breaking material from the Doctor of Love for over half a decade now, with little to show for it but a handful of heavily gospel-influenced tunes and the mini-masterpiece, "You Said It, No I Didn't (Lies)," the Love Doctor's duet with extraordinary back-up vocalist Thomisene Andersen.

Instead--especially now, with the debut of the Love Doctor's new CD, Stupid (Hep'Me, 2007)--it seems as if the Love Doctor has done his best to squander the tremendous reservoir of good will and fan empathy built up by his early work. Stupid is--there's no other way to say it--just dumb, a huge disappointment, and a red flag for Hep'Me Records that they may have lost their touch.

The CD is not only small (something we've come to expect from the Love Doctor and Senator Jones) but repetitious, filled with material as stale as week-old bread. "Stupid" (given two treatments on the disc) has no melody, no rhythm track, and falls flat on its face in the humor-and-wit department, where its creators evidently gambled that it would hit the bulls-eye.

I would venture to say that if the disc didn't contain a version of "When The Saints Come Marching In" (actually, two tracks worth of it too) modified to fit NFL star Reggie Bush and the local New Orleans Saints fan base, it wouldn't have sold more than a few copies.

"Stupid" (Bargain-Priced) is therefore a wake-up call to the Love Doctor and Hep'Me Records. It's proof positive of what a tiny window the kind of daringly-casual record they specialize in has in which to succeed.

Your Daddy B. Nice has recently written about the drift towards hiphop in Southern Soul music over the last year. That's not to say I'm crazy about the trend, but one has to recognize the originality of much of the new work coming from hiphop-influenced artists.

The Hep'Me Records stable of artists was until lately a much-needed counterweight to that trend. For diehard iconoclasts like your Daddy B. Nice who couldn't care less about BET looks or media hype or listening to any more generic funk or hiphop in this lifetime, the Senator Jones' production of Miz B.'s "My Name Is $$$$$ ," Little Kim Stewart's "No Bootleg Baby" and the greatly under-appreciated Robert Hill debut, Somebody Lied On Me, served notice that the label still knew how to make hit records that epitomized what Southern Soul is and should be.

With new work soon coming from Hep'Me's Stewart and Monique Ford, we can only hope that the aging impressario of the night, Senator Jones, hasn't lost his mojo. Meanwhile, we can only mourn the failure of The Love Doctor's Stupid. We had high expectations--in retrospect, maybe too high--and The Love Doctor has let us down.

DBN.

(The above article ran on Daddy B. Nice's Corner under the title, "Say It Ain't So, Love Doctor!", in 2007.)

****************************

5. August 30, 2008

I've come to the conclusion that the reason the Love Doctor's music so often fails is because what he's trying to do is so damned hard to accomplish: harder than threading the proverbial camel through the eye of a needle.

The Love Doctor's not out of the "woods" he got lost in with the disastrous Stupid CD, but his new disc, At His Best, is a step in the right direction. When he sings "Merry Christmas," you see frosty red cheeks.

The majority of the music is still as bare as an amateur jug band, which is the main problem. Since his collaboration with Sir Charles Jones ended, the Love Doctor simply hasn't had enough musically adequate material.

On his two new singles--"We'll Make It Do What It Do" and "Let's Stay Together"--he's trying hard to recapture the magic. He's tighter. He's got Thomisene Anderson backing him up. He's mining the old chitlin' circuit, wrong-side-of-the-tracks subject matter from his salad days, i.e. the lyric: "Makes no difference/ If the sun don't shine./ I'm going to keep you/ From the welfare line."

But if this kind of lower-class romanticism is what you're after (and for your Daddy B. Nice, it's what Southern Soul is all about), your hard-earned dollar is better spent on Lee "Shot" Williams' more musical CD Shot From The Soul , whose centerpiece--"Country Woman"--rivals the very best the Love Doctor has lavished upon us in the past.

Your Daddy B. Nice's favorite track from At His Best remains the Love Doctor's Christmas song, which snuck out to Southern Soul radio stations almost a year ago now. "Slip Away For Christmas" is the Love Doctor at his best, tiptoeing across the razor-thin high-wire above the adoring crowd, rustic but accomplished at the same time, serving up stuff nobody else can. I don't even like Christmas music--and generally detest artist Christmas albums--but somehow this Love Doctor track takes me back to an earlier time.

It's an exotic, rare gift--this ability to conjure how happy just gazing at a Christmas card with Santa's face and rosy cheeks made one feel as a child--and the Love Doctor (with the help of Senator Jones) is the only performer in Southern Soul who has the ability to conjure that kind of downhome, bygone ambience.

--Daddy B. Nice

(Parts of the above piece originally ran on Daddy B. Nice's Corner under the title "Pulling Out Of The Nose Dive, Headed Back Up, But By No Means There. . . " in July 2008.)

*********************

6. 8/30/08 Footnote: ALERT.

Senator Jones has just issued a CD by an artist named "Mr. X." Many of the songs are taken track for track from the Love Doctor's At His Best CD. The arrangements are almost identical. Only the vocal is different. The singer is definitely not The Love Doctor. What's going on in Love Doctor/Senator Jones-land? Stay tuned. . . DBN

7. Update: January 10, 2008 (Re: Mr. X mystery artist re-recording The Love Doctor's songs)

The artist Mark Safford has taken on the pseudonym Mr. X. He has already published two CD's, the first one Sit Down On It--described below--and the second one, Wiggle Wiggle Wiggle Jiggle Jiggle Jiggle, making two new CD's in one year. Here is what I wrote about Mr. X in Top 25 Singles of 2008:

"Talk about amazing debuts. Mr. X took a set of songs the Love Doctor had left as flat as Pinocchio and breathed fresh life into them. It was almost as if the Love Doctor and Senator Jones had handed the relay baton to Mr. X (Mark Safford) and said, "Go for it." "Make It Do What It Do," "Sweetie Pie" . . . All underwent incredible transformations, but that wasn't enough for the technically-breathtaking Mr. X. He released a second CD a few months later, with the wonderful, chitlin' circuit-friendly dance cut, "Wiggle Wiggle Wiggle Jiggle Jiggle Jiggle," that overshadowed anything on the first disc."

Read more. . . (DETOUR TO BEST OF 2008 PAGE and Daddy B. Nice Southern Soul Music Awards)

--Daddy B. Nice



If You Liked. . . You'll Love
If you liked Marvin Gaye's "Sexual Healing," you'll love The Love Doctor's "Slow Roll It."

Honorary "B" Side
"You Said It, No I Didn't (Lies) "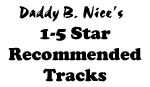 Slow Roll It


CD: Doctor Of Love
Label: Uptown/Universal











You Said It, No I Didn't (Lies)


CD: Lies
Label: Mardi Gras











Everyday Woman


CD: Doctor Of Love
Label: Uptown/Universal










Can You Slip Away For Christmas


CD: At His Best
Label: Senator Jones


Sample or Buy
At His Best








My Forever Love


CD: Doctor Of Love
Label: Uptown/Universal










The Good, The Bad, And The Ugly


CD: Lies
Label: Mardi Gras










There's No One Like Mama


CD: There's No One Like Mama
Label: Mardi Gras









Baby Don't Stop


CD: Moaning And Groaning
Label: Mardi Gras









Just Another Soul Song


CD: Stupid
Label: Hep'Me









Let's Have Some Fun


CD: Let's Have Some Fun
Label: Hep'Me









Tighten Up


CD: There's No One Like Mama
Label: Hep'Me









What Your Love Means To Me


CD: Stupid
Label: Hep'Me









Wife, Woman, Lover, Friend


CD: Lies
Label: Mardi Gras








Moaning And Groaning


CD: Moaning And Groaning
Label: Mardi Gras








Stroke On Me


CD: Let's Have Some Fun
Label: Hep'Me