November 17, 2016:

VARIOUS ARTISTS: Beat Flippa I Got The Blues Vol. 2 (Music Access/Ross Music) Four Stars **** Distinguished Effort. Should please old fans and gain new.
I was about to write that, despite a bounteous, Thanksgiving-sized helping of new music (a generous fifteen tracks vs. sixteen on the first Beat Flippa sampler), nothing jumps off the liner credits of Volume Two like Volume One's "My Sidepiece" by Big Pokey Bear.
The trouble with that comparison is Pokey's new southern soul classic didn't appear on I Got The Blues Vol. 1. It graced The Louisiana Blues Brothers Love On The Bayou a year earlier.

Regardless of whether "My Sidepiece" debuted on Beat Flippa Volume 1, the album was a powerhouse in the Deep South, a cultural earth-shaker and a creative game-changer for contemporary southern soul music and the way the genre is produced, dropping a slew of new artists (headlined by Pokey) on a southern soul audience hungry for new sounds.

The single that woulda/coulda/shoulda been this album's "Sidepiece" was Cold Drank's "Three." In a September 2016 interview featured on Daddy B. Nice's Corner, "Three" producer Heavy, the original composer of "My Sidepiece," told your Daddy B. Nice:

"I don't do business with Beat Flippa (any more). I'm not discrediting him, but I wasn't happy with him doing the "My Sidepiece Reply" on YouTube, the one with the women (Veronica Ra'elle, Lacee, Ms. Portia), without talking to me."

But the end result, I fear, was a loss for all parties, on the one hand Beat Flippa, whose Vol. 2 CD otherwise lacks a showcase single on the order of "My Sidepiece," and on the other hand Heavy and Cold Drank, whose "Three" may never benefit from the much wider exposure and retail sales the single would have garnered on I Got The Blues: Volume Two.

Listen to Cold Drank singing "Three" on YouTube.

Any follow-up to Beat Flippa's Vol. 1, with exceptional anthems like "T.G.I.F.," (Pokey, Vince Hutchinson & Adrian Bagher), "The Best You Ever Had" (Rosalyn Candy, Veronica Ra'elle), "If It Ain't The Blues" (Pokey Bear, Cupid) and "Let's Do It" (Adrian Bagher, Big Cynthia, Veronica Ra'elle), was bound to be something of a disappointment by comparison.

And songs like Laylla Fox's "I Taste Like Candy," Rosalyn Candy's Let's Get The Business Clear" and Miss Portia's "Use What I Got" from the new CD lack not only the surprise factor but some of the outstanding musicality of the first collection, relying on simplistic and repetitive hooks.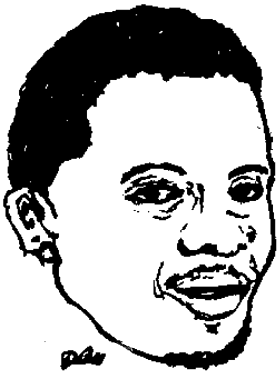 Meanwhile, in spite of their obvious merits, tracks one would anticipate to be sure-fire successes, such as L.J. Echols'"Is It True" or the Louisiana Blues Brotha's "Naked," are under-stated to an almost off-putting extent, lacking some of the indefinable energy and enthusiasm of Volume 1.

Which is not to say Volume 2 doesn't deliver an ample share of great music. Stand-out tracks, executed with the freshness and originality we've come to expect from Beat Flippa, include:

Napoleon Demps' "Ol' School Love"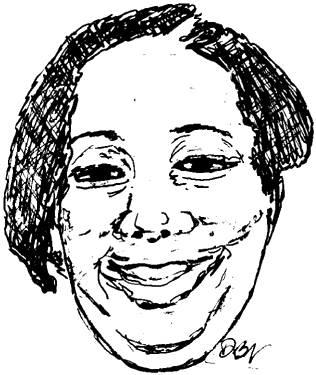 Big Cynthia's "Come Saddle Up"

Sharnette Hyter's "I'm Classy"

Lady Soul's "Tighten Up"

Jeter Jones' and Crystal Thomas' "Them Country Girls"

and...

Nicole Jackson's "What You Gone Do For Me."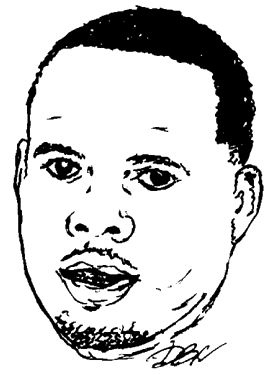 These and other tunes from the new sampler sparkle with all the special, atmospheric production touches evident in Vol. 1: the signature organ fills that run like "deep waters" through the entire set, the spacious but appropriately spare use of the zydeco accordion and the crystal-clear mixing. And not to be forgotten: the yoga-supple guitar work of Tyree Neal, whose picking is evolving and maturing into a sophistication we haven't seen in southern blues and soul since Theodis Ealey and, of course, B.B. King.

Listen to Tyree Neal's guitar on Napoleon Demps "Ol' School Love."

While I Got The Blues: Volume Two may lack some of the impact and overall consistency of Volume 1, it's still music to fill any righteous southern soul fan's day with pleasure, energy and intimacy.

--Daddy B. Nice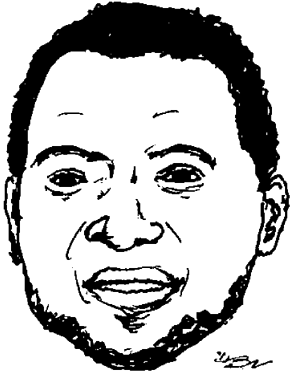 Jeter Jones
For more on Beat Flippa: I Got The Blues Vol. 2, see Daddy B. Nice's Corner and scroll down to.....September 12, 2016:
News & Notes: Beat Flippa Returns With Volume 2
Sample/Buy Beat Flippa's I GOT THE BLUES VOL. 2 at Amazon.
Sample/Buy Beat Flippa's I GOT THE BLUES VOL. 2 at iTunes.
Listen to samples from "Beat Flippa I Got The Blues Vol 2 Promo pt 1".
Listen to samples from "Beat Flippa I Got The Blues Vol 2 Promo pt 2".
Listen to samples from "Beat Flippa I Got The Blues Vol 2 Promo pt 3".


************

October 12, 2016:
NAPOLEON DEMPS PRESENTS...VARIOUS ARTISTS:
Southern Soul, Vol. 1
Three Stars *** Solid. The artist's fans will enjoy.
The first time I listened to Napoleon Demps Presents...Southern Soul Vol. 1, the record sounded crude and amateurish, and with no retail available I threw the sampler in the "slush" pile. Now--a couple of months later and the record available for sale--I slipped the album into the CD player once again and suddenly it sounds much better. I'm listening to it with interest and playing it over and over, with the difference between my two reactions still unaccountable.

Napoleon Demps is a native of Flint, Michigan, notorious for the municipal water-poisoning of its overwhelmingly African-American constituency and a northern outpost of southern soul second only to Chicago (if not first), home to such chitlin' circuit luminaries as Simeo Overall and James Smith and the northern base of Anna Coday's Coday Records. Demps first made a name for himself in 2006 under the name "Napoleon" with the extremely catchy track, "Who You Been Lovin'?", still his signature song, a duet with Mr. David which once linked to My Space but unfortunately is still not posted on YouTube in spite of being re-promoted by the artist in 2011.

The hooky "Yeah, Yeah, Yeah..." from "Who You Been Lovin'?" graces "Party," the fairly generic, opening track from Southern Soul Vol. 1, instantly reminding southern soul veterans from whence the artist comes. It also sounds very Mr. David-like. Four other tunes by Demps are featured on the disc, none of hit-song caliber save for "A Lie Don't Care Who Tell It," an especially well-crafted and memorable ballad that charted at #6 on Daddy B. Nice's Top Ten Southern Soul Singles for August 2016.

Listen to Napoleon Demp singing "A Lie Don't Care Who Tell It" on YouTube.

"Damn," a rather sophomoric ballad (temper tantrum based on an argument with the wife about going to the club), "Step," a modestly successful "stepping" song, and "Let Me Get It For The Last Time," a mid-tempo tune in the Marvin Sease style, round out the Napoleon Demps selections.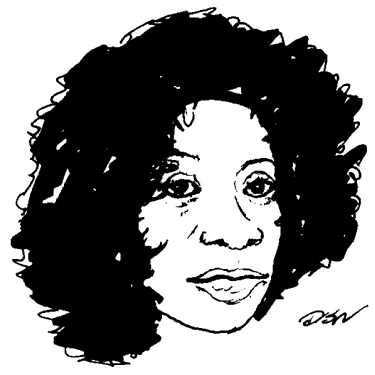 The over-wrought "Living A Lie" by Katrenia Jefferson is perhaps the highest-profile guest selection. "Living A Lie" was the #1 southern soul song at WDLT's "All Blues Saturdays" in Mobile, Alabama for much of the summer, although I also heard there were behind-the-scenes
machinations behind its prolonged run. I was the first critic to tout Jackson, Mississippi's Jefferson years ago due to her amazing, locally-produced, never-published underground songs, "Chance Of A Lifetime" and "Holding On." I still don't think Jefferson's unique, dramatic skills have gravitated to the right producer, although "What If I" and "That Thang" come close. Katrenia's style is so hyper-emotional it demands a producer who can keep the singer "within" herself rather than pushing her over the emotional and stylistic "edge".

By comparison, Lady T's "Shake" is remarkably modest yet successful, a groove-heavy, bass-dominant dance jam with a raw, rough vocal that perfectly enhances its underground authenticity. First distributed in 2014, "Shake (Your Money Maker)" was especially well-received on the Gulf Coast, where Mobile's DJ Nikki DeMarks put it into heavy rotation.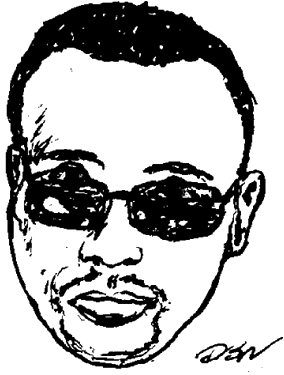 Mister Zay's (Xavier Ayers') "Cut It," is less fun, a tepid if solid single with an oft-used synth-horn line by the vocalist who has had a checkered career since his first southern soul hit single, the Luther Lackey-written "She Only Wants To See Me On Friday." The latter was never issued on a Mister Zay album but an integral piece of the most influential sampler in contemporary southern soul lore, Mardi Gras Record's Ultimate Southern Soul (2002).

"(You Can) Never Get It All," by Rashad The Blues Kid, represents southern soul new blood, a young artist whom your Daddy B. Nice likened to "a young, raw, unschooled Lee 'Shot' Williams" in his August 2016 chart debut, "Shake It." And "U Got It" by Uncle Wayne completes the line-up of relative "outcasts and unknowns." Uncle Wayne had a couple of underground singles in 2007, including the interesting "Red House."

And if in this review I've erred more in line with my initial reaction--hyper-critical--it's incumbent upon me to say that taken as a whole everything on this album sounds natural and well-done, even "Living A Lie" by Katrenia Jefferson, which to newer listeners may sound as wondrous as "Chance Of A Lifetime" once sounded to me. The secret is undoubtedly in the variety of the artists, and the fact that, though roughly-executed when examined individually, the overall effect of the songs in the collection is positive. Napoleon Demps perhaps over-reaches with this ambitious set, but his aggressiveness (adding five artists' songs to his quintet) pays off. Napoleon Demps Presents...Southern Soul Vol. 1 reminds me of the equally interesting if also relatively low-budget samplers out of Montgomery, Alabama, "Southern Soul Blues: Various Artists Hot Spot Volumes 1-3."

--Daddy B. Nice

Sample/Buy Napoleon Demps Presents...Southern Soul Vol. 1 at Amazon.





Product, comments, information or questions for Daddy B. Nice?

Write to

daddybnice@southernsoulrnb.com

************





************

September 18, 2016:

CRYSTAL THOMAS: Lyrical Gumbo: The Essence Of Blues (Crystal Thomas/Jones Boy Ent.) Two Stars ** Dubious. Not much here.
Lackluster material and lack of focus torpedo the debut of the talented Crystal Thomas, a strong-lunged vocalist who has been touring the Louisiana chitlin' circuit with Jeter Jones. Jones, an up-and-coming southern soul singer with two albums (one produced by Eric "Smidi" Smith) under his belt, executive-produced, with Thomas herself doing the writing and some of the producing, along with Slick Ross, Tomi Gran and Gary Smith.

The album may hold more interest for straight blues fans. The young songstress's vocals boast a wonderful, deep-registered tone and potential gale-force delivery, although the latter isn't called for in this collection of songs. But there is nothing that meets the more exacting, what-have-you-done-for-me-lately? standards of the current southern soul fan.

A near-miss on Daddy B. Nice's "Top Ten" Singles the last two months, Crystal's ballad "Country Girl" is the one song in the set that emits real feeling. Yes, there are programmed horns, and the overall production is rudimentary. But "Country Girl" contains believable, personal emotion and a corresponding sense of place, and jives with the performance identity Crystal Thomas could attain, with perseverance, within the southern soul world.

Listen to Crystal Thomas singing "Country Girl" on YouTube.

The other two candidates for radio play and concert performance are the collaborations with Jeter Jones, "Something Something" and "Work It." With the promising lyrical hook--

I like your front
And I love your back.

--"Work It" nevertheless sputters too generically along a well-worn funk riff to merit time-and-again listens, while "Something Something" utilizes much the same chords and chord progressions as "Country Girl." And the voice-overs by Jones on both duets have an empty, almost off-putting bravado. (His contributions on this CD come off as a little too facile.) There's nothing on this CD, for example, as original (and yet restrained and authentic) as the Jeter Jones/Crystal Thomas duet on the new Beat Flippa Vol. 2 album:

Listen to Jeter Jones and Crystal Thomas singing "Them Country Girls"on YouTube.

The balance of the Crystal Thomas album is straight blues: "Somebody Else's Man," "Baby Don't Leave Me," "What I Been Looking For" and maybe the puzzling "Excuse Me Miss." Not really the happy hunting-grounds of the southern soul fan. Two ballads in the latter half of the disc--"I Can't Be" and "Cheating On Me"--go in a more pop direction and are better specimens of what Crystal can do--like the acapella gospel ending of "I Can't Be" and the CD-ending, head-turning, acapella-gospel fragment, "Until You Come Home To Me."

--Daddy B. Nice

Sample/Buy Crystal Thomas' LYRICAL GUMBO CD at CD Baby.

************




Send CD's to Daddy B. Nice, P. O. Box 19574, Boulder, Colorado, 80308 to be eligible for review on this page.

************



************

August 28, 2016: TWIN REVIEW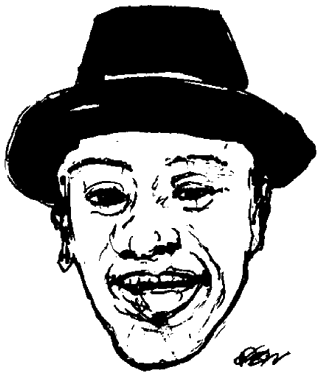 VARIOUS ARTISTS: Blues Mix 20 Grown Folks Blues (Ecko) Three Stars *** Solid. The artist's fans will enjoy.
Mr. Sam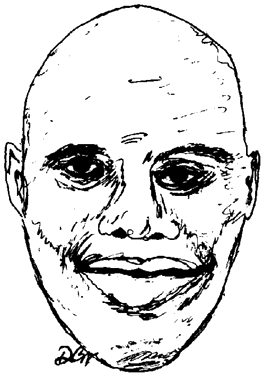 VARIOUS ARTISTS: Blues Mix 21 Booty Shakin' Soul (Ecko) Four Stars **** Distinguished Effort. Should please old fans and gain new.

O.B. Buchana

Your Daddy B. Nice has been slow getting to Ecko Record's latest sampler, BLUES MIX 20: GROWN FOLKS SOUL, featuring Mr. Sam, O.B. Buchana, Ms. Jody, Sheba Potts-Wright and more. In the meantime, the even-newer BLUES MIX 21: BOOTY SHAKIN' SOUL has just arrived, so I'll discuss them both.

If you're lucky enough to live in a place where these two samplers grace a rack next to the check-out counter, the former has a gold cover and the latter a blushing-pink cover. The pink one, BOOTY SHAKIN' SOUL--the better of the two, in my opinion --will be on sale soon, but has no retail or YouTube links as of the time of this writing.

(9-10-16: Here are two just-published YouTube links:

Listen to O.B. Buchana singing "It's Booty Shakin' Time" on YouTube.

Listen to O.B. Buchana singing "Why Can't I Be Your Lover?" on YouTube

....DBN.)

If BLUES MIX 20: Grown Folks Soul were a vinyl album--something I've been listening to lately with a renewed sense of jaw-dropping awe--I'd think of the first five songs in sequence from this compilation of lasting significance (Side A) and the remaining seven songs, also in sequence (Side B) of more journeyman quality meriting only passing interest.

The first five songs are: "I Tiptoed In It" an updating of singer/songwriter Mr. Sam (Sam Fallie) and O.B. Buchana's by now classic duet, "Put Yo Foot In It," causing your Daddy B. Nice to comment, in its chart appearance in July--

Indeed, it actually makes "Put Your Foot In It" a little more understandable.

Recalling the lyricism of his early work, Mr. Sam's "Stand By Man" is his strongest melody in years, with a passionate vocal and nicely-textured arrangement. And Ms. Jody's appearance with "I Did It," originally published on the singer's MS. JODY'S IN THE HOUSE album, was catchy enough to revive air play for the tune (complete with nursery rhymes) across the South this summer.

With a beguiling southern-soul, mid-tempo rhythm track, O.B. Buchana's "Swing On," was the highest-profile single from his latest CD, MISSISSIPPI FOLKS, and a cross-over hit in the Carolina beach market as well. Finally, Donnie Ray rounds out the truly exceptional songs from BLUES MIX 20 with the "Carolina Swing," another southern soul standby and beach circuit favorite.

And this is where the sampler descends from "classics" to "oddities." "Side B" commences with "Love Talk" by James Payne, like Simone De a worthy gulf-coast singer perpetually in need of better material.

Sheba Potts-Wright's "The Real Deal" is seemingly a solid, well-written, well-sung outing by the longtime Memphis diva. And yet, it stirred not a ripple of notice until Bishop Bullwinkle plagiarized the instrumental track in his far more popular "Some Preachers."

"That Groove" by Rick Lawson, "Cheating Is The Only Way To Go" by Sonny Mack, "Come A Little Closer" by Ms. Jody, "She Used To Be My Girl" by Donnie Ray and I'm A Love-Starved Woman" by Val McKnight round out the album.


Blues Mix 21: Booty Shakin' Soul...
...on the other hand, has something the former sampler lacks, a great theme...Or, at least, a great back-catalog of songs with the "booty" motif. One can only imagine Ward and Chambers (from Ecko) trolling their computer libraries for key words like "booty" and assessing the available stores.

It's also consistent and of a piece. Nary a ballad spoils the dance-jam tempo.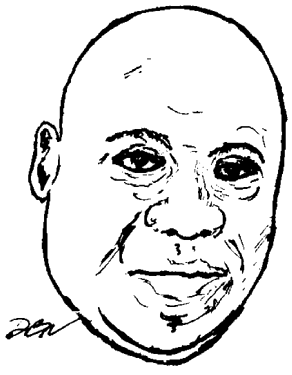 As with BLUES MIX 20, this compilation commences with a new hit single, the latest from O.B. Buchana: aptly enough, titled "It's Booty Shakin' Time." It's one of the catchiest fast jams Buchana has done, with a great arrangement. The vocal, too, builds on the vocal style explorations begun by Buchana in MISSISSIPPI FOLKS.

But that's not all. A few notches down the album sequence, we're treated to another new Buchana track, Why Can't I Be Your Lover?" It's even more seductive. The instrumental track pulls out all the stops. Insinuating itself into the texture of the song like smoke seeping out of a chimney is a zydeco accordion used in a subtle, un-zydeco-ish way. The sound is unique on a southern soul record and makes the track a stand-out. In tandem, the two new Buchana singles instantly elevate this collection.

Delving into the back catalog, the sampler taps "Making That Booty Roll," a mid-tempo rocker from Jaye Hammer; "Get On Up" by Sonny Mack, from his new album; and "Ms. Jody's Boogie Slide."

The late Quinn Golden's "Bottoms Up," a classic from the seemingly distant southern soul past, shows up, at first bewilderingly, until the lyrics refresh the memory:

Bottoms up,
Get on down,
Shake that booty,
Shake it all around.

Golden is also represented by "Can You Pop That Trunk," a rabble-rousing jam I have never heard on the radio. "It Sho' Wasn't Me," a new track by Donnie Ray, is featured. Other oldies appear: Mystery Man's "Hole In The Wall Cafe" and David Brinston's "I Came To Party."

And just when you think the sampler may be beginning to sputter, it hits you with "Shake A Tail Feather" by Ms. Jody and the Jaye Hammer anthem, "I Ain't Leavin' Mississippi". In sum, BLUES MIX 21: Booty Shakin' Soul--the one in the cute pink cover--makes for an always welcome party album.

--Daddy B. Nice

Buy Blues Mix 20: Grown Folks Blues at iTunes.

Buy Blues Mix, Vol. 21: Booty Shakin' Soul at Amazon.

*********



Product, comments, information or questions for Daddy B. Nice?

Write to

daddybnice@southernsoulrnb.com

*********

August 7, 2016: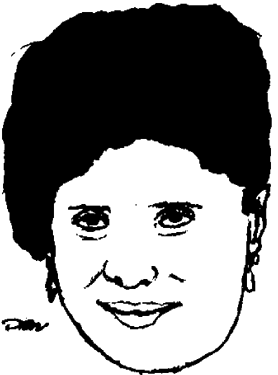 MS. JODY: I Got The Feeling (Ecko) Five Stars ***** Can't Miss. Pure Southern Soul Heaven.
Is there any sight in southern soul more rewarding and reassuring than Ms. Jody slipping out of her shoes and singing and dancing barefoot onstage? How lucky are we fans to have such a natural woman at the helm of our musical ship? Earthy, sexy, unfailingly scandalous yet somehow not obscene, Ms. Jody accommodates all the onstage, "grown-folks-only" shtick that LaMorris Williams and other male artists indulge in to make the audience howl--flirting, lap-dancing, grinding and rolling with a member of the opposite sex beckoned onstage for the fans' vicarious delight--and yet she endures as a country girl, humble and practical, an "every-woman" whom all women and even the "mens" can identify with.

Ten years ago--she's only been with us that long-- your Daddy B. Nice picked Ms. Jody and Nellie "Tiger" Travis out of batch of new divas to be the most likely to succeed over the long term, and time has born out the prediction. The exceedingly talented and flashier Travis has had more career ups and downs--thankfully "up" since her single smash, "Mr. Sexy Man" of a couple of years ago--but Ms. Jody, bolstered by her affiliation with John Ward and Ecko Records--has been the more productive and consistent diva, as reflected in her lofty position (#6) on the Top 100 21st Century Southern Soul Countdown. Ward once confided to me that he turned Ms. Jody down (to join the label) more than once. Thankfully for us fans, she just wouldn't take "no" for an answer.

I was surprised how many people I ran into over the last year assumed (or interpreted from my 3-star review) that I "didn't like" Ms. Jody's last CD, Talkin' Bout My Good Thang. The tag accompanying the three stars clearly says, "Solid. The artist's fans will enjoy," but I do understand the competitiveness of artists and their fans who find anything less than a perfect (5 stars) rating a disappointment.

Talkin' Bout My Good Thang was clearly a transitional album. It had some good things and some not-so-good things; overall it was a potpourri. This becomes readily evident while listening to Ms. Jody's new CD, I GOT THE FEELING, which traverses the same varied musical styles and themes but delivers them with a much bigger punch. From the audience-friendly, past-hit-referencing, show-opening lyrics of "Come On" to the insistent hook of "Don't Back Up Off It," I GOT THE FEELING showcases Ms. Jody at her most effective.

The aforesaid "Don't Back Up Off It," is the sexual equivalent of fishing near the shoreline and getting your hook snagged. In this case, the snag is the woman's G-spot. "Keep it right where I want it," Ms. Jody insists.

"Doggettes," although lyrically novel, will remind longtime fans of one of Ms. Jody's most beloved classics, "Your Dog Is Killing My Cat." "Doggettes" expands "dawg-ness" to the fair sex.

"She's a female version
Of a male canine
And she's as much a dawg
As a man is any time."

This trio of songs, however, doesn't even crack the top tier of this album's potential blockbuster singles. The mid-tempo "There's A Party Going On" is quintessential Ms. Jody and Ecko Records, the style and the sound tooling along at its most gratifying level. This track has programmed horns, which in recent Daddy B. Nice columns and reviews has undergone withering scrutiny, but in this case they're not distracting. They aren't the "lowest-common-denominator" sound we remember from southern soul a decade ago (or in some cases today).

The title track, "I Got The Feeling," with a great bass line and overall rhythm section and another nifty, vocally-enhanced chorus embracing Ms. Jody's straightforward vocal, is an absolute smash. The real guitar work by John Ward (the multi-instrumentalist/programmer who essentially does everything on this album) adds invaluable texture.

"This Place Is Hot," #2 on this month's Daddy B. Nice "Breaking" Singles, takes no prisoners. This is the kind of scorching number you might think more in the purview of a Stephanie McDee, but Ms. Jody rides and tames the "bucking bronco" of a jam without a hint of doubt or hesitation. The arrangement is singular, with a terrific rhythm track and rhythm guitar.

In the more mellow yet briskly-paced "It's Too Late To Do Right Now," Ms. Jody returns to her bailiwick, catchy and melodic hooks in the mid-tempo range. This might be the single that catches on--simple, confrontational, but eternally optimistic in the Ms. Jody way. Even as we hear echoes of songs like "I Did It" or "Just Let Me Ride" in the folds of its melody and rhythm, we're taken aback by how original the new song sounds.

Which brings up the supporting cast. The level of songwriting on this disc is exemplary thanks to John Ward, Vertie Joanne Delapaz (Ms. Jody), Henderson Thigpen, John Cummings, and Leo Johnson. Consequently, the aptly-named I Got The Feeling radiates authentic feeling. Even the ballads in the set possess an urgency that belie their tempo. Witness the humble and endearing hook of "All True Man," which floats by as easily as an afternoon cloud overhead. Ms. Jody's vocal is resplendent throughout.

Ms. Jody's "Zydeco Rodeo" and "Making Love Is Always Better When The Bills Are Paid" also disarm with their easy-going sound and execution, while the stately "I'm Tired Of Being A Secret" constitutes Ms. Jody's latest take on "the sidepiece" theme still obsessing southern soul.

The only overtly derivative song on I GOT THE FEELING is "You Got To Leave Me, Baby," a rock-and-rolling piece of nostalgia with a walking-blues line played (redeemingly) by a traditional piano, which actually sounds unique in a southern soul setting.

If the measure of a great CD is the number of potential hit singles which can be culled from it, I GOT THE FEELING is eligible for greatness, and your Daddy B. Nice looks forward to an enjoyable year discovering which of these songs resonate most with the fans. With this outing Ms. Jody consolidates her claim to being contemporary southern soul's number-one diva.

--Daddy B. Nice

Sample/Buy Ms. Jody's I GOT THE FEELING CD at Amazon.

Sample/Buy Ms. Jody's I GOT THE FEELING CD at iTunes.

*********



Product, comments, information or questions for Daddy B. Nice?

Write to

daddybnice@southernsoulrnb.com

*********

July 18, 2016: TWIN REVIEW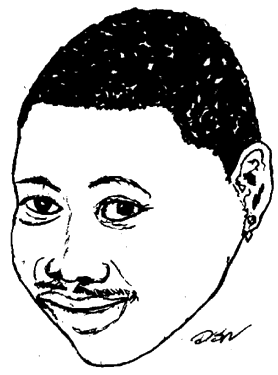 DONNIE RAY: Two Way Love Affair (CDS) Three Stars *** Solid. The artist's fans will enjoy.




RICKY WHITE: Combination 3: Various Artists (CDS) Three Stars *** Solid. The artists' fans will enjoy.



The arrival of two new Ricky White-produced albums from CDS, Donnie Ray's TWO WAY LOVE AFFAIR and Ricky White's COMBINATION 3: VARIOUS ARTISTS, follows a relative hiatus of a couple of years for the label and a short-lived affiliation with producer Jonathan Burton after the departure in 2011-12 for reasons of health of Carl Marshall.

CDS CEO Dylann DeAnna, who started out with grand intentions of utilizing all live instruments (in the manner of Jackson, Mississippi's Malaco Records in its heyday) soon fell victim to the financial realities. As the years have passed, he's also shown less relish to risk money on marginally-marketable recordings, which--to his credit--he often did in the early years, publishing an unknown Stephanie Pickett, a forgotten Cicero Blake and Stan Mosley, not to mention many artists (Captain Jack Watson, Jody Sticker, Mister Zay, Bobbye Johnson RIP) whose CDS recordings represented their last shots to date.

Meanwhile, Ecko Records, frequently--and often unfairly--criticized for repetitive production under the guidance of CEO John Ward, has soldiered on, maintaining a stable core of veterans with few new additions or exceptions, and pressed a lot more records than CDS over the same time period. The reason all this is relevant is that TWO WAY LOVE AFFAIR marks the defection of Donnie Ray Aldredge from Ecko to CDS.

While being one of the most consistent recording acts on the chitlin' circuit (I count eleven CD's for sale on Ecko Records' Donnie Ray page alone) and unfailingly charismatic and professional with his vocals, Donnie Ray has nevertheless caught "lightning in a bottle" only twice: his early career-making hit, "A Letter To My Baby," first published with Stan and Lenny Lewis' Shreveport-based Suzie Q Records around 2002) and 2011's Ecko-published "Who's Rockin' You?"

Both are great records many artists would "die for," but Donnie Ray was undoubtedly due for a change, and TWO WAY LOVE AFFAIR, packaged in sumptuous red and white cover art, is the result. Headlining both Donnie Ray's new set--the first designated single, released a month ago--and kicking off the third in Ricky White's popular COMBINATION series, is "Pop It, Baby (or "Pop That Thang") It's brassy, it's slick, it's pumped-up on musical steroids, and it may be the biggest miscalculation of Donnie Ray's career.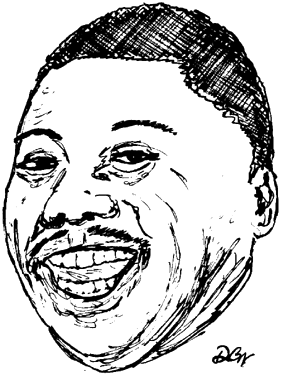 Listen to Donnie Ray singing "Pop It, Baby" on YouTube.

Any vestiges of the "middle ground," the subtly-swinging, rocking-the-cradle sound of Donnie Ray's southern soul oeuvre throughout his Ecko years (including the classics "A Letter To My Baby" and "Who's Rockin' You?"), are blown away by the crater left by Ricky White's nuclear-bomb, throw-in-everything-but-the-kitchen-sink production of "Pop That Thing."

Why am I left unfazed by this, when a Bigg Robb "techno" track never fails to get me moving, and simultaneously still sounds like authentic southern soul? There's something empty or missing at the core of "Pop It Baby," in a way that it's not missing from a similarly dance-'till-you're-senseless tune like Lil' Jimmie's "She Was Twerkin'." Lil' Jimmie sounds authentic. You can visualize the woman he's singing about twerking. "Pop It Baby" is music about music, twice removed from reality. You don't experience reality. You don't see the gal.

It almost seems like the CDS crew--and it's a good one, including longtime background singer Jamonte Black, respected Jackson guitarist Stevie J., and even a saxophonist on one glorious track--is trying to "clean up" southern soul for a northern, urban taste. If "Pop It, Baby" had southern soul timing and modesty, it might be compared to Denise LaSalle's "Snap, Crackle And Pop," but the only thing it has in common with the latter is the title, which so aptly describes its arrangement.

Added to the razzle-dazzle is Ricky White's continued use of programmed horns, a technique that sounded outdated on southern soul records already a decade ago. As a producer, the multi-talented White is so close, yet so far, from taking the next step. The faux horns cheapen--even ruin--the arrangement even when it's trending up, and the solution--piano, guitar, accordion, blues harp, violins (even faux-violins)--is so readily available.

Only listen to "Outside Love Affair," which starts out with a real saxophone (Jesse Primer) and continues with the feathery trills of Stevie J.'s real guitar, and adds texture with some interesting pizzicato violin. Instantly, almost with relief, we're transported to true southern soul territory, and even the limitations of the song and its derivative melody can't dampen the joy the arrangement proffers. And the difference between "Outside Love Affair" and "Pop It, Baby" is illustrative of how little effort it would cost Ricky White to take that next step.

The balance of the album swings between the two extremes of "Pop It Baby" and "Outside Love Affair." "Two Way Love Affair," the title tune, is closer to the reassuring soul of "Outside Love Affair." It's not as good because it's riddled with those long, boring, faux-horn fills and the cheap, quick-popping, faux-horn transitions, but halfway through the song, a beautiful (partly because we haven't heard it before), lower-registered (mute-mimicking) horn sound (programmed, but still okay because different), transforms the song for the better.

"It's Friday" is a tough song with an overpowering, in-your-face bass track that should translate to success. Donnie Ray's vocal is a thing of beauty. He stretches out. But neither Jamonte Black's vocal nor Ricky White's arrangement lend any additional originality to the proceedings.

"Dog House" is a quintessential southern soul vehicle that somehow fails to coalesce, due to the ever-present programmed horns. They're everywhere, distracting and intrusive, although once again, about halfway-through the song, a promising horn fillip (because different) pops up and just as quickly disappears.

The sharp, stinging, opening notes of Stevie Ray's guitar, so under-utilized on the rest of the album, open "Who's Loving You (Remix)". After the murkiness of the horn programming, it's like a bracing bucket of water in the face. Nevertheless, all "Who's Loving You?" proves is that it wouldn't have been a hit if this had been the original.

More typical are "I Wanna Be Your Man" and "Don't Want To Be Lonely," where you can hear a little Stevie J. guitar, but it's meager--too tentative--and buried at the end of each instrumental phrase by the programmed horns you've heard on every Ricky White-produced album of the last five years.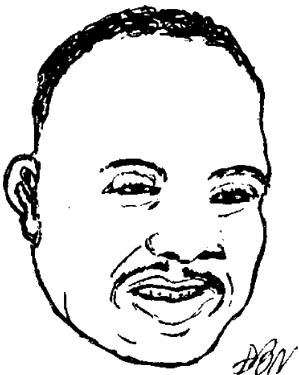 Which brings us to Ricky White's COMBINATION 3: VARIOUS ARTISTS. Say what you will about White, he attracts the talent. T. K. Soul, Vick Allen (both far more sophisticated producers than he, but here they are), Nathaniel Kimble, Vickie Baker (remember her?), in addition to Ghetto Cowboy, Stevie J., Jerry L. (whose "Ooh Wee" with White arranging was a hit) and newcomers Candi Man and Henry Rhoades.

Many of the songs on this eclectic collection come from high-profile stints on chitlin' circuit streaming platforms and the Stations of the Deep South. "Redbone," featuring T.K. Soul doodling with a vocal enhancer while White's mingling vocal rises to a falsetto on the choruses, appeared in 2015.

Ghetto Cowboy's "Main Squeeze" had a modest run on southern soul radio as a "response" song to Big Pokey Bear's wildly popular (and much more authentically-arranged) "My Sidepiece," and "Hit It Again" by Stevie J. made some radio ripples earlier this year.

Vick Allen appears in a Ricky White arrangement for the first time in "Sunshine Lady," and the irony of composer/arrangers as sophisticated as T.K. Soul and Vick Allen submitting themselves to arrangements less sophisticated than they themselves would demand for their own solo albums is not lost on your Daddy B. Nice. "Sunshine Lady" comes off pretty well, but it's closer to a (White-produced) Jerry L. track than anything on Allen's own, far-superior SOUL MUSIC.

Jerry L., by the way, delivers a spectacular vocal on "Let's Chill".

The ascendant Adrena, who just released a break-through CD with all live instruments (see Daddy B. Nice's 5-star review on this page), appears in a Ricky White vehicle, "Good Thang," which in spite of the domestic lyrics sounds like a mellower version of Donnie Ray's "Pop It, Baby" (discussed above). Same song structure, same timing, same arranging motifs, i.e. programmed horns. It doesn't hold a candle to her work on the BETTER DAYS CD.

On the other hand, one of the high points of COMBINATION 3 is White's own "Baby, You're Ready," an impressively-sung ballad with a strong and original arrangement. I think I made it all the way through the song without hearing one single repetitive horn program. All the musical effects are novel--that is, unexpected, as they should be--and the whole song benefits. New sounds, convincing emotion. Suddenly Ricky White is singing with the authenticity of old. Originality is such a big part of being authentic.

Hidden in all this set's talent is the salacious "Come Sit On My Face," lyrically the equivalent of going to the movies and finding your boyfriend's penis in the popcorn bag. But it's Nathaniel Kimble, and its adds a ribald and gritty touch to an otherwise mild-mannered album.

Finally, it's nice to hear Vickie Baker--a true contemporary southern soul pioneer who hasn't lost her touch--whose relaxed vocal takes the edge off White's typically distracting arrangement. And Henry Rhoades delivers an out-of-left-field, funk-tinged number, "Do Me," that inspires an interesting (again, because different and unexpected) White arrangement, in stark contrast to "Let Me Love You," in which White pretty much ruins Candi Man's debut with that horn program he bafflingly loves so much.

Ultimately, COMBINATION 3 succeeds on variety. The far-ranging styles of the artists offset the occasional sameness of the arrangements, as has been the case in COMBINATIONS past. But Ricky White can't continue the try the patience of fans by recycling the same old programmed arrangements indefinitely. Basically, if a fan's not surprised and finally seduced by an arrangement, the song is not and never will be a hit.

The arrogance of producers like Ricky White is that they think the fans are already seduced by their arranging tics and toys. Nothing could be further from the truth. Ricky White could clean out his entire "bag" of arranging tools and be a better producer tomorrow. It's not his talent I question. It's his due diligence.

--Daddy B. Nice

See Daddy B. Nice's accompanying article on "CDS Records" on Daddy B. Nice's Corner.

Sample/Buy Donnie Ray's TWO WAY LOVE AFFAIR CD at iTunes.

Sample/Buy Donnie Ray's TWO WAY LOVE AFFAIR CD at Soul Blues Music.

Sample/Buy Ricky White's COMBINATION 3: VARIOUS ARTISTS CD at Soul Blues Music.

Sample/Buy Ricky White's COMBINATION 3: VARIOUS ARTISTS CD at iTunes.




************




















TABLE OF CONTENTS

Various Artists (Ross Music Group), Beat Flippa: I Got The Blues Vol. 2, 11-17-16

Napoleon Demps Presents...Various Artists: Southern Soul Vol. 1, 10-12-16

Crystal Thomas, Lyrical Gumbo, 9-18-16

Various Artists (Ecko), Blues Mix 20: Grown Folks Blues, 8-28-16

Various Artists (Ecko) Blues Mix 21: Booty Shakin' Soul, 8-28-16

Ms. Jody, I Got The Feeling, 8-7-16

Donnie Ray, Two Way Love Affair, 7-18-16

Ricky White, Combination 3: Various Artists 7-18-16

********

Send CD's to Daddy B. Nice, P. O. Box 19574, Boulder, Colorado, 80308 to be eligible for review on this page.

********

RECENTLY REVIEWED:

Rosalyn Candy, Timeless Soul Music Never Dies, 6-23-16 (Scroll down this column.)

Adrena, Better Days, 6-12-16 (Contained in the Adrena Artist Guide. Click link.)

Sonny Mack, Get On Up, 5-16-16 (Scroll down this column.)

LaMorris Williams, Mississippi Motown, 4-24-16 (Contained in the LaMorris Williams Artist Guide. Click link.)

Various Artists: Ecko, Blues Mix 19 Total Southern Soul, 4-10-16. (Scroll down this column.)

Big Yayo, Southern Classic, 3-14-16. (Scroll down this column.)

Ollie Nightingale, I'll Drink Your Bathwater, Baby (Re-Mastered), 2-14-16 (Contained in the Ollie Nightingale Artist Guide. Click link.)

Jureesa "The Duchess" McBride, Personal Love Vendetta, 2-7-16 (Contained in the Jureesa McBride Artist Guide. Click link.)

Various Artists (Ecko), Blues Mix 18: Southern Soul Party, 1-27-16. (Scroll down this column.)

*********

Rating Guide:

Five Stars ***** Can't miss. Pure Southern Soul heaven.

Four Stars **** Distinguished effort. Should please old fans and gain new.

Three Stars *** Solid. The artist's fans will enjoy.

Two Stars ** Dubious. Not much here.

One Star * A disappointment. Avoid.

**********

June 23, 2016: ROSALYN CANDY: Timeless Soul Music Never Dies (Rosalyn Candy) Three Stars *** Solid debut by a new Southern Soul Artist.

Rosalyn Candy was introduced to the southern soul audience on last year's award-winning (Best CD 2015) compilation, Beat Flippa: (Various Artists) I Got the Blues, Vol.1. Rosalyn was part of the trio of vocalists (with Ms. Portia and Veronica Ra'elle) on "You Can't Handle This" and shared a duet with Veronica Ra'elle on the even more attention-getting "The Best You Ever Had," in which her voice-overs gave a warm, fuzzy feeling to all the southern soul diehards who never got enough of LaKeisha Burks' teasing-ornery-young-chick's chatter on Marvin Sease's late-career records.

Beat Flippa's production expertise and keyboard wizardry are sorely missed on Candy's solo-artist debut, a collection of eight tracks titled Timeless Soul Music Never Dies, but the young songstress deserves credit for being the first of the divas--Rena, Veronica, Ms. Portia, Mz. Pat, Charlene Neal, Lysa--introduced on BEAT FLIPPA to publish a full-length CD. She's also displayed a nose for the "business" of music by previously recording most of the songs from the new CD as singles through CD Baby.

Roslyn displays a knack for popular music and catchy hooks on cuts like "Role Play," "Pour It Up," "Love Games" and "Shake It Up," but the vocals, arrangements and mixing are more typical of the production-challenged southern soul of a decade ago (think Queen Isabella, Coco, Jewel J, Lady J, Lois, Little Kim Stewart) than the best of today's music (Willie Clayton, LaMorris Williams, T.K. Soul, Sir Charles Jones, Big Cynthia, Adrena, Nikita/Mys. Niki (produced by T.K. Soul), Tucka).

The seductive "Love Games," for example, builds on the structure laid down by another less-than-perfect but fondly-remembered diva, Judi Brown Eyes' "Sam." Similarly derivative, "Stroke It" recycles the guitar riff from Tyrone Davis's "Turn Back The Hands Of Time."

The mid-tempo "Pour It Up" and "Role Play" seem most likely to succeed as southern soul singles, with hooks and arrangements that are memorable if not perfectly realized. If you want to check out what this album's material might have sounded like with first-class instrumentation, listen to Rosalyn's "Let's Get The Business Clear," possibly an out-take from I GOT THE BLUES VOL. 1--available on YouTube but otherwise (to my knowledge) not published for distribution--in which a keyboard that sounds awfully like Beat Flippa takes the proceedings to another level simply through the exquisite work on the keys.

In the meantime, Candy's potent combination of playful recorded insouciance and behind-the-scenes work ethic--both evident on her debut--position her as an always-welcome, younger-generation diva to be reckoned with.

--Daddy B. Nice

Buy Rosalyn Candy's new TIMELESS SOUL MUSIC NEVER DIES at CD Baby.

Buy Rosalyn Candy's new TIMELESS SOUL MUSIC NEVER DIES at iTunes.

**************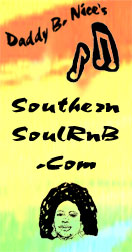 ***********

May 15, 2016: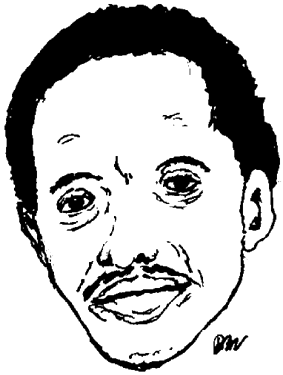 SONNY MACK: Get On Up (Ecko) Four Stars **** Distinguished Effort. Should please old fans and gain new.

I hope prospective fans aren't put off by the opening track to Sonny Mack's (aka songwriter William Norris's) generous new album, GET ON UP. The chorus of "Cheating Is The Only Way To Go" resembles an advertising jingle, the kind of melody you can't get out of your mind even though you'd call pest control if they only had a way to eradicate it. Marketed as the blues guitarist's first foray into southern soul, apparently due to its lyrics--a bad call, in my opinion--the track also exposes Sonny's vocal faults in all their threadbare nakedness: the utter lack of blues melisma, of gospel seasoning, of even the minimal coloration that made the late Mel Waiter's straight-ahead style appealing.

I duly noted these limitations in reviewing Mack's debut, Going For Gold, in 2012, comparing Mack to fellow lead-singer-challenged songwriters/guitarists such as Jim Bennett and Bobby Conerly. (The story behind Norris/Mack's performance name and the GOING FOR GOLD review can be found in Daddy B. Nice's Artist Guide to Sonny Mack.) Comparisons to John Cummings, another Ecko-affiliated songwriter with a sweeter singing voice, are also valid, although Norris (Mack) is an even more prolific composer.

So when the CD's second song, the title track "Get On Up," rears up from the stereo system following "Cheating" with its disco-ey beat and sinuous melody line, the energy charge is like a lightning strike. Southern Soul needs more fast songs. This became clear to me in my own experiences recently in southern soul clubs. People (including me) want to dance, but you need an infectious hook or groove, and southern soul's customary time signature is mid-tempo--for instance, Mack's own "I Got To Get Myself Together,"--the "sweet spot of southern soul," in Daddy B. Nice parlance, but not really a dancing tempo.

Southern soul is typically a little more laid-back, grooving in place or line-dancing. So right now, with the concert scene exploding and the younger demographic responding, to be able to pen fast songs like "Get On Up" is a hot commodity, and Mack really brings it off, in the process launching the album into a much higher platform than GOING FOR GOLD. And when the next mid-tempo gem, "Goody Good Good Stuff," rolls out a couple of tracks later, the "sweet spot of southern soul" unfurls like a pleasant breeze on a 99-degree day. (Think Bigg Robb's "Good Good.")

By the time you get to Mack's reprise of Betty Wright's "Clean Up Woman," "Clean Up Man," first released on the Ecko sampler Blues Mix 8: Juke Joint Soul in 2012, you're shaking your head and thinking, "There's a lot of good tracks on this album." And Sonny's vocals sound natural and up-to-the-task throughout. Also reprised is another song from that Blues Mix 8 sampler, "Cheatin' Ain't No Fun," covered by Jaye Hammer in 2014.

The more you delve into GET ON UP, the more you respect the quality and productivity of Norris' songwriting. "Dig A Little Deeper," another huge hit for Jaye Hammer, is given a new outing here by Norris/Mack. Norris has made his "bones" composing. Take out Norris compositions from Jaye Hammer and O.B. Buchana CD's of the last five years and they'd be hollowed-out indeed. Mack's "Somebody's Been Fishin' in My Private Fishin' Hole," released previously on yet another Ecko Records sampler, builds on Sheba Potts-Wright's "Private Fishing Hole," a John Cummings/John Ward composition. As with Buchana and Hammer, Potts-Wright could do better on vocals, but when you're enjoying hit after hit (as on this album) who's complaining? You're thinking, "I like that, I've heard that before."

"Get On Up," however, isn't the only "new" thing on an album of familiar stand-outs. Besides the first-rate "Get On Up," "Goody Good Good Stuff" and "I Got To Get Myself Together," there's also the beguiling (both tender and moody) ballad, "Body Drain." Oops! Just fact-checked that, and it's from BLUES MIX 9, yet another Ecko sampler. Must have missed it: it sounds new to me.

If nothing else, GET ON UP gives notice that William Norris is ubiquitous. He's always been there but he's been nearly invisible. And, like Bob Dylan many, many years ago, your Daddy B. Nice will give him the benefit of the doubt when it comes to the vocals. Anyone with this much creativity, responsible for this much good music, is a treasure to be cherished.

--Daddy B. Nice

Sample/Buy Sonny Mack's new GET ON UP CD at iTunes.

See Daddy B. Nice's Artist Guide to Sonny Mack.

**************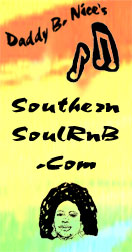 ***********

April 10, 2016: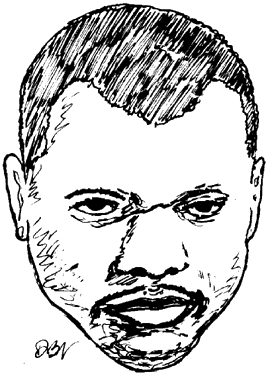 VARIOUS ARTISTS (ECKO): Blues Mix 19: Total Southern Soul
Four Stars **** Distinguished Effort. Should please old fans and gain new.

Rick Lawson

Another season, another Ecko "Blues Mix" sampler. They must be successful or they wouldn't keep putting them out. Encompassing a broad spectrum of artists, songs and styles, these compilations give the fans the "safe" choice when browsing for just one CD. The onus for quality rests on the integrity of the selections, and Blues Mix 19: Total Southern Soul serves up a good mixture of new songs and interesting oddities.

Two of Ecko Record's artists show up twice on the disc. Memphis bluesman Sonny Mack debuts two songs from his new CD, GET ON UP. "Cheating Is The Only Way To Go" is being marketed as Mack's first "southern soul" record, but the slower-tempo "I Got To Get Myself Together" is equally, if not more, southern-soulful.

In a brand new tune (also the lead-off track), "Don't Back Up Off It,", the redoubtable Ms. Jody illustrates with great vividness and persistence the old adage that women need more time to achieve orgasm.

"Exploring a musical phrase that's been done thousands of times, most of them forgettable," your Daddy B. Nice wrote, "Ms. Jody's James Brownian jam grooves along for five astonishing minutes, teetering above the twin chasms of monotony and cliché, walking a razor's edge of southern soul euphoria." (March '16 #3 Single.) Ms. Jody's "Double Dealer," from last year's TALKIN ABOUT MY GOOD THANG CD, also appears.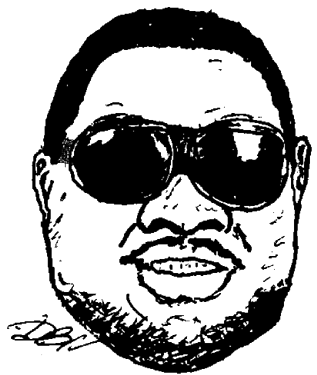 With an incredible vocal and a fantastic instrumental track, the undisputed jewel of Blues Mix 19: Total Southern Soul is another debut single: Jaye Hammer's "Trail Ride." From Denise LaSalle's vintage "Don't Mess With My TuTu" to Hammer's exuberant "Trail Ride," zydeco has been southern soul's most infectious "partner" genre. (See Daddy B. Nice's #1 Single, March '16.)

Listen to Jaye Hammer singing "Trail Ride" on YouTube.

Donnie Ray's "Hold It And Roll It (Remix)" is another dance-friendly selection, picked from Aldredge's latest CD, SHE'S MY HONEY BEE. And Val McKnight's latest hit single, "It's Party Time," from her INDEPENDENT WOMAN album, holds down another, happily-passed, four minutes. Those seven songs comprise the "new songs" and currently-relevant hits from the collection.

The five "interesting oddities" include a mild-mannered stab at trance blues by Memphis bluesman Dr. Feelgood Potts' (father of southern soul diva Sheba Potts-Wright). "Red Onions" is a good example of Potts' disarmingly easy-going style.

Dominated by a potent mouth harp, "I Got A Mule To Ride" is performed by a new artist (at least to me), Joe Blues Butler. The B.B. King-structured ballad is done in a most un-B.B. King-like style, raw and rough, illustrating in a very positive way the old adage that nothing is new--it's all in HOW you do it.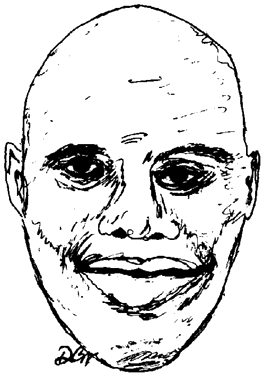 "I Want To Have Some Fun" was recorded in 2003 by Rick Lawson, an Ecko artist who hasn't released a CD since 2005. And the atmospheric "No Money Blues," by Big Poppa G, a singer whose debut was heavily criticized by Daddy B. Nice, is a significant step forward for the singer/songwriter. Finally, and fittingly, O.B. Buchana appears with "Just Be A Man About It," from his I'M GONNA SLEEP CD (2006). On Ecko samplers from the past, this ballad might have seemed somewhat tired and redundant. Not here. The overall variety of Blues Mix 19: Total Southern Soul works to the classic's advantage, making Buchana's mid-career style appear just the opposite: deep and revelatory.

--Daddy B. Nice

Sample/Buy Blues Mix 19: Total Southern Soul at Amazon.

Browse other compilations under "Artists, Various" in Daddy B. Nice's CD Store.

**************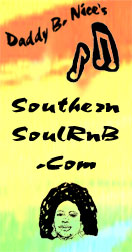 Send product to:
SouthernSoulRnB
P.O. Box 19574
Boulder, Colorado 80308

***********

March 14, 2016: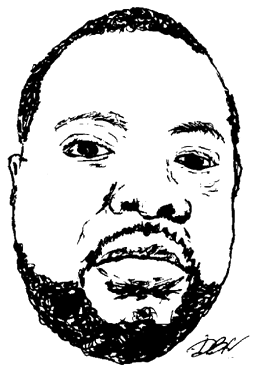 BIG YAYO: Southern Classic (Saviour) Four Stars **** Distinguished debut by a new southern soul artist.

Chris Mabry (aka Big Yayo) made his name as a southern soul producer in Jackson, Mississippi with a series of records that helped define the careers of some of the genre's most talented young performers. The run began in 2008 with Stevie J.'s "Because Of Me." At heart a pop song with a beautiful refrain-—lyrically, a vivid portrayal of an uninterested, uncommitted lover--"Because Of Me" became Stevie J's most acclaimed song, the tune that catapulteded him from a respected guitarist into a bonafide southern soul star.

Then, in 2009 and 2010, came LaMorris Williams' stately "Impala," originally called "We Can Do It," an even more sophisticated pop anthem positively dripping in soul. It became a spectacular debut for the uber-talented, onetime gospel singer (The Williams Brothers).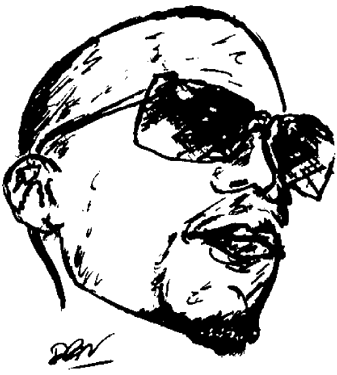 "Here's a story a lot of y'all gonna find hard to believe," LaMorris voice-overs. "Me and my buddy Big Yayo was riding back from a show I did up in the Delta...."

It was the first time Yayo had been mentioned in a major southern soul song, and (as it turned out) it signified a powerful contribution.

And musically, who can forget the opening bars to "Impala"? The glacial tempo, the bare-naked bass, then--at the end of the opening chords--the distinctive twinkling of some (what?) keyboard exotica, the musical equivalent of TinkerBelle spreading fairy dust in the air. And from that bare-boned beginning a musical extravaganza sprang to life, culminating in: "You can make me holla / In the back of my Impala."

The basic musical structure was Big Yayo's. We know that now because his new album, SOUTHERN CLASSIC, gives us the blueprint for LaMorris's hit in what is almost certainly the tune's (roughly speaking) first incarnation, called somewhat cryptically "The Remix". (The contrasts between LaMorris' and Big Yayo's versions of "Impala," by the way, are fascinating, and a testament to the artistry of each.)

Then, in 2012, came Dave Mack's "Booty Talking," featuring a vocally-enhanced Big Yayo on a funky techno jam with a driving, bass-propelled beat. As a melody it was nowhere in the same park as "Because Of Me" or "Impala," but its rough-and-tumble, macho sound, powerfully aided by Dave Mack's gunny-sack tenor, forged a powerful dance-floor groove. Never released on an album, "Booty Talking" is also featured intact on SOUTHERN CLASSIC.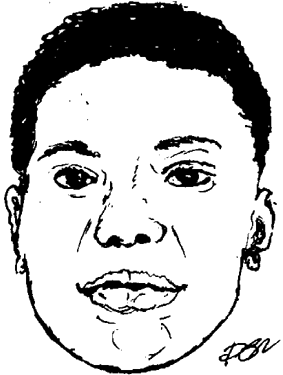 Yayo added to and even exceeded his rapidly-growing legacy when, in 2013, his young protégé, J'Wonn, put out a career-making tune, "I Got This Record," that conveyed a youthfulness and sensitivity that southern soul had never heard before. It was a song that could hold its own with the best of any genre, a once-in-a-lifetime kind of record that helped bring a generation of Deep South millennials into the "grown folks"/southern soul scene.

In one fell swoop, "I Got This Record"'s success doused the commonly-expressed fear at the time that southern soul might be dying along with its aging, baby-boomer audience. Big Yayo told your Daddy B. Nice that he manages J'wonn, and every time we've talked, J'Wonn's been with him. They toured together intensively through the last half of 2015, after Big Yayo released his dance single, "Cowgirl.". More on Big Yayo's history can be found in Daddy B. Nice's Artist Guides to J'Wonn and LaMorris Williams..

The undisputed jewel of Big Yayo's debut CD, SOUTHERN CLASSIC, is the dance jam "Cowgirl," the great duet with J'Wonn (with a little T-Baby), which is still topping some radio charts a year after its release and January 15 #1-charting here.

"Southern soul electronica," your Daddy B. Nice dubbed it. And while its dance and techno edge might have blues purists rolling their eyes, the fact is the song has succeeded where it counts, on the radio and in the clubs.

As a whole, however, SOUTHERN CLASSIC is a little disappointing and anti-climactic after the great contemporary hits cited above. The tracks on this set are more interesting for what they reveal about Yayo's creative sources: early rock and roll and R&B, primarily uptempo, or--if slow--more middle-class-dreamy than lowdown-bluesy.

Thus, we get the doowoppy, Sha-Na-Na-like "Stepping Out," which is fun to listen to, but doesn't really work. Or the slightly different case of "Come And Get It," which has the added attraction of featuring J'Wonn. Heavy on bass, with a propulsive beat like "Booty Talking," you nevertheless can't help thinking that if "Booty Talking" and "Come And Get It" were pears in a produce stand, the "Booty Talking" pear would taste a little better.

Which is to say, yeah, judged harshly SOUTHERN CLASSIC is a collection of out-takes, tracks without much hit potential, or they would have been released by now. SOUTHERN CLASSIC is no BEAT FLIPPA: I GOT THE BLUES, VOL. 1, for example. (There may never be another album like that, even from Beat Flippa.)

And yet, SOUTHERN CLASSIC is generous, eminently-listenable, chock full of fascinating insights into the directions of electronic and dance-oriented southern soul. Charming oddities like "Lay Around" (feat. Dave Mack) and "It's All Right" (first released on J'Wonn's I GOT THIS RECORD LP) (which your DBN dubbed a "horny, rainy-day" kinda song) alternate with the throwback, Gamble/Huff-like "Just Like Heaven" (feat. Napoleon) and the rambunctious, hip-hoppy "Ride" (feat. Coco & Suga Kee).

I like what Big Yayo has to say in "The Remix".

...And back then, we were riding around in that old blue Expedition. It was me, J'Wonn, Dave Mack, T-Baby & Prince Ti. I mean we had drove that thing all over the country. And what we did, or what we were doing, was just looking for good people to have some fun with.

And that he has done. Thank you, Big Yayo.

--Daddy B. Nice

Sample/Buy Big Yayo's SOUTHERN CLASSIC at iTunes.

Sample/Buy Big Yayo's SOUTHERN CLASSIC CD at Amazon.

To automatically link to the various awards, citations and other references to Big Yayo on the website, go to Daddy B. Nice's Comprehensive Index.

***********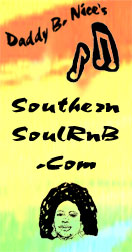 Send product to:
SouthernSoulRnB
P.O. Box 19574
Boulder, Colorado 80308

***********

January 27, 2016: VARIOUS ARTISTS (ECKO): Blues Mix 18: Southern Soul Party
Two Stars ** Dubious. Not much here.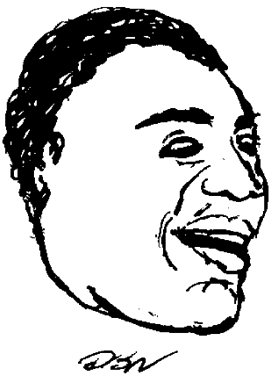 Carl Sims

BLUES MIX 18 SOUTHERN SOUL PARTY is disappointing on more than one count. First, it's titled "Southern Soul Party," a tantalizing hint of the best that southern soul has to offer, and yet it fails to deliver the goods. Not only is it thin on content. It raises the alarming suggestion that Ecko's John Ward and Larry Chambers have fallen victim to the traditional-blues-all-the-time, anti-southern soul malaise that lies over Memphis--once proud home of Stax and Hi--like a leaden-grey cloud.

Memphis-based Ecko is 21st-century southern soul's most prolific and respected indie label, with a back-catalog of seminal and timeless southern soul party singles, but you'll find scant evidence of those treasures here.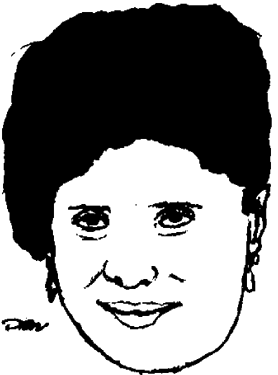 There are exceptions. Ms. Jody's marvelous 2014 hit, "Just Let Me Ride," the best southern soul single Ecko has released in the last couple of years, is memorialized for posterity. And no one could fault the insertion of Carl Sim's worthy classic, "I Like This Place (Remix)," nor David Brinston's equally influential ballad "Somebody's Cuttin' My Cake (Remix)," though the latter is hardly party material.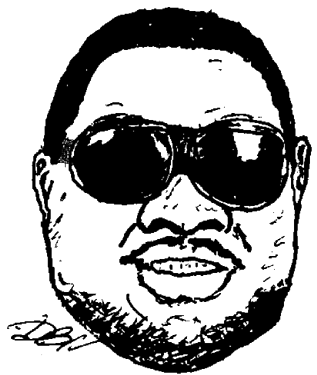 But that's where the really good stuff ends. Other than Jaye Hammer's "Let's Hear It For The DJ," written and co-produced by up-and-coming, Ecko-affiliated, songwriter/producer James Jackson, there's little to get excited about. Donnie Ray, Sheba Potts-Wright, Mr. Sam, O.B. Buchana and Archie Love all make appearances, but what's the point of getting a sampler if not to have "favorite" tunes by these artists? The selections on this compilation (Hammer's "I'm Leaving," Potts-Wright's "I Didn't Come To Sit Down," Mr. Sam's "Good Good Love," Donnie Ray's "Don't Slow This Party Down") only reinforce the impression that in today's Memphis, without (generally speaking) any southern soul radio, southern soul clubs, or southern soul concerts, southern soul doesn't really matter.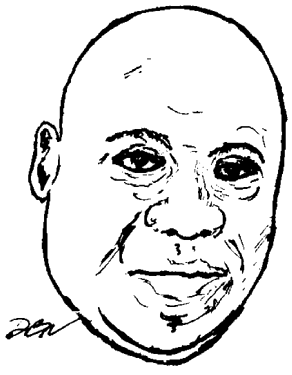 How else to explain the inclusion of O.B. Buchana's atrocious "Ghetto Funk," which begins the sampler, and which might be (at its best) what a white Northerner might imagine southern soul to be? Maybe I've taken the title and theme of this album too seriously, when it was only intended to be a grab-bag of B-sides, but if so, Ecko may have itself to blame.

SOUTHERN SOUL PARTY follows a tremendous Ecko sampler, Blues Mix 17: Dirty Soul Blues, which gained a five-star review (reviewed elsewhere on this page) last year for its successful allegiance to a theme--a strong set of "dirty" songs, quasi-X-rated songs, double-entendres, full of sex and humor. That album raised our expectations. Blues Mix 17 was the real "southern soul party."

A pair of relatively unknown artists appear on this new set. Longtime O.V. Wright guitarist Clayton Knight's "A Man Who Understands" charted here (October 2015). It's an interesting single, but his other selection, "I'm So Tired," retreads the very same chords. And CEO John Ward told your Daddy B. Nice that Leaundra Lively, who debuts with "He Put A Rocking Chair On Me," is actually an Ecko Records secretary. Her song also charted here (November 2015), when I identified its similarity to the late Judi Brown Eyes single, "Sam." Turns out--again according to Ward--that longtime Ecko-affiliated producer Morris J. Williams produced the Lively song on this set and--something I did not know--Morris was the producer on the original "Sam" by Judi Brown Eyes, done in a barn/studio south of Memphis.

And that's the sum and extent of it. With these few exceptions, Blues Mix 17: Southern Soul Party is more conducive to "southern soul slumber" than "southern soul party."

--Daddy B. Nice

Sample/Buy Ecko Records' VARIOUS ARTISTS: BLUES MIX 18 SOUTHERN SOUL PARTY at CD Universe.

***********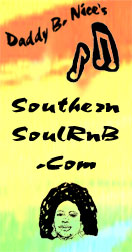 Send product to:
SouthernSoulRnB
P.O. Box 19574
Boulder, Colorado 80308

***********