NEW!

Corner & Top 10


Concert Calendar
& Mailbag


Comprehensive Index


New CD Reviews


Index to Artist Guides
NEW!


Best of 2022

The Original Chart (1990-2010)

21st Century Chart (2000-2020)
NEW!

The New Generation Chart (2010-2030)
Southern Soul CD's, MP3's


Best of Pages
About the Music
About Us
Links
Home

"Is It Because I'm Black?"
Syl Johnson (Is It Because I'm Black)
Composed by Syl Johnson, Jimmy Jones & Glen C. Watts
Listen to Syl Johnson's "Is It Because I'm Black" on YouTube.

It may be the bravest song ever written. With the words--

"Looking back over my false dreams
That I once knew,
Wondering why my dreams
Never came true."

--we know we're in the presence of a soul-searching that would be courageous coming from a man or woman of any color. Add the dimension of blackness, as Syl Johnson does, and you know you're going where no song has gone before.

"The dark brown shades of my skin
Only add color to my tears."

Anger wrestles with vulnerability and self-doubt in "Is It Because I'm Black?" in a way that recalls James Baldwin's "The Fire Next Time" or Eldridge Cleaver's "Soul On Ice." You could slow-dance to it if it didn't make you slowly and ruefully shake your head with the sorrows, injustices and uncertainties of the world.

Musically speaking, we are in deep blues territory--B.B. King, Albert King, mojo with atmosphere. This is where Robert Cray learned his chops. This is where Theodis Ealey went to kindergarten. Blues and soul artists of the last thirty years are indebted to its seductive, mid-tempo, hook-driven musicality: a deep and supremely comfortable groove that fits around Syl Johnson's screeching vocal like a velvet glove. And Johnson's voice, which resembles Neil Young's in that it always sounds like he's crying (even when happy), powers the wrenching lyrics to rare depths of despair.

When one realizes that Syl Johnson's "Is It Because I'm Black" predates all of the best work of the above, not to mention Marvin Gaye's landmark "What's Goin' On?" and the "message" songs it spawned, the true significance and influence of the song comes into focus.

The most poignant aspect of the song may be the self pity implied, which--while expressing the beaten-down hopelessness of a dispossessed race--also hints at the possiblity of weakness and self-delusion. By doing so, Syl Johnson expands the humanity of the song to include people of all races who can identify with the daily failures and disappointments the lyrics so devastatingly portray.

What's also appealing (and often overlooked) is the singer's unbridled ambition. He is a striver.

"I want to be somebody so bad.
I want diamond rings like you do.
I want to drive Cadillac cars."

People may indeed be "keepin' him back," as Johnson laments, but that is because he is "pushin'" so hard. And in his quest for the "bling" we see the gleam and drive-to-succeed of today's hiphop generation. But that is a minor element in a track that extends seven-plus minutes in a mesmerizing stream of consciousness the equal of any of the rock stars (i.e. Bob Dylan, Jim Morrison) who perfected the extended track.

Sadly, your Daddy B. Nice doesn't hear Syl Johnson played nowadays, on the various Stations of the Deep South, as I did in the nineties, up to and around the turn of the century.

I don't know if that's because there is more contemporary Southern Soul music to play these days, obviating the need to play oldies, or if it's because so many of the great Memphis records Syl Johnson made are out-of-print.

I hadn't even heard the Chicago-inspired "Is It Because I'm Black?" when I first started hearing the Syl Johnson Hi records made later in Memphis with Willie Mitchell and the justly-fabled Hi house band. Hearing them for the first time, they sounded totally contemporary to me.

Listen to Syl Johnson's "Wind Blow Her Back My Way" on YouTube while you read.

I was overwhelmed by the emotions that Johnson's deep-as-a-well falsetto called up in me. It was a sound steeped in mood and vivid, hard-to-define impressions--impressions that conjured a heightened civility and sensitivity.

Combined with the dazzling musicianship of the records, not to mention the lush violin sections that producer Willie Mitchell so lavishly and rightly dished up with Johnson's anguished vocals, these songs--along with those of a few other artists--converted your Daddy B. Nice to Southern Soul.

The greatest of these songs were (and still are) "Could I Be Falling In Love," "Wind Blow Her Back My Way" and "I Hate I Walked Away." From a deejay's perspective, they are simply powerful, one-of-a-kind tunes that dominate whatever is queued ahead or behind them. They stand out from other music and are, in a word, unforgettable. Taken along with "Take Me To The River," the biggest hit Syl Johnson ever had, and from the same period, they more than overshadow (in my opinion) the blues-based work that culminated in the one spectacular exception: "Is It Because I'm Black?"

The hallmark of a Hi-produced Syl Johnson song was the full violin intro, which took you back to classical music or the romantic movie soundtracks of the 50's and 60's. Remember Mantovani? Percy Faith? "Theme From A Summer Place"? "Moon River"?

Then--overlaid--came the drums and the bass--the Hi rhythm section kicked in. You spat out your favorite expletive and doubled over in defenseless bliss. It was like the mind had married the groin: ecstasy

At last came the unmistakeable voice, and with it, whether the lyrics were happy or sad, the echoes of despair, fragility, regret, anxiety and tenderness that inhabited the words--like these, from "Could I Be Falling In Love."

"I know we've only
Been friends, it's true.
And I've always
Been fond of you.

But strange things
Are starting to occur.
Thing are changing
From what they were."

The musical elements combined to make a melange that in retrospect should have made Syl Johnson famous. It was crossover stuff, hit-making material on the level of Al Green's "Let's Stay Together" from the same period.

The music was a little "down"--"introspective" would be a more precise word--but not any more so than the music of Neil Young, or classic "dreamers" and "cryers" like Roy Orbison and Gene Pitney. As a matter of fact, "Could I Be Falling In Love" and its companion songs from the Hi days fit into the singer/songwriter mold for success in the early seventies.

It's almost enough to make a person ask, "Was it because he was black?" But no matter, the music is there for the having today, to be appreciated even more because it retains its mystery and freshness.

"I wake up cryin'
Cause you're not here.
The river is rising
From all of my tears."

The above lyrics, redolent of all those Hi-period classics, are actually from Syl Johnson's late-period song, "Wake Up Cryin'," a little-known contemporary gem, currently out of print, from Senator Jones' Hep Me label.

"At night I toss and turn.
It's so hard to sleep.
I'm haunted in the dark
By your memories."

Most Syl Johnson fans dismiss (and probably rightly so) the paucity of music he's made since the Willie Mitchell/Hi collaboration. The usual demarcation of his career is the "blues" years in Chicago and the "Southern Soul" years in Memphis.

But this great, little-known song captures all of the flavor of the Hi oeuvre while doing it in its own distinctive and compelling way. The signature sound is a guitar hook worthy of Ronnie Lovejoy's "Sho' Wasn't Me." And Syl Johnson's vocal is so perfectly-nuanced and bursting with energy you would swear it was a tune from the vault.

In this song--every bit as musically interesting as "Is It Because I'm Black" or "Could I Be Falling In Love"--the guitar takes the place of the old Hi violins and sinuous Charles Hodges keyboards. Johnson has a raucous edge to his vocal, and the give-and-take between the instrumental and vocal tracks has to be heard to be believed. Johnson's melancholic voice was made for the words, and the Southern Soul ambience resonates as deeply as Sam Cooke's "A Change Is Gonna Come."

"Can't stop the rain,
Can't stop the pain.
I wake up crying,
Calling out your name."

Hopefully, Senator Jones will find a way to release this track again, perhaps in a compilation CD, to insure its posterity. In the meantime, I would have a hard time choosing (and in fact did for the purposes of this artist guide) among the three tracks I have spotlighted in this review, "Is It Because I'm Black?", "Could I Be Falling In Love," or "Wake Up Cryin'"?, anyone of which would warrant putting Syl Johnson in the Southern Soul pantheon.

--Daddy B. Nice
About Syl Johnson (Is It Because I'm Black)
Sylvester Thompson (Syl Johnson) was born in Holly Springs, Mississippi in 1936. His family moved to Chicago, where he and his musically-oriented kin were members of a blues circle including Howlin' Wolf, Elmore James, Junior Wells, Willie Dixon and Freddy King. Johnson's older brother, Jimmy Johnson (with whom he recorded Two Johnsons Are Better Than One), is a respected Alligator Records blues recording artist, and another brother, Mac Thompson was the bassist for Magic Sam.

Johnson first recorded for small-label Federal, then moved to Twilight/Twinight, where his first hit was "Come On Sock It To Me" in 1967. In 1968 he traveled to Memphis (under the auspices of Twilight/Twinight) to work with producer Willie Mitchell, notching his first LP, Dresses Too Short. (The title cut became the inspiration for Bob Steele's 21st-century hit, "Yo Dress Is Too Short.")

Johnson's second album, Is It Because I'm Black? (Charly, 1970), featured his masterpiece--the title cut--in addition to "Come On Sock It To Me," "Different Strokes" and "Concrete Reservation."

In 1971 Willie Mitchell signed Syl Johnson to Memphis' Hi Records, the home of Al Green and Ann Peebles, marking the transition of Johnson's work from straight blues and biting social commentary to a lush, orchestral Southern Soul sound and pensive, romantic themes. The fruit of this collaboration consisted of four landmark albums--Back For A Taste Of Your Love, Total Explosion, Uptown Shakedown and Diamond In The Rough--and Johnson's biggest single, a cover of the Al Green tune, "Take Me To The River."

Of the four, Back For A Taste was arguably the finest, containing an abundance of ground-breaking Southern Soul hits that never achieved the recognition and success they deserved: "Any Way The Wind Blows," "Wind Blow Her Back My Way" and "I Hate I Walked Away." Many of the Syl Johnson songs from this period were written by the great Southern Soul songwriter Earl Randle.

Johnson self-produced two subsequent albums on the Shama label before falling silent for a number of years. Then, as Southern Soul began to make a comeback in the mid-nineties via the work of Johnnie Taylor, Peggy Scott-Adams, Tyrone Davis and others, he re-emerged on Delmark with Back In The Game, a creditable comeback that nevertheless failed to match the brilliance of the Twilight/Twinight and Hi recordings.

Since that time, a succession of Syl Johnson releases featuring reprises or joint efforts with gifted vocalist/daughter Syleena and Alligator bluesman/brother Jimmy Johnson, has appeared. The best album of the last decade remains Hands Of Time (Hep Me, 2000), which contains his last undisputed classic, "Wake Up Cryin'" in addition to "You're Number One" and "Hands Of Time."

While most of Syl Johnson's early albums have long since gone out of print, The Complete Syl Johnson On Hi Records, an import CD, collects many of them in one excellent disc. (Currently back-ordered.) Another compilation, Back for a Taste: The Syl Johnson Story (1971-78) (Hi, 1995) has also gone out of print.

******************

Discography:

1968 Dresses Too Short (Twinight)

1970 Is It Because I'm Black? (Charly)

1974 Diamond in the Rough (JVC Victor)

1976 Total Explosion (Hi)

1979 Uptown Shakedown

1994 Back in the Game (Delmark)

1995 This Time Together by Father and Daughter (Twinight)

1995 Music to My Ears (Hi UK)

1998 Bridge to a Legacy (Antone's)

1999 Talkin' About Chicago (Delmark)

2000 Hands of Time (Hep' Me)

2001 Two Johnsons Are Better Than One (Evangeline UK)

2002 Two Johnsons Are Better Than One [Evidence]

2004 Straight Up (P-Vine)

2005 Ms. Fine Brown Frame (Boardwalk)

2006 Different Strokes (Twinight)


Song's Transcendent Moment
"Like a child stealing
His first piece of candy
And got caught.
Peeping around life's corner,
Somehow I got lost.

Something is holding me back.
Is it because I'm black?"
Tidbits
1.
Writer Bill Pollack wrote an excellent appreciation of Syl Johnson in Music Hound R&B: The Essential Album Guide by Jim McFarlin, Joshua Freedom du Lac, and Jim McFarlin (eds.); Visible Ink Press, Detroit, MI, 1998.


2.
Daddy B. Nice talks about the influence of Syl Johnson on the music of The Revelations feat/ Tre' Williams in his review of THE BLEEDING EDGE in
The Revelations feat. Tre' Williams Artist Guide.
If You Liked. . . You'll Love
If you love Theodis Ealey's "A Note, My Guitar & A Cookie Jar," you'll go crazy over its forerunner: Syl Johnson's "Is It Because I'm Black?"



Honorary "B" Side
"Could I Be Falling In Love"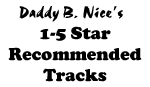 Is It Because I'm Black?


CD: Twilight & Twinight
Label: Collectables






Could I Be Falling In Love


CD: Complete Syl Johnson On Hi Records
Label: Hi






Take Me To The River


CD: Back In The Game
Label: Delmark






Wake Up Cryin'


CD: Hands Of Time
Label: Hep Me


Sample or Buy
Hands Of Time




Wind Blow Her Back My Way


CD: Complete Syl Johnson On Hi Records
Label: Hi






I Hate I Walked Away


CD: Complete Syl Johnson On Hi Records
Label: Hi






You're Number One


CD: Hands Of Time
Label: Hep Me


Sample or Buy
Hands Of Time




Any Way The Wind Blows


CD: Back In The Game
Label: Delmark






Concrete Reservation


CD: Twilight & Twinight
Label: Collectables






Different Strokes


CD: Talkin' Bout Chicago
Label: Delmark






Half A Love (w/ Syleena Johnson)


CD: Bridge To A Legacy
Label: Texas Music Group






If I Wuz White


CD: Two Johnsons Are Better Than One
Label: Evidence