NEW!

Corner & Top 10


Concert Calendar
& Mailbag


Comprehensive Index


New CD Reviews


Index to Artist Guides
NEW!


Best of 2022

The Original Chart (1990-2010)

21st Century Chart (2000-2020)
NEW!

The New Generation Chart (2010-2030)
Southern Soul CD's, MP3's


Best of Pages
About the Music
About Us
Links
Home

"Gonna Give It To Ya"
Chandra Calloway
Composed by Chandra Calloway
Chandra Calloway accumulated no less than thirteen chart appearances, awards or citations in one year, 2008, all generated by the songs compiled in her debut, Gonna Give It To Ya. See Daddy B. Nice's Comprehensive Index.

Her particular specialty is mid-to-up tempo rants. Her sturdy, homespun vocals are always clear and lucid. On "Gonna Give It To Ya," her most brilliant outing, she sounds aggressively young, and it's exhilarating to soak up her "young-in-the-club" attitude.

Listen to Chandra Calloway's "Gonna Give It To Ya" on YouTube while you read.

"I was gonna give it to ya," Calloway wails,
"But you opened up your mouth."

The couplet is a dazzling condensation of that "in-the-club-hitting-on-women" moment every man dreads. If you don't attempt to talk, you'll be like young LeeRoy singing "Made My Move Too Late." If you do talk, you might screw it up.

"Gonna Give It To Ya" is also the most chitlin-circuit of Chandra Calloway's songs--not only the voice-over, which is perfectly-pitched, but the verses. Chandra's countrified twang on the number meshes effortlessly with the backing band's brisk lead guitar and keyboards. She is effortlessly authentic. She is one with the song.

************

If Chandra Calloway has a flaw, it's the vibrato-less one-dimensionality of her style, an attribute she shares with her mentor and boss, Mel Waiters. (Calloway is his longtime background singer.) You either like that staccato, Chuck Berry delivery or you don't.

This comes through most clearly on Calloway's collaboration with Waiters, "Look Who's Jody Now," in which the strengths and--yes--even the nuances of that straight-ahead delivery work to perfection.

Listen to Chandra Calloway singing "Look Who's Jody Now" on YouTube.

On one of her most recent singles, "Lose Sleep," it works less well. It's a slick, upbeat rocker in the mode of "Look Who's Jody Now" in which Chandra assumes an older version of the "Gonna Give It To Ya" persona, but her vocal, heavily influenced by Mel Waiters's style, seems ill-suited and at times mechanical.

"Lose Sleep" is all anger, no pain, and you can't help wishing Chandra had tried a more conventional, melodic approach.

What would it have sounded like? A hint is contained in the beautiful rendition Chandra gives "Gotta Find Me Somebody," another song from her impressive debut.

"Gotta Find Me Somebody" begins like a hiphop ballad in the mode of Goodie Mob's "Beautiful Skin," but it gradually builds Southern Soul momentum, with Chandra's voice reflecting a prism of interesting emotions. The lullaby-like rhythm and Chandra's vocal achieve an almost hypnotic power by its final verse.

One of the overlooked songs from her debut disc, "Go Back," features a similarly jazzy, romantic style, almost 180 degrees from the treadmill vocal of "Lose Sleep."

But that's not to say Calloway isn't best-suited to aggressively-sung Southern Soul. On smoother ballads she tends to sound more generic (doesn't everybody?).

Watch the live-concert video, Chandra Calloway Live Singing Betty Wright's "Clean Up Woman" backed by Mel Waiters & Band.

You'll see her in her element, spitting into that microphone with some finely-distilled blues fury.

--Daddy B. Nice
About Chandra Calloway
(Scroll down to Daddy B. Nice's Interview with Chandra Calloway.)
Song's Transcendent Moment
"He was so fine,
And really cute.
When I saw him,
I knew what I wanted to do.
I made my move
Like a real woman would do.
He turned me on.
It was too good to be true.

Now you all men
Better think before you speak.
Trying to get to know her
Before you jump between the sheets.
She was gonna give it to ya,
Until you opened your mouth.
You were going to get it, boy,
But the wrong thing came out."

Tidbits
1.

June 1, 2011.

Listen to Chandra Calloway singing "Go Back" on YouTube.

Listen to Chandra Calloway's "Stuck On Stupid" on YouTube.

2.

Posted June 1, 2011, from Daddy B. Nice's Archives:


June 21, 2009:

The Daddy B. Nice Interview:

CHANDRA CALLOWAY
Chandra Calloway, longtime background singer for Mel Waiters, put out a debut single in 2008 called "Gonna Give It To Ya" .

It had a modest but worthy run on Southern Soul radio. Two other album singles, "Look Who's Jody Now" (with Mel Waiters) and "Gotta Find Me Somebody," also gained airplay and impressed many Southern Soul insiders, including your Daddy B. Nice.

Chandra never sent out a promotional CD, or even a promotional mp3--at least not here at Southern Soul RnB. But the music was out there, and the music was good. And your Daddy B. Nice awarded Chandra a spot on the Top 25 Singles of 2008 for her heartfelt, hiphop-tinged song "Gotta Find Me Somebody," as follows:




25. "Gotta Find Me Somebody"------------Chandra Calloway

Is Chandra related to Southern Soul's legendary singer/songwriter/producer Harrison Calloway? Don't know--but given her arrival on the scene complete with so many Southern Soul vocal gifts in full flower, it certainly makes sense. "(I Was) Gonna Give It To Ya (Until You Opened Your Mouth)" was the popular chitlin' circuit single, but the slow and stately ballad "Gotta Find Me Somebody" was the showcase that made it obvious Chandra Calloway will be around Southern Soul circles for a long time to come, as long as she works at it. Best female debut of 2008.



This award took place in December 2008 without any contact whatsoever. Time passed. Then, late in March of 2009, I received a letter of thanks from Chandra, who had finally seen the honor. Her letter stimulated an exchange of e-mails, and we discussed the possibility of doing an interview. But once again, time passed, almost three months, without my having the opportunity to make it happen.

However, Chandra remained patient, and went about doing her thing: making music and singing back-up with Mel Waiters on the weekends through the 1st-quarter "Blues Is Alright" tour and others. At last, on June 15, 2009, your Daddy B. Nice got back, sat down and talked with Chandra Calloway for posterity. The interview--full of fascinating people and stories--follows.



The Daddy B. Nice Interview: CHANDRA CALLOWAY


Chandra, ever since your name popped up in Southern Soul music, I've wanted to ask you if you're related to Harrison Calloway? Do you know who he is?

The producer?

Yeah.

No, I'm not. I used to wish I was related to Cab Calloway.

You have a great bio on CD Baby, by the way, which I'll link to in the article. Did you write it?

Yes, I did.

It's very good. Very informative, but doesn't run on.

Thank you.

You grew up in Grand Prairie, Texas. The only thing missing--and I know some women don't like to answer this question--may I ask you when were you born?

1967.

Ah, the summer of love. I remember it well.

Yeah, I love that 60's and 70's culture. The mood of the people then. And it's basically happening again.

You mean, with Obama and all?

Oh yeah, with Obama. We just needed some kind of inspiration, some "can-do" attitude.

Do you still live in the Dallas-Forth Worth area?

I live in Mansfield, a suburb of Fort Worth. It's about fifteen miles south of Grand Prairie.

You said you grew up in a shotgun house.

Yeah. One-way in. Front door and a back door. Watching Shirley Temple, Lawrence Welk and a lot of country and western gospel quartets.

Did you hear any other music growing up?

My parents were real good, soulful people and we had a lot of good music playing in the house. Above all, for me of course, Betty Wright. "The Clean Up Woman." But there was also some jazz. I remember the first time I heard Ella Fitzgerald.

Oh yeah?

I was maybe five or six and I asked who it was. My parents said "Ella Fitzgerald" and I couldn't get it right. I said "Elephant" something, and they said, "No, Ella Fitzgerald," and I giggled. And when I finally got it, I was pretty proud of myself. I have many of her albums. but I liked her even then, especially "Cottontail" and all of her earlier songs. And I love Billy Holliday, of course. But the song that got me into R&B was definitely Betty Wright's "Clean Up Woman."

Betty Wright. That's about as good as it gets. Did you--I'm curious--as you were growing up, out in the middle of Texas. You didn't have any Southern Soul radio stations--I'm talking about contemporary Southern Soul--like they have in Mississippi. When did you first have a glimpse that there were people like Mel Waiters and Marvin Sease?

I can tell you the exact date, Daddy. Ironically, it was a Valentine's Day Party at the Nighty-Night Club in Fort Worth.

Nighty-Night. (Daddy B. Nice laughs.) That's cool.

And I went with my mom and everyone was dressed in red and white. I mean dressed to the nines. High heels, make-up, the whole deal.

You're kidding. They don't do stuff like this up north!

Huh-uh. The guys too. Red hats, white shoes.

Did you say gloves?

No. (Chandra laughs.) I had a cape on.

Wow. Now how old were you?

I was probably. . . 25 years old.

They had a well-known local band. But the headliner was Buddy Ace.

Oh, man.

Yeah. And Buddy Ace blew my mind. He had his ladies onstage. They were called The Sugar Babies. They all looked like Diana Ross. And that was it for me. I was inspired. And he sang, "It Don't Hurt No More." And then he went around the crowd, from table to table, and up to ours, and he put the microphone to my mouth. And I had been singing around by this time. But when I took that microphone and belted out, "It don't hurt no more!", I couldn't believe what had come out of me. It was something I'd never done. But the crowd loved it. That was my first encounter with Southern Soul music, and I was hooked.

That's an amazing story.

My present boss (Mel Waiters). That's why he dyed his hair white to this day, too.

Mel? I thought he picked that up from Dennis Rodman!

(Chandra laughs.) No. He saw Buddy Ace perform and he was his inspiration, too. Johnnie Taylor and Tyrone Davis were big influences, of course. But he wanted to look and he wanted to perform like Buddy Ace.

Did Buddy Ace have white hair?

Yes.

Now he had it because he was old, right?

Right. And Mel still goes out into the crowd during his concerts and walks around like Buddy did. That was my first encounter.

Now, when you started singing back-up with Mel, he had--how many?

He had two background singers, and one of them asked me to help her out. I thought it would be just a one or two-night thing.

Where was this?

Crystal's in Arlington, Texas.
.
And when was this?

It was around February 2000. No real audition. I sang a Chaka Khan song for him. "Sweet Thing." He turned his back and listened. And then he allowed me to go onstage with him at Arlington.

But at that point, I imagine, you probably didn't imagine Southern Soul was such a scene.

No. I did not know. I had no idea. Then, as time went on, when I started travelling with Mel, going to all the chitlin' circuit venues, I found out how big it was. You know. . . To be on a show with Clarence Carter?

Yeah.

Or Bobby Womack?

Right.

Or, what's his name, "Turn Back The Hands Of Time".

Tyrone Davis.

Right, Tyrone Davis. That was up in Chicago.

When I think of Southern Soul artists out of Texas, there are so few. But they've always fascinated me because of their relative obscurity. There's Mel, of course. Everyone knows him. But after that there's just a few others, and I wanted to ask you about one. Have you ever heard of Gregg A. Smith? He's out of the Dallas area. He had this great song, "Stacked In The Back (With Junk In Her Trunk)" that I put on my Top 100 years ago, before I knew a thing about him. He's a little more well-known now.

Why, yes. I do know him. The same girl that asked me to perform with Mel?

Yeah?

She asked me to go to Alabama--the Mobile, Alabama fairgrounds--in her place.

This was prior to working with Mel?

Right. And her boss was Gregg A. Smith. I also auditioned for him. But that's when I was younger. I could sing, but I didn't dance. You know, I just didn't feel comfortable. But once I got onstage, just improvising and ad-libbing in front of the crowd, Gregg said, "This girl might make it." And I was with him about two years.

Talking about other Texan artists, have you ever run into Erykah Badu? Her last couple of albums have been real disappointing to me, as a Southern Soul guy. She's gone over entirely to hiphop. But she was one of the first, really, to score a traditional R&B hit there in the late nineties, with "Tyrone," and she's still on my Top 100.

I know Erykah also. We both worked in Steve Harvey's Comedy Club.

No kidding.

I started out working in the ticket booth,

What did Erykah do there?

She had more of an administrative job. I was singing to myself in the booth one day, and Erykah came in and she started harmonizing with me. And she said, "Do you sing?" And I said, "Yes, I do." And she said, "I do, too," and we became very good friends. We used to do these vocal turns onstage with Steve--blues skits and numbers--Steve would dress up as a blues guy. We would just "improv" on slow nights to bring people in. In fact, Daddy, one night we made a tape in the studio. Erykah was humming this gospel riff and we got to harmonizing, and she told me she still has that on a tape in her studio.

So going back to the hiphop/Southern Soul thing, you've obviously come down on the Southern Soul side. Looking at the first three cuts on your CD, Gonna Give It To Ya , which by the way all made Daddy B. Nice Top 10 Singles, "Gonna Give It To Ya," the title cut, is also the most solidly Southern Soul in the Betty Wright tradition. I remember when I first put it on my Top 10 (Daddy B. Nice's #4 Southern Soul Single, June 2008), I put it like: parentheses "I Was" parentheses "Gonna Give It To Ya" parentheses "Until You Opened Your Mouth" parentheses, because I wanted people to understand the wit behind the song.

(Chandra laughs.) I remember that. I loved that.

And then, "Look Who's Jody Now" (Daddy B. Nice's #8 Southern Soul Single, July 2008) . I listened to that again yesterday. I'd forgotten how great your vocal was, and how great the arrangement was. Just an incredible duet.

Thank you.

And then, "Gotta Find Me Somebody," (Daddy B. Nice's Top Ten Singles, October 2008), which has a very hiphop sound to it. A little more clean, a little more urban.

Yes.

So how do you see yourself? Hiphop or Southern Soul? You're kind of on the border.

Definitely, Southern Soul. Southern Soul is where it's at with me. That's where I'm going, Daddy. I'm a fan of hiphop. I love Doug E. Fresh. He's from that feel-good era of rap. It's about good times. That's why he's still so popular. But I'm not going to go towards hiphop myself. Doug E. Fresh is on the Southern Soul roster at an upcoming concert, actually, in August, at the Atlanta Motor Speedway. Mel Waiters is on the bill.

Mel headlining?

Well. . .

(Daddy B. Nice laughs.) Doug E. Fresh. Of course.

So I'm not going anywhere, Daddy. Southern Soul is where it's at for me. I'm forty. I've got my priorities all sorted. In fact, I'm as interested in the blues as hiphop. My heart goes out to the family of Koko Taylor. Once I heard her sing "Wang Dang Doodle" I was hooked on this kind of music.

That's the chitlin'-circuit side of the blues, all right. Who are some of your favorite artists currently?

I love Linda Hopkins.

I don't know her. And I'm probably showing my ignorance because I'm into this Southern Soul thing so far I don't keep up with greater R&B like I used to.

Linda Hopkins sings about the same stuff as Koko Taylor. She's a backwoods kind of blues singer. She reminds me when she performs--I'm not kidding--of Otis Redding. She's powerful. She's only 21, but she's going to be a force to be reckoned with.

Anyone else you like?

Ledisi. She's a beautiful artist. Once you hear the ballads she does, she'll blow you away. I love Jazmine Sullivan. She reminds me of Lauryn Hill and a little of Alicia Keyes.

Going back and talking about your CD, who produced it?

Mel Waiters.

Who wrote the songs?

Mel and I collaborated on about four of the nine. Actually, I really wrote the bulk of all of them, but because of contractual stuff they had to be under Mel's name.

So those top three songs basically came out of your life experience?

Yes.

Well, that's a great sign. I have to say, above all, my favorite is "Gotta Find Me Somebody."

Oh, that means a lot to me. You know, I wrote that one instantaneously.

No kidding. Like how long?

Like about the time it took me to write it down.

Anything new in the works?

We're about to release a real "heater." That's a hot song. "No Sleep." It's kind of in the "Look Who's Jody Now" vein. It has some of the tempo and flavor of "Jody." Mel is doing the background. It goes, "I'm not gonna lose no sleep over you." You know, I'm going to get in my car, put on my lipstick, and move on. It might be a real liberating song, Daddy.

(Daddy B. Nice laughs.)

Goals?

Follow the path of Koko Taylor. To be as well-known. To have people love my artistry the way people love hers. I met her. I experienced the response of her fans, onstage and off. I was observing her with her fans in the green room. It was just overwhelming. That would be my goal.

How does your typical day, your typical week, go?

We had a three-month tour the first part of the year, and after that it's not that different. Working on the weekends, off during the week.

You're talking about the Blues Is Alright Tour.

Yeah.

What an education that must be.

Oh, yeah. Meeting and greeting everybody. The line-up changes from weekend to weekend. This year they sometimes had two different concerts in two different cities at the same time. Just mingling with all the great musicians, eating together and so on.

Were the crowds down this year, with the poor economy?

Let me think. They did have to cancel one show, but that was because an issue with a building, not ticket sales. I'd have to say no. Surprisingly, no.

That's pretty amazing, because those tickets are pretty steep.

We had a few sell-outs. Other than that, we had packed houses. Heritage Entertainment advertises it well. Television spots in all the local markets. Plus people know it's coming. It's every year, and people save up for it.

That's great news. And then, of course, you're touring with Mel through the rest of the year.

Right. I'm here at home during the week, then out with Mel on the weekend. I crochet. I make scarves and hats. I love being busy. I worked for the school district for many years, but it got kind of hard coming in from a weekend away and trying to work the day job during the week. Mel said, "You probably want to let that go." And finally I did. I also maintain Mel's website. I write almost every day. Songs that mean a lot to me. I don't care if I've heard something like it before. If it's good, I just play it the way I see it.

How many years have you been with Mel now?

Since 2000. Almost ten years.

It's a great gig. I mean, it's your "bread and butter," right?

Right. I wouldn't trade it for the world.

And your association with a world-class musician shows in your music.

Thank you so much, Daddy. The one thing you're always talking about is the song. That's one thing Mel has taught me. It all goes back to the studio. If you want three or four stars or whatever on your CD review, that's where you make it happen. And Mel says, "And we have to close." Sell it first of all in the studio work. And then go out and close it in performance and make sure your audience appreciates it.

Thank you so much, Chandra.

Thank you.

Bargain-Priced Gonna Give It To Ya CD ,

************

3.

To automatically link to Chandra Calloway's charted radio singles, awards, citations, CD's and other references on the website, go to "Calloway, Chandra" in Daddy B. Nice's Comprehensive Index.



If You Liked. . . You'll Love

If you liked Sheba Potts-Wright's "Lipstick On His Pants," you'll love Chandra Calloway's "Gonna Give It To Ya."


EDITOR'S NOTE

Over the last year I've been dropping hints to the younger musicians.

"Be watching because there's going to be something coming on the site that'll be a real blessing for the younger people."

And I've also been telling a lot of deserving new artists to bide their time, that their day to be featured in a Daddy B. Nice Artist Guide was coming, and long overdue.

Now, at last, the day has come.

The great Southern Soul stars are mostly gone. There's a new generation clamoring to be heard.

Rather than waiting years to go online as I did with the original Top 100, this chart will be a work-in-progress.

Each month five new and never-before-featured artists will be showcased, starting at #100 and counting down to #1.

I estimate 50-75 new Artist Guides will be created by the time I finish. The other 25-50 Guides will feature artists from the old chart who are holding their own or scaling the peaks in the 21st Century.

Absent will be the masters who have wandered off to Soul Heaven. And missing will be the older artists who for one reason or another have slowed down, become inactive or left the scene.

The older generation's contributions to Southern Soul music, however, will not be forgotten.

That is why it was so important to your Daddy B. Nice to maintain the integrity of the original Top 100 and not continue updating it indefinitely.

(Daddy B. Nice's original Top 100 Southern Soul covered the period from 1990-2010. Daddy B. Nice's new 21st Century Southern Soul will cover the period from 2000-2020.)

When I constructed the first chart, I wanted to preserve a piece of musical history. I heard a cultural phenomenon I was afraid might be lost forever unless I wrote about it.

There will be no more changes to the original chart. Those performers' place in Southern Soul music will stand.

But I see a new scene today, a scene just as starved for publicity and definition, a scene missing only a mirror to reflect back its reality.

The prospect of a grueling schedule of five new artist pages a month will be daunting, and I hope readers will bear with me as I gradually fill out what may seem at first inadequate Artist Guides.

Information from readers will always be welcome. That's how I learn. That's how I add to the data.

I'm excited to get started. I have been thinking about this for a long time. I've already done the bulk of the drawings.

In a funny way, the most rewarding thing has been getting back to doing the drawings, and imagining what recording artists are going to feel like when they see their mugs in a black and white cartoon. Hopefully----high! An artist hasn't really "made it" until he or she's been caricatured by Daddy B. Nice.

In the beginning months, the suspense will be in what new stars make the chart. In the final months, the suspense will be in who amongst the big dogs and the new stars is in the top twenty, the top ten, and finally. . . the top spot.

I'm not tellin'.

Not yet.

--Daddy B. Nice

Go to Top 100 Countdown: 21st Century Southern Soul





Honorary "B" Side

"Gotta Find Me Somebody"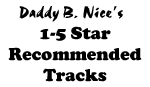 Gonna Give It To Ya


CD: Gonna Give It To Ya
Label: Brittney






Gotta Find Me Somebody


CD: Gonna Give It To Ya
Label: Brittney






Go Back


CD: Gonna Give It To Ya
Label: Brittney






Look Who's Jody Now (w/ Mel Waiters)


CD: Gonna Give It To Ya
Label: Brittney






Spendin' Time


CD: Gonna Give It To Ya
Label: Brittney






Be Nice (w/ Sang'n Clarence)


CD: Gonna Give It To Ya
Label: Brittney






I'm In Love Again (w/ Bigg Joe)


CD: Gonna Give It To Ya
Label: Brittney






Lose Sleep


CD: No Album Available






Stuck On Stupid


CD: Gonna Give It To Ya
Label: Brittney