NEW!

Corner & Top 10


Concert Calendar
& Mailbag


Comprehensive Index


New CD Reviews


Index to Artist Guides
NEW!


Best of 2022

The Original Chart (1990-2010)

21st Century Chart (2000-2020)
NEW!

The New Generation Chart (2010-2030)
Southern Soul CD's, MP3's


Best of Pages
About the Music
About Us
Links
Home

"Tyrone"
Erykah Badu
Composed by Erykah Badu and Norman Hurt
Author's Forward: It seems like I wrote this critique in another century, and that's almost true. I followed the hiphop scene with the fanaticism with which I now follow Southern Soul, and at the time nobody--I mean nobody outside the Deep South--wanted to believe traditional R&B still lived, i.e. in the chitlin' circuit.

So the insertion of a Badu Artist Guide wasn't a slap in the face to chitlin' circuit artists (whose potential space it took); it was a conscious decision to throw a "rope" out to the mainstream music fan. I needed a reference point (and "Tyrone" was a good one) to give them an inkling of what this "southern soul" music was all about.

Not only that--I still think it fulfills the same function today. It's easy to forget that 99% of Southern Soul's potential audience is still out there, untapped. What has changed is the accessibility of Southern Soul music. Now the curious can sample the real thing, something they couldn't do pre-2000.

As to the question your Daddy B. Nice poses in the guide below--will Erykah Badu continue to drift away from traditional R&B into hiphop--the answer is yes. Which means she is becoming less and less relevant to Southern Soul.

The pity is that Badu isn't really lighting up the hiphop world either. She's dabbled in musical projects and worked as an actress, most prominently in 2004's "House Of D" with Robin Williams. In her private life, Badu may be too comfortable, too happy--without that special "hunger" for an audience that fuels the great performers. There's nothing wrong with that, but it is our loss. DBN.

*****************************

Prodigiously talented and self-aware, Erykah Badu walks a very fine line artistically speaking, one that has gained her detractors as well as admirers. After all, few vices in Southern Soul R&B are as rare as hubris.

In a past generation Badu (who favors tall, head-turning, African turbans) might have been called "uppity," and amongst the black audience today she is seen variously as the "princess" or the "hipster" or simply the classic "over-achiever" who wants to keep her feet in the folksy world of chitlin' circuit R&B while keeping her head in the rarefied cash-money air of the hiphop scene.

Chitlin' circuit purists like to think of the Texas-bred Ms. Badu as an outsider--and, frankly, she is. But R&B fans are not immune to having short memories, either. Back in the day, Deep South radio outlets played the radio ("live") version of "Tyrone" as much or more than their urban counterparts. More importantly, "Tyrone" was a milestone in bridging the gap between commercial and chitlin' circuit R&B.

In 1997, when "Tyrone" was recorded, there was no talk of "Southern Soul." Although the genre's core artists had been active for years, few would have believed the movement might grow big enough to require anything as official as a name.

Badu's minimalist, bass-heavy "Tyrone" fell like a smart bomb on the "urban" and the chitlin' circuit worlds alike. Less than a year later, R. Kelly would turn the chords of "Tyrone" inside out for his own Southern Soul classic, "When A Woman's Fed Up." And R. Kelly, Kelly Price, and Ronald Isley (remember Mr. Biggs?) were undoubtedly influenced by Badu when they collaborated on Ms. Price's hiphop/Southern Soul crossover hit single and video, "Friend Of Mine."

The importance of these commercial R&B-based tunes was to alert the old soul crowd, the fans who had been swimming in the commercial R&B currents, the ones who knew nothing about the chitlin' circuit artists, that there was another kind of classic soul in the air.

A young generation of Southern Soul artists woke up to a new atmosphere of creativity and possibility and--yes--practicality, for what is more important to an artist than an audience?

All of a sudden, the ability to make a living by selling music in the classic Stax/Motown tradition didn't sound so fantastic. Suddenly there was a fighting chance to actually replace aging (or gone-but-not-forgotten) stars of chitlin' circuit R&B like Bobby "Blue" Bland, Johnnie Taylor, Z.Z. Hill and Tyrone Davis.

And now up-and-coming performers like David Brinston, Sir Charles Jones, O. B. Buchana, Syleena Johnson, Sheba Potts-Wright, Robert "The Duke" Tillman, Jackie Neal and so many others had a viable direction in which to pursue their artistic dreams.

"Tyrone" wasn't on Badu's first album, Baduizm, released in 1997. Bassist Ron Carter (which is like saying "God" to an old bass player like your Daddy B. Nice) did the honors on that first album. The single of "Tyrone" closely followed, as did the live album (by then Badu's performances had picked up word-of-mouth), in a furious sequence in '97.

It's your Daddy B. Nice's recollection that the bass line in the original single was of an other-worldly quality characteristic of the legendary Carter. However, Hubert Eaves IV plays bass on the "Live" version, and my apologies and kudos to him if I'm mistaken. The point is that the bass line is worthy of Ron Carter. And I belabor the point because the bass on "Tyrone" essentially takes the place of the lead guitar in carrying the melody (every bassist's dream). When fans of "Tyrone" hear its opening words,

"I'm getting tired of your sheee-it.
You don't never buy me nothing."

--They associate it instantly with the signature bass line. That is, they do after they get over the shock of hearing "shit" in a super-enunciated fashion in the first few syllables of a commercial song. When that "sheee-it" spilled out of Badu's mouth over cable TV in 1997 as naturally as another singer might have said "shucks," it signaled that Erykah Badu was intrepid enough to drag R&B into anyone's neighborhood to make it relevant.

The triple negative ("You don't never buy me nothin'") may have been a case of Badu displaying her dirty South credentials or a dazzling foil for her jazzy chops. Tucked within the jazz-blues format, however, was a message that was pure, uncompromising Southern Soul.

"Every time I ask you for a little cash,
You say no, but turn around,
And ask me for some ass.
Listen, partner,
I ain't no cheap thrill."

Jazz enthusiasts have burdened Badu with the clanking mantle of a modern-day Billie Holiday. While it's true that Badu's vocals have been influenced by the jazz legend, the more apt forerunners, both culturally and musically, are Esther Phillips and, perhaps most importantly,Ann Peebles, whose "I'm Gonna Tear Your Playhouse Down" and "I Can't Stand The Rain" are obvious antecedents.

Badu is essentially an R&B singer with a jazz-singer's techniques, not the other way around. But will this young star of BET and MTV ultimately remain loyal to adult Rhythm and Blues? Her love for R&B is obvious in such songs as her cover (with D'Angelo) of Marvin Gaye's and Tammi Terrell's "Your Precious Love," or her sensitive, atmospheric, Diana Ross-like "Didn't Cha Know." But she is also fickle.

"Didn't Cha Know," a turning point in her career, had Erykah admitting, "I think I made a wrong turn somewhere back there," and "It's time to save the world./ Where in the world is all the time?" Sounding, in other words, like an overwhelmed Bob Dylan at the height of his popularity and paranoia.

Although Southern Soul fans shouldn't look for Erykah Badu touring the chitlin' circuit anytime soon, they would do well to claim Badu as one of their own. As Erykah says on "Southern Girl," her acapella hootenanny with rubber-mouthed rapper Rahzel:

"I'm a Southern girl.
Everything I eat is fried.
Got a Southern drawl.
I'm so country, y'all."

--Daddy B. Nice
About Erykah Badu
Erykah Badu was born Erica Wright in 1972 in Dallas, Texas. She was working as a teacher and singing in the Dallas area in 1994, when she performed as the opening act for R&B balladeer D'Angelo. He was impressed enough to cut a duet cover with Badu of the Marvin Gaye/Tammi Terrell classic, "Your Precious Love."

Baduizm, her debut CD, appeared in 1997. Her songwriting and starkly original vocal stylings, bolstered by the jazz great Ron Carter and the hiphop-influenced backgrounds of The Roots, made Erykah Badu an overnight success. Electrifying concerts and a "live" studio album--Live, arguably her best--quickly followed. "Tyrone" became successful on all the R&B charts.

Badu released a series of radio singles, including "Tyrone," "On And On," "Next Lifetime," "Apple Tree," and "Southern Girl," between 1997 and 1999. The LP's Mama's Gun and Worldwide Underground followed in 2000 and 2003. More EP's and singles also appeared, notably "Didn't Cha Know" and a remix of her early-career favorite, "On And On."

From a chitlin' circuit perspective, Worldwide Underground memorialized Badu's continued drift away from Southern Soul into hiphop. Lack of product was also disconcerting, little more than two full LP's of material over nearly a decade. Erykah remained a popular choice for compilation albums, however, and an extremely active studio singer and musical gadabout.

"Tyrone" remains her signature achievement: a classic adult R&B "oldie" and Southern Soul's most obvious bridge to jazz.

Song's Transcendent Moment
"You need to call Tyrone,
But you can't use my phone."

Tidbits
The "live" version of "Tyrone" omits one of the studio version's most colorful verses, the one about "dominoes" and "toes." Cultural correctness on Badu's part? A concession to a yuppie audience? You can bet a chitlin' circuit crowd would have cherished--even demanded--the verse.
If You Liked. . . You'll Love
If you liked Billie Holiday's "Nobody's Business (But My Own)," you'll love Erykah Badu's "Tyrone."




Honorary "B" Side
"Southern Girl w/ Rahzel"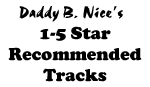 Tyrone


CD: Live
Label: Universal






Southern Girl w/ Rahzel


CD: Make The Music 2000
Label: MCA






Your Precious Love w/ D'Angelo


CD: Marvin Is 60: A Tribute Album
Label: Motown Records






You Got Me w/ The Roots


CD: Things Fall Apart
Label: MCA






Didn't Cha Know


CD: Mama's Gun
Label: Motown/ PGD






On And On


CD: Baduizm
Label: Universal






Orange Moon


CD: Mama's Gun
Label: Motown/PGD






Woo


CD: Worldwide Underground
Label: Motown/PGD






Afro


CD: Don't Mess With Texas Music
Label: Texas Music Project






World Keeps Turnin'


CD: Worldwide Underground
Label: Motown/PGD






Ye Yo


CD: Live
Label: Universal