NEW!

Corner & Top 10


Concert Calendar
& Mailbag


Comprehensive Index


New CD Reviews


Index to Artist Guides
NEW!


Best of 2022

The Original Chart (1990-2010)

21st Century Chart (2000-2020)
NEW!

The New Generation Chart (2010-2030)
Southern Soul CD's, MP3's


Best of Pages
About the Music
About Us
Links
Home

"Don't Stop The Music"
Mose Stovall
Composed by Mose Stovall & Robert Harris
Re-Posted from Daddy B. Nice's Mailbag
May 1, 2020:Thank You Letter
Thank you
Dear B Nice,

To those that may not know, my name is Mose Stovall aka The Velvet Voice! First off i'd like thank Daddy B Nice and Southern Soul RnB for all your continuous hard work and Dedication to the Southern Soul Community! I've been apart of this family for quite sometime time now! Thank you for recognizing Me featuring my father Eddie Stovall aka Big Daddy E for Whiskey Drinking Woman which was produced By Snatch Nelson and Fatt Catt Records. I'm also alumni of the Daddy B Nice's 21st century Top 100 Count Down with "Don't Stop The Music" Produced by Austin Hall and Rob Harris For Soul 1st records! It a honor to be apart of the family! Please be on the Look Out for my New Album Titled "Family" Ready for Release right now! It Features songs produced by Ron G Suggs, Snatch Nelson, Beat Flippa and Kelvin Benion. 85% Written by Mose Stovall. Featuring other writers Big Bird of Durdy Music and Eddie Stovall aka Big Daddy E. I also love reading reviews and keeping up with the new and old in Southern Soul. I'm signing out. In closing "Let The Music Play!!


April 7, 2018: NEW SINGLE ALERT!
See Daddy B. Nice's Top 10 "Breaking" Southern Soul Singles: May '18.
*************

For the latest updates on Ricky White, scroll down to the "Tidbits" section. To automatically link to Ricky White's charted radio singles, awards, CD's and other citations on the website, go to "Mose Stovall" in Daddy B. Nice's Comprehensive Index.

************
January 30, 2011:
Daddy B. Nice's Original Profile:

Mose Stovall is one of a growing number of performers streaming into the Southern Soul genre from the greater world of mainstream R&B. On his first album, Private Party (Magic City Hitsville, 2003), Stovall described his work as "Soulful R&B Music, Genre: Urban/R&B: Rhythm & Blues."

By the time of his second album, his signature Southern Soul disc--Groove U (Soul 1st, 2007)--Stovall was describing his work as: "The new sound of Southern Soul and R&B in the tradition of the great soul singers. Genre: Urban/R&B: Southern Soul."

And needless to say, the new songs bore it out. Stovall grew up in Birmingham, Alabama, home to quite a few Southern Soul fans--then again, it's not central Mississippi, the heart of the Southern Soul scene. Stovall's head was turned not only by the growing interest in Southern Soul but by a genuine epiphany with the music.

He fell in love with a little-known Southern Soul group called Daybreakk! and traced them back to Reg McDaniel's Soul 1st label, the home of Southern Soul star Omar Cunningham. Contact was made and a really good album resulted.

Groove U spawned two substantial Southern Soul hit songs: "Groove U Baby" and "Don't Stop The Music." Both songs eschewed programming for full bodied, real-instrument backing, and both benefitted from strong, melodic song structures.

"Groove U Baby," written by Austin Hall, was a fresh-sounding, mid-tempo ballad sung in a plaintive tenor. "Don't Stop The Music," written by Stovall and Robert Harris, with Omar Cunningham on background vocals, featured an unlikely voice-encoded lead vocal by Stovall.

"Don't Stop The Music," in fact, defied all of the current taboos in Southern Soul, but none more so than that dreaded synthesized vocal. The thing was, it worked. It worked so well that it became the most cherished element of the song, the very thing that linked it to the great dance-floor soul of The Bee Gees' "Staying Alive," Montel Jordan's "This Is How We Do It" and Cameo's "Word Up."

The success of "Don't Stop The Music" may have even surprised Stovall, and its appeal reiterated the fact that you can't over-define the Southern Soul form. There are many examples of rock-and-roll or disco-tinged Southern Soul hits.

Stan Mosley scored with a conventional Southern Soul ballad with "Rock Me" back in the day. But it's often forgotten that he had an equally compelling song at the time that plied a similarly unconventional, relentlessly dance-floor sound: "Anybody Seen My Boo."

Larome Powers made hay with his dance-friendly, pop-produced "Shake And Shimmy," its pounding beat--like Stovall's "Don't Stop The Music--too "club" not to be a Southern Soul hit. In other words, if it gets people up in the club, it's Southern Soul.

T.K. Soul has a synthesizer-enhanced dance-floor jam currently on the charts: "They Wanna Party With Me." And your Daddy B. Nice first brought it to everyone's attention with a #1 "Breaking" Southern Soul Single citation earlier this year.

Both "Don't Stop The Music" and "Groove U Baby," in sum, showcased a kind of rhythmic swing--a cadenced momentum--that as well as anything defined Mose Stovall's style. In these songs, Mose Stovall found his natural style and musical calling.

"Groove U Baby," meanwhile, was one of those slow, hip-rolling songs that made you want to rub on the body in front of you. Light, delicate and mellow, it nevertheless had a substance and depth few romantic songs muster.

"Baby, I've been thinking about you.
You're all that's on my mind.
Girl, you know that it's been so long
Since we spent some time together.

So tonight let's make plans
To get away.
Girl, you know that you're long overdue
For a lover's holiday.

I just want to groove you, baby.
Take it nice and slow.
I just want to groove you, baby...."

Blessed with an authentic vocal tone and expressiveness which "Groove You Baby" highlighted to great effect, Stovall's singing nevertheless was not of the spectacular variety. The lead vocal remained entirely in service to the song and a part of the overall fabric. The listener never focused on this or that singing technique. All technique was buried and invisible: a part of the message.

In "Don't Stop The Music" the voice-enhanced lead vocal worked in a similar fashion. Stovall's synth-enhanced lead traded phrases with Omar Cunningham's smooth background vocal with the freshness of a children's classroom roundelay. Nothing stood out in stark contrast to anything else. Everything fit in its place in an exquisite arrangement with only one goal in mind: the effortless delivery of the message.

At the end of "Don't Stop The Music," while Stovall takes a breather, there is a comfortable musical pause with lyrics that have probably been used in every dance jam ever written:

"Shake it to the left,
Shake it to the right.
Now swing it in the middle
Party all night."

The band keeps percolating away, and--just as the song is about to fade out--Mose lets out an impromptu, triumphant cry:

"That's my jam,
That's my song,
That's my jam,
That's my song."

It's the perfect moment, an instant in which both artist and fan recognize something miraculous has happened. Happiness--sheer joy--has been attained. The artist has done his job. He's one with his song.

Link to Mose Stovall music on I-Tunes.


--Daddy B. Nice




About Mose Stovall

Mose Stovall was born in Birmingham, Alabama, where he sang in church and local musical entities through his young adulthood. In the early 00's Stovall began working as an artist at Magic City Hitsville Records, where he helped co-found Music Makers Recording Studio, composing songs and singing background for Birmingham-area recording artists.

In 2003 Stovall released his debut solo CD, Private Party (Magic City Hitsville), with such urban R&B-styled songs as "Hold You", "The Problem Is You," "Good Lovin'," "Dance" and "I Can't Stand."

Stovall hosted a TV show in Birmingham, worked the regional clubs, and in 2005 formed a band called Pharcyde. The same year, he heard the song "On And On" by a Southern Soul group named Daybreakk!

Daybreakk! was published by Soul 1st Records (the recording home of Omar Cunningham and, more recently, Vick Allen), whose CEO Reg McDaniel responded positively to overtures by Stovall that he'd like to move in a Southern Soul direction.

The result was Stovall's statement album, Groove U (Soul 1st, 2007), whose first single, "Groove U Baby" (written by Austin Hall), became "the record that just won't die," according to Tyrone Da Don Davis of the American Blues Network. "I can't go into a club and not hear it 10 times," the deejay noted.

Then, again stimulated by demand from Southern Soul deejays, another single--an atypical, synthesizer-enhanced vocal dance jam called "Don't Stop The Music"--became the second heralded single. Both songs drew heavy air play rotation well into 2008.

"Don't Stop The Music" by Mose Stovall garnered Daddy B. Nice's Southern Soul Music Award for Best Southern Soul Club Song of 2008, beating out such top contenders as Ms. Jody's "Ms. Jody's Thing," Mr. X's "Wiggle Wiggle Wiggle" and Nellie "Tiger" Travis's "I'm A Woman."

More recently, Stovall has sponsored a "Stovall and Friends Annual Weekend Getaway" the first weekend in June at the Hyatt Regency Hotel Savannah on the Historical Riverfront in Savannah, Georgia.





Song's Transcendent Moment

"I walked in the club
Late one Friday night,
Just looking for something,
Something I could get into.

That's when I saw her
Dancing out on the floor.
She was making a "blues" thing
All by herself.

So please, Mister Deejay
Don't stop the music.
Don't stop the song."






Tidbits

1.

July 3, 2011:

Watch a promo of Mose Stovall singing live with band on YouTube.

Listen to Mose Stovall singing at Flashback Friday at Wellington Bistro.

2.

July 31, 2011:

According to the August 2011 edition of "The Boogie Report," Mose Stovall has left Soul 1st Records for uncited reasons.




If You Liked. . . You'll Love

If you liked Bigg Robb's "Keep On Steppin'," you'll love Mose Stovall's "Don't Stop The Music."


EDITOR'S NOTE

Over the last year I've been dropping hints to the younger musicians.

"Be watching because there's going to be something coming on the site that'll be a real blessing for the younger people."

And I've also been telling a lot of deserving new artists to bide their time, that their day to be featured in a Daddy B. Nice Artist Guide was coming, and long overdue.

Now, at last, the day has come.

The great Southern Soul stars are mostly gone. There's a new generation clamoring to be heard.

Rather than waiting years to go online as I did with the original Top 100, this chart will be a work-in-progress.

Each month five new and never-before-featured artists will be showcased, starting at #100 and counting down to #1.

I estimate 50-75 new Artist Guides will be created by the time I finish. The other 25-50 Guides will feature artists from the old chart who are holding their own or scaling the peaks in the 21st Century.

Absent will be the masters who have wandered off to Soul Heaven. And missing will be the older artists who for one reason or another have slowed down, become inactive or left the scene.

The older generation's contributions to Southern Soul music, however, will not be forgotten.

That is why it was so important to your Daddy B. Nice to maintain the integrity of the original Top 100 and not continue updating it indefinitely.

(Daddy B. Nice's original Top 100 Southern Soul covered the period from 1990-2010. Daddy B. Nice's new 21st Century Southern Soul will cover the period from 2000-2020.)

When I constructed the first chart, I wanted to preserve a piece of musical history. I heard a cultural phenomenon I was afraid might be lost forever unless I wrote about it.

There will be no more changes to the original chart. Those performers' place in Southern Soul music will stand.

But I see a new scene today, a scene just as starved for publicity and definition, a scene missing only a mirror to reflect back its reality.

The prospect of a grueling schedule of five new artist pages a month will be daunting, and I hope readers will bear with me as I gradually fill out what may seem at first inadequate Artist Guides.

Information from readers will always be welcome. That's how I learn. That's how I add to the data.

I'm excited to get started. I have been thinking about this for a long time. I've already done the bulk of the drawings.

In a funny way, the most rewarding thing has been getting back to doing the drawings, and imagining what recording artists are going to feel like when they see their mugs in a black and white cartoon. Hopefully----high! An artist hasn't really "made it" until he or she's been caricatured by Daddy B. Nice.

In the beginning months, the suspense will be in what new stars make the chart. In the final months, the suspense will be in who amongst the big dogs and the new stars is in the top twenty, the top ten, and finally. . . the top spot.

I'm not tellin'.

Not yet.

--Daddy B. Nice

Go to Top 100 Countdown: 21st Century Southern Soul





Honorary "B" Side

"Groove U Baby"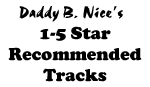 Don't Stop The Music


CD: Groove U
Label: Soul 1st






Groove U Baby


CD: Groove U
Label: Soul 1st






Party


CD: Groove U
Label: Soul 1st






Been There Done That


CD: Groove U
Label: Soul 1st






Blue


CD: Groove U
Label: Soul 1st






I Can't Stand


CD: Private Party
Label: Magic City Hitsville


Sample or Buy
Private Party




Problem Is You


CD: Private Party
Label: Magic City Hitsville


Sample or Buy
Private Party




Sneakin'


CD: Groove U
Label: Soul 1st






Turning Point


CD: Groove U
Label: Soul 1st






Dance


CD: Groove U
Label: Soul 1st






Hold You


CD: Private Party
Label: Magic City Hitsville


Sample or Buy
Private Party