NEW!

Corner & Top 10


Concert Calendar
& Mailbag


Comprehensive Index


New CD Reviews


Index to Artist Guides
NEW!


Best of 2022

The Original Chart (1990-2010)

21st Century Chart (2000-2020)
NEW!

The New Generation Chart (2010-2030)
Southern Soul CD's, MP3's


Best of Pages
About the Music
About Us
Links
Home

"She Only Wants To See Me On Friday"
Mister Zay (21st Century)
Composed by Luther Lackey
Note: Mister Zay also appears on Daddy B. Nice's original Top 100 Southern Soul Artists (90's-00's). The "21st Century" after Mister Zay's name in the headline is to distinguish his artist-guide entries on this page from his artist-guide page on Daddy B. Nice's original chart.

*********

I've seen many technological phases and fads since the turn of the century, when I made the decision to start proselytizing for this Southern Soul music I love so much. The current sensation is YouTube.

Think about it. Only a few years ago the peer-sharing networks of the early 00's had died. Fans were grousing about the diminishing length of the samples offered by music-sellers. In these radio-deprived times, music (and access to it) was drying up faster than a drought on the high plains.

Then YouTube exploded onto the scene. Suddenly the songs were out there, full-length again. And it's been like Christmas for the fans ever since. At least, until YouTube gets quashed--or the next fad comes along.

Close readers know that your Daddy B. Nice has recently taken to utilizing YouTube links in the text of his articles. Readers can listen to the music while they're reading about it. Wow! And the Tidbits section of the latest Artist Guide your Daddy B. Nice wrote--Steve Perry's--had no less than 14 YouTube video links.

I bring up YouTube in introducing Mister Zay because if anyone in Southern Soul music could benefit from exposure on YouTube, it is Zay. He has only a couple of YouTube offerings, both disappointing, and all of his important work--the work I'm going to talk about in this Artist Guide--is missing.

The sad fact is that practically no one has heard of Mister Zay, and the few fans who have--and who search for his music--are challenged by the fact that there are two or three Zay's, most notably a gospel-singing Zay whose YouTube offerings are more generous and well-done than Southern Soul's Mister Zay.

Zay is an artist who was there at the turn of the century and coincidentally the new dawn of contemporary Southern Soul, when Senator Jones and Sir Charles Jones and The Love Doctor reinvented the form and put it on vinyl on the single most influential compilation of the era: Ultimate Southern Soul.

This was the album that introduced Sir Charles Jones' two great standards--"Friday" and "Is Anybody Lonely"--and The Love Doctor's two classics--"Slow Roll It" and "Lies"--to the audience.

Mister Zay's contribution was "She Only Wants To See Me On Friday," the first and still best of the many great songs written by singer/songwriter Luther Lackey.

The song was and still is a classic, bringing together many of Southern Soul's most familiar themes: the gold-digging woman, the secular sanctity of Friday (the end of the work week, the day to get paid), and--last but not least--the importance of the preacher in everyday life.

"My woman's got a habit,
And she's got it bad.
It's not a pipe or a needle
But a shopping bag.

Money's just like water
Running through her hands.
The only time I see her
Is when she needs it again."

Chorus:

"She only want to
See me on Friday,
Because she knows
That's when I get my pay.

If it's any other day
I have to chase her,
And when I catch her,
She makes me wait.

When it starts
Getting close to the weekend.
She starts having
Less and less to do.

'Hold on 'till Friday night,
And I will make you feel real good.'"

"She Only Wants To See Me On Friday" was the fifth most influential track on the Ultimate Southern Soul CD.

The vocal was masterful. Zay had a rich, full tone that made the powerful melody indelible. We know just how rich and full because Lackey later recorded the song himself and, as accomplished as his technique was, it was undeniably thinner and more idiosyncratic, like walking on shaky ground compared to the mainstream solidity of Mister Zay's version.

Ten years later, one can look at Mister Zay's career as a sad trajectory of missed opportunities and mis-steps. With the exception of Sir Charles Jones, history hasn't been kind to many of Ultimate Southern Soul's contributors. Even the once-mighty Love Doctor has become an after-thought.

Zay's problems began with his initial recording label, Mardi Gras, failing to put "She Only Wants To See Me On Friday" on his solo debut: the competent and talented but otherwise underwhelming Old School Lover.

Zay has never been able (or willing) to wrest control of the song for any subsequent album either.

Five years after "She Only Wants To See Me On Friday" (six years after the Old School Lover CD), Zay's Way (CDS, 2008) fulfilled the promise he showed earlier. Zay's Way (about which more in a minute), became Zay's one great album.

Unfortunately, it was followed by a disastrous CD, Meal Ticket, (CDS, 2011) in which Zay ceded over almost all artistic control to producer Carl Marshall, with tracks written, arranged, produced and performed by Marshall (all except the vocals) and co-sung by his longtime, hiphop-sounding, back-up singer, Jamonte Black.

Equally disconcerting was that a singer/songwriter with Zay's talent would go three years after Zay's Way (2008) and put out an album--Meal Ticket--with no new compositions.

The burnished lyrical style Mister Zay had established with the single "She Only Wants To See Me On Friday" and the CD Zay's Way was effectively extinguished, and it's this great missing-in-action Zay music, "She Only Wants To See Me On Friday" and the especially well-wrought and melodic Zay's Way singles, that cry out to be heard on YouTube.

Those excellent singles are:

"Hard Times"

A hiphop-tinged record, but lush, not hard-edged. Gorgeous string arrangement of a beautiful melody. A rap interlude two-thirds of the way through. Extremely passionate vocal. Reminiscent of (and better than) K-jon's "On The Ocean." Will also remind some of Stevie J's "Because Of Me" and others of Goodie Mob's "Beautiful Skin."

"Get The Hell On"

The most recognized radio single from the album. A separation song, sung from the heart.

"Thang Played With"

Begins as a familiar fast-tempo jam, then gets interesting via a nifty chord change in the bridge. Ends up as an anthem.

"Two Sides Of Love"

Old-school melody. Lyrics derived from The Persuaders' "Thin Line Between Love And Hate."

Apropos the YouTube access to free music discussed at the outset, there is the nasty (isn't there always something nasty when it comes to money?) shadow of copyright infringement.

That was always my puzzlement about YouTube. How could so many full-length audio/videos proliferate so quickly while still gaining the necessary permission or rights?

Readers can see the consequences--and the record-sellers' side of the issue--by going to Daddy B. Nice's Original Artist Guide to Mister Zay.

Scroll down to the first major link in the text:

Listen to Mister Zay's "Get The Hell On" while you read.

--And where you used to get the song is a blank, dark screen with the admonition:

Mister Zay "Get The Hell On"

This video is no longer available due to a copyright claim by CDS Records LLLC.

One can see the record-seller's point in shutting down the video, just as with file-sharing a decade ago. And it's a warning that even this YouTube era could quickly go the way of peer-to-peer via a wave of litigation.

And let's not kid ourselves. Behind the record-seller is the artist himself or herself, wanting to get paid, wanting some little remuneration for the endless hours of time.

Your Daddy B. Nice understands all that. But he also understands that you don't get into the "game" until you dole out some pretty precious blood, sweat and tears. To give nothing away invites obscurity.

From time immemorial artists (not to mention entrepreneurs of all types) have been giving stuff away free to further their long-range agenda, prosperity and well-being. As sure as the sun goes down and the sun comes up, Mister Zay only hurts himself by withdrawing his work from the media.

And replacing it, one might add, with atypical material:

Listen to Mister Zay singing "If You Only Let Me Kick It Witchu" on YouTube.

Is this Carl Marshall production what Mister Zay wants to represent himself to the world?

Meanwhile, let's mourn the inability to illustrate the perfect virtuosity and Southern Soul template of Zay's claim to fame. "She Only Wants To See Me On Friday" is one of the truly top-shelf classics of the contemporary chitlin' circuit, universally imitated and admired, and the fact it is out of print and unavailable leaves a "black hole" in the middle of the genre.

To read more about Mister Zay, go to Daddy B. Nice's Original Artist Guide to Mister Zay.

Mister Zay on I-Tunes
--Daddy B. Nice
About Mister Zay (21st Century)
Songwriter Xavier Ayers adopted "Mister Zay" or "Zay" for his performance name and released his debut album, Old School Lover, in 2002 (Mardi Gras).

The single "She Only Wants To See Me On Friday" appeared on the Mardi Gras sampler, Ultimate Southern Soul less than a year later and became a popular Stations of The Deep South single.

In the late summer of 2005 two new radio singles from an upcoming Mr. Zay CD cropped up on Southern Soul play lists, "Hard Times" and "Thang Played With."

In 2008 Ayers signed with CDS Records and released Zay's Way, which generated radio airplay with the two aforementioned tracks plus "Get The Hell On" and "The 2 Sides Of Love."

In 2011 Ayers put out the Carl Marshall-produced and written Meal Ticket, also on CDS, signalling a marked departure in style.

Song's Transcendent Moment
"I said, 'Reverend,
Can you help me out?
I'm having trouble
Over at my house.'

'Let me tell you, son,
I know all about it,
And I think it's
A crying shame.

But you know what, son?
The way your woman's
Been treating you,
My wife's treating
Me the same.'"

Tidbits
1. June 24, 2012: FROM THE ARCHIVES: DADDY B. NICE'S 2009 REVIEW OF ZAY'S WAY:

4.

June 1, 2009: Daddy B. Nice CD Review

ZAY: Zay's Way (CDS) Four Stars **** Distinguished effort. Should please old fans and gain new.

Zay's Way has the sound and feel of a debut, and I almost typed "distinguished debut" into the headline of this review by mistake. Mr. Zay's actual first album, Old School Lover, was very much a learning experience, and "She Only Wants To See Me On Friday," the Luther Lackey-written tune that Mr. Zay initially made his name with, wasn't even on that CD. It appeared on the Mardi Gras sampler, Ultimate Southern Soul.

Although a few Mr. Zay singles have popped up on chitlin' circuit radio from time to time, it has taken all these years for Zay (or Mr. Zay--I'll use the names interchangeably), to release a new CD. But the long wait has paid off. In spite of, or maybe because of, the long hiatus, Zay's Way is exceptionally rich in material.

"Get The Hell On," a Claytonesque ballad that has logged serious airplay on Southern Soul radio, showcases one of the most unique tenors in the genre. Zay's vocals are clear yet raspy, like honey with the wax still in it.

"Up In This Club" is Zay's stab at a dance cut, but it doesn't hold a candle to Zay's ballads. "Tender Love" is one of those ballads, competent and fun to listen to. But the ballad that defines this album and stands heads and shoulders above anything else on the CD--or anything that Mr. Zay has previously recorded with the exception of "She Only Wants To See Me On Friday"--is the hauntingly beautiful "Hard Times."

This isn't a "Hard Times" in the Frank Mendenhall vein: a mirror held up to poverty and frustration. Zay's "Hard Times" are emotional. Zay's "Hard Times" is sung by a performer who is still bursting with the residual optimism of youth. Indeed, "emotional" seems too harsh a word to characterize the romantic spell spun by the unique melody and vocal treatment in "Hard Times."

A string section-arrangement perfectly balances a crisp and never-monotonous rhythm section. Zay's heart-felt and technically-superb vocal is a wonder to listen to, and a chorus inserts yet another dimension of pleasure. As if that weren't enough, a perfectly-syncopated rap verse appears like a final "trailer" to sear the song in your memory and whet your appetite to hear it again. "Hard Times" inhabits a sphere special by any musical measure.

The album returns to a more down-to-earth level with "Grown Folks" and "Bring It On," but rises to yet another romantic musical crescendo in the bedroom ambience of "Trippin'," followed by an even better song--"Two Sides To Love"--another strong Southern Soul single of last year.

Actually, along with "Hard Times," the single "Two Sides To Love" appeared a few years ago as an isolated single, reinforcing the argument that accreting this material over a long time was a good thing in the long run.

In the short run, there were undoubtedly many days during those unpublished years when Mr. Zay felt the rejection and bitterness of not having those songs on a CD.

"Ain't no secret about it," Zay sings with his unusual zest in "Two Sides To Love." "When it comes to love,/ We can do without it." But again--as in "Hard Times"--an underlying robustness contradicts the negative emotions associated with the lyrics.

The result, yet again, is a romanticism leavened by everyday reality, and a seamless musical atmosphere not many CD's can match. If you're looking to buy singles, there's always I-Tunes; if you're looking to buy an album, you want something like this, a succession of songs that lays down a strong, positive yet variable mood.

And still Zay isn't done. "Thing Played With" is yet another single-quality track that has logged considerable airtime on Southern Soul stations. "Thing Played With" was written by Luther Lackey, but all but two of the CD's tracks were written by Zavier Ayers, presumably Mr. Zay himself.

Oh, and about the name. There are actually two or three "Zay's" currently recording. Perhaps the Southern Soul Zay dropped the "Mr." from his name on this CD to distinguish himself from the other Zay's. However, I've noticed he's still using the name "Mr. Zay" on all of his Delta touring venues, where he is still known affectionately as Mr. Zay.

Zay's Way has been out a few months, and it has attracted some attention. But the album deserves far more appreciation and love than it has received. The convergence of the album's two dynamics--a young, first-rate, Southern Soul vocalist/songwriter singing a half-decade's worth of pent-up material--has resulted in a superior collection.

--Daddy B. Nice

Bargain-Priced Zay's Way CD


If You Liked. . . You'll Love
If you liked The Rolling Stones' "You Can't Always Get What You Want," you'll love Mister Zay's "She Only Wants To See Me On Friday."
Honorary "B" Side
"Hard Times"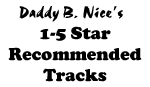 She Only Wants To See Me On Friday


CD: Ultimate Southern Soul
Label: Mardi Gras






Hard Times


CD: Zay's Way
Label: CDS






2 Sides Of Love


CD: Zay's Way
Label: CDS






Get The Hell On


CD: Zay's Way
Label: CDS






Old School Lover


CD: Old School Lover
Label: Mardi Gras






Thang Played With


CD: Zay's Way
Label: CDS






I Wanna Dance


CD: Meal Ticket
Label: CDS






Overtime


CD: Zay's Way
Label: CDS






Pop That Trunk


CD: Old School Lover
Label: Mardi Gras






Suddenly


CD: Old School Lover
Label: Mardi Gras






Yo Girlfriend Wants To Be Yo Man


CD: Old School Lover
Label: Mardi Gras






If You Only Let Me Kick It Witchu


CD: Meal Ticket
Label: CDS