NEW!

Corner & Top 10


Concert Calendar
& Mailbag


Comprehensive Index


New CD Reviews


Index to Artist Guides
NEW!


Best of 2022

The Original Chart (1990-2010)

21st Century Chart (2000-2020)
NEW!

The New Generation Chart (2010-2030)
Southern Soul CD's, MP3's


Best of Pages
About the Music
About Us
Links
Home

"Salt In My Wounds"
Shemekia Copeland
Composed by Alan Mirikitani and Dennis Walker
If you're looking for the next great female blues shouter, or wondering if the tradition that began with Bessie Smith had reached the end of the line with Etta James and Koko Taylor, you need look no further. Young Shemekia Copeland, daughter of the late Texas blues guitarist Johnny Copeland, deserves her growing reputation as a worthy heir to those vocalists, and "Salt In My Wounds" is her masterpiece.

Swirling organ, tinkling piano, bluesy guitar, impeccable rhythm section--it's not as if Shemekia Copeland isn't surrounded with the finest blues musicians--and when the Uptown Horns chime in with a horn chorus, you're in a blues heaven. Many vocalists wouldn't be able to do justice to the array of talent in the background, but Shemekia not only meets expectations, she surpasses them, dominating the proceedings, seeming at times to be drawing upon a superhuman pair of lungs.

"One last slow blues,
To close the show.
I watched you dance with her.
You know it hurt me so.
Why would you bring a new love around,
Around so soon?
Why would you want to rub
Salt in my wounds?"

Copeland has never again approached the incandescent quality of "Salt In My Wounds," recorded when she was still a teenager, but her material has continued to be overpowering in its vocal intensity and interpretive punch.

"Miss Hy Ciddity" (from Wicked, 2000) lambastes a peer who "walks around with her head in the clouds." "Sholanda's" (from Talking To Strangers (2002), finds Copeland inching a tad closer to a blues/soul hybrid as she spotlights the local beauty shop.

Like Kelly Price, Shemekia Copeland seems to come off most convincingly when she sings songs that portray heroines whose lack of superficial beauty impacts their relations with men. "Talking To Strangers" ("But I get so lonely/ Ain't got a man/ Looking to meet somebody/ Anyway I can.") and "Don't Whisper" ("I feel like you're ashamed of me.") are examples of material that cuts deep, and--accordingly--provokes strong fan response in the way of true Southern Soul hits.

In a forum dedicated to Southern Soul musicians, it's impossible for your Daddy B. Nice to survey all of the great young blues performers on the contemporary scene. Young female stars like Copeland, Susan Tedeschi, Marcia Ball and others get more publicity and critical attention than their Southern Soul counterparts anyway.

Shemekia Copeland "represents" on Daddy B. Nice's chart for the entire community of young blues singers--first cousins to Southern Soul's young divas--whose lineage descends not only from straight-blues singers like Etta James but also from Southern Soul forerunners like Ruth Brown, Millie Jackson, Barbara Carr, Denise LaSalle and Shirley Brown, all of whom have always kept at least one high-heeled foot in the blues.

And, most importantly, few songs in Southern Soul have the depth and strength of Shemekia Copeland's "Salt In My Wounds." You almost have to compare it to "blues-busters" like B.B. King's "The Thrill Is Gone" or Albert King's "I'll Play The Blues For You"--blues that leaves an impact like a crater.

--Daddy B. Nice
About Shemekia Copeland
Shemekia Copeland was born in 1979 in Harlem, New York City. Johnny Copeland, her father, brought her onstage at the legendary Cotton Club when she was only eight years old. She began her professional career at 16 as the opening act on what would become a "farewell" tour with her father. (He died before the release of her debut CD in 1998.)

Respected blues label Alligator Records signed Copeland to a contract, and Billboard's annual "The Year In Blues" issue noted, "New artists and unique sounds refreshed the Top Blues Albums chart in '98. We heard the first, but certainly not the last, from Shemekia Copeland, the vocalist daughter of the late guitarist Johnny Copeland, who debuted with Turn The Heat Up (Alligator)." She was only nineteen.

Copeland's follow-up CD, Wicked (Alligator, 2000) won three W.C. Handy Blues Awards.

Talking To Strangers (Alligator), produced by the renowned Dr. John, appeared in 2002. Copeland continues to perform at concerts and blues festivals.

Song's Transcendent Moment
"Take your prize now and just walk away.
We can both live to love another day.
Why would you bring a new love around so soon?
Why would you want to rub salt in my wounds?"

Tidbits
11/20/05. A new CD from Shemekia Copeland, The Soul Truth, has been released by Aligator Records. Legendary Stax artist Steve Cropper has a big hand in--and influence upon--the material. Writing in "Living Blues" magazine, Evan Haga asserts that Copeland is "reclaiming the lost art of traditional R&B music."

7/14/06. I've been remiss in not listening to Shemekia Copeland's new Soul Truth CD (Alligator, 2005). Criticism has been all over the map on this one, the common thread being Shemekia Copeland's talents. The blues traditionalist (see Tidbit above) who says it's "reclaiming the lost art of traditional R&B" obviously hasn't been listening to Southern Soul music over the last decade.

But the high expectations certainly made me approach the album with more than the usual curiosity, and I came away satisfied that--although it's no breakthrough--The Soul Truth is right up there with Copeland's best. I particularly like "Uptown Line," in which Shemekia exhibits Peggy Scott-Adams' chops, and "Breakin' Out," which is a hot rocker in any genre. Copeland sings with her familar ferocity and focus throughout. DBN


If You Liked. . . You'll Love
If you loved Koko Taylor's "That's Why I'm Crying," you're bound to be infatuated with Shemekia Copeland's "Salt In My Wounds."
Honorary "B" Side
"Miss Hy Ciddity"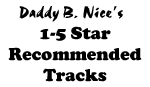 Salt In My Wounds


CD: Turn The Heat Up
Label: Alligator






Miss Hy Ciddity


CD: Wicked
Label: Alligator






Have Mercy


CD: Turn The Heat Up
Label: Alligator






Talking To Strangers


CD: Talking To Strangers
Label: Alligator






Uptown Line


CD: Soul Truth
Label: Alligator






Don't Whisper


CD: Talking To Strangers
Label: Alligator






Love Scene


CD: Wicked
Label: Alligator






Sholanda's


CD: Talking To Strangers
Label: Alligator






Steamy Windows


CD: Wicked
Label: Alligator






Wild Wild Woman


CD: Wicked
Label: Alligator






Has Anybody Seen My Man


CD: Turn The Heat Up
Label: Alligator