NEW!

Corner & Top 10


Top 100 Countdown:
21st Century Southern Soul Artists


Top 100
Southern Soul Songs
21st Century Countdown
(00's – 10's)


Concert Calendar
& Mailbag


Comprehensive Index


New CD Reviews
NEW!


Best of 2013


Index to Artist Guides


Top 100
Southern Soul Artists
(90's - 00's)


Top 100
Southern Soul Songs
(90's – 00's)


Forerunners of
Southern Soul


Best of 2012


Best of 2011


Best of 2010


Best of 2009


Best of 2008


Best of 2006-2007
Southern Soul CD's, MP3's
About the Music
About Us
Links
Home


Sample or Buy



From artists, their familes, friends and fans. . .





From Daddy B. Nice's archives. . .





Over 100 Southern Soul drawings. . .





Original Daddy B. Nice sketches. . .





All caricatures and satirical renderings are untitled. . .





It's a little piece of history. . .





Who want a keepsake, memento or souvenir. . .





To commemorate their time. . .





In the Southern Soul limelight.





Browse through all the Southern Soul satirical sketches in Daddy B. Nice's archives.





Browse through all the Southern Soul sketches in Daddy B. Nice's archives.





Browse through all the Southern Soul collectibles in Daddy B. Nice's Southern Soul Products Store. . .





"Where Are You, Lady?"
Tyrone Davis
Composed by Willard Burton
March 30, 2014:

Tyrone Davis is back in the spotlight via Carl Sims' new CD and cover track, ARE YOU SERIOUS, originally recorded by Tyrone. The song has also enjoyed a renaissance on radio station WMPR (Jackson, Ms.) by way of station deejay Dr. Dee's acoustic-sounding cover version.

Listen to Tyrone Davis singing "Are You Serious?" on YouTube.

For an absolutely unbeatable summation of the career of the man originally named Tyrone Fettson, go to Red Kelly's B-Side Blog on

Tyrone Davis.

*********

July 14, 2012: Enjoy this classic slow jam from Tyrone Davis:

Listen to Tyrone Davis singing "He'll Never Love You" on YouTube.

***************

January 1, 2011 FEATURED ARTISTS:

Fallen Giants of Southern Soul Music (2000-2010)

***************

See "Tidbits" below for the latest updates on Tyrone Davis, including Daddy B. Nice's "Please Help Keep The Memory of Tyrone Davis Alive" (Tidbit #3).

To automatically link to Tyrone Davis's charted radio singles, awards, CD's and many other references on the website, go to "Davis, Tyrone" in Daddy B. Nice's Comprehensive Index.

*************

Daddy B. Nice's Original Critique:

Like a red apple in a bag of doughnuts, Tyrone Davis's "Leaving (On The First Train Smokin'"--a delicate, unassuming masterpiece--is so organic and fragrant it's hard to believe it could have been produced in the age of rap and grunge. The vocal is relaxed, the story simple, and, perhaps because the arrangement puts Davis' rustic vocal up front and center, the overall effect is rural.

"Fed up with all your playing.
No way will I be staying.
Almost through packing.
I've got my ticket,
And I'm headed for Jackson."

But to say "rural" is to immediately open the subject to misinterpretation. Tyrone Davis is seeped in the thoroughly urban soul of the early Temptations and Miracles, as anyone can glean from even a superficial survey of his hits from the 60's and 70's. Still, those tinkling-keyboard arrangements and understated, graceful melodies--so reminiscent of the best Motown had to offer--conjure open air and wide vistas when mixed with Tyrone Davis' relaxed-as-Bing Crosby vocals.

"I'm not joking.
I'm leavin',
On the first train smokin'.
I gotta say good-bye."

Some people call his music "Chicago Soul" because the "city of big shoulders" is the Mississippi-born Davis' home base. That, however, is more of a geographical coincidence than a musical definition of the Davis oeuvre. You can bet the majority of Tyrone Davis' audience is in the Deep South. The South and its chitlin' circuit--its bars, clubs, and open-air festivals--embraces Davis, and Davis nourishes the South.

Just one in an impressive chain of late-nineties, early-2000's, Davis-authored Southern Soul classics, "Leavin'" (from the CD Call Tyrone, Malaco 1999) convincingly stakes Davis's claim to being, along with Johnnie Taylor and Bobby "Blue" Bland, a member of the most influential musical triumvirate in Southern Soul. No other three R&B artists have put out such consistent, Southern Soul-oriented product over the last forty years. Forty years--it sounds like an eternity in the recording world.

"Where Are You Lady," Davis' heartbreakingly beautiful ballad from 1996's Simply LP, could also stand as a signpost for Davis' entire career.

"I have flashbacks of all the good times we had.
I suddenly realize what a fool I've been.
Sweet lady, I dream of you night after night."

The vocal exudes self-confidence and self-doubt simultaneously, and the words (by Willard Burton) add a poignancy for a lost love that is nearly indescribable.

When Tyrone sings the words "West Virginia" it echoes not only through Southern Soul but every corner of the country-western universe, "crossing over" as easily as Ray Charles once did.

"Oh, how I remember,
When I sent you to West Virginia.
How was I to know,
It would hurt me so,
And I would be the one to surrender?"

This is art at the deepest level, forged out of the depths of a man's soul. Steeped in two generations of R&B, Tyrone Davis's singing style is as natural and comfortable as an old bedroom slipper, and the melody, arrangement and tempo mesh with it perfectly.

"Leavin's" most charming feature (and the one which places it a little above all the other songs one could just as easily call Davis' best) is the use of a male back-up singer (Otis Clay?) who, in a voice reminiscent of "Gunsmoke's" one-of-a-kind, limping deputy sheriff Chester, fills in the song's call-and-response, so that each time Davis croons, "I'm Leavin'," the back-up sings, "On the first train smokin'." And when Davis sings, "Gotta go now," the back-up sings, "I'm not jokin'."

Tyrone Davis is something of an anomaly in Southern Soul in that he eschews the funky bass lines and horn sections of Stax soul (for the most part), giving his recordings a spare quality--a throwback to The Drifters, Spinners, early Temps and Marvin Gaye. Rhythm section, guitar, keyboards and/or violins are so muted the overall effect is acoustic.

Listen to young Jeff Floyd's "I Got My Woman Upset" or O. B. Buchana's "Stage In The Sky" (itself a eulogy to the recently-deceased Davis) or Omar Cunningham's "Check To Check" and you'll hear the unmistakable evidence of Davis' influence on the younger generation of new Southern Soul stars. He is their bridge back to Motown.
--Daddy B. Nice
About Tyrone Davis
Born in 1938 in Mississippi, Tyrone Davis moved to Michigan as a teenager and eventually to Chicago. As a young man who performed under the name "Tyrone The Wonder Boy," he apprenticed himself to such blues musicians as Freddie King, Otis Clay, Bobby "Blue" Bland and Little Milton.

He scored numerous R&B hits in the late sixties and early seventies, among them "Can I Change My Mind," "Turn Back The Hands Of Time," "Turning Point," and "I Wish It Was Me."

Davis' early hits were followed by a fallow period--the eighties being the "the dark ages" for most R&B acts. But Davis continued to issue albums, amassing a catalog equaled only by Johnnie Taylor in Southern Soul annals.

Never one to discriminate a great deal about the material he put out, Davis made his share of ill-conceived covers, but they were always more than compensated for by the sheer number and clockwork consistency of the treasures: "Where Are You, Lady," "Sugar Daddy," "Tip Tow Through The Bedroom," "Banging The Headboard," right up to 2004's "Try My Love" (to name an arbitrary sampling spanning his last decade).

Indeed, Davis was producing chitlin' circuit hits long after Bobby "Blue" Bland had become inactive and Johnnie Taylor had passed away. Ironically, the early years of the 21st century found Davis very near the peak of his powers at the same time his health was failing.

Discography

1969 Can I Change My Mind (Dakar)

1970 I Had It All the Time (Dakar)

1970 Turn Back the Hands of Time [CD Reissue] (Brunswick)

1973 Without You in My Life (Dakar)

1974 It's All in the Game (Dakar)

1975 Home Wrecker (Dakar)

1976 Love & Touch (CBS)

1976 Turning Point! (Dakar)

1977 Let's Be Closer Together (CBS)

1978 I Can't Go All the Way (Columbia)

1979 Can't You Tell It's Me (CBS)

1979 In the Mood with Tyrone Davis (Columbia)

1980 I Just Can't Keep on Going (CBS)

1982 Tyrone Davis (Highrise)

1983 Our Shining Hour (Polygram)

1983 Something Good (Ocean Front)

1987 Man of Stone (Timeless)

1987 Pacifier (Timeless)

1988 Flashin' Back (Future)

1990 Come on Over (Future)

1990 Man (Future)

1991 Sexy Thing (Future)

1991 I'll Always Love You (Ichiban)

1992 Something's Mighty Wrong (Ichiban)

1994 You Stay on My Mind (Ichiban)

1995 It's So Good (Life)

1996 Simply (Malaco)

1997 Pleasing You (Malaco)

1999 Call Tyrone (Malaco)

2000 For the Good Times (Life/Bellmark)

2000 Relaxin' with Tyrone (Malaco)

2002 Love Line (Malaco)

2003 Come to Daddy (Future)

2004 The Legendary Hall of Famer (Endzone)

2008 Do You Feel It (Expansion)


Song's Transcendent Moment
"Oh, I'll never forget
When I took you to the train station.
I can still hear your trembling voice saying,
'Darling, darling, darling,
Please don't end this relation.'"
Tidbits
1. Obituary

In the fall of 2004, on the heels of one of his deepest and most sensual LP'S (Legendary Hall Of Famer), Tyrone Davis fell into a coma and was hospitalized in critical condition. His failing health, coming only a year after the passing away of Quinn Golden and just a few years after the death of Johnnie Taylor, caused consternation throughout the Southern Soul community.

A "get-well" benefit to help pay medical bills was held in Jackson, Mississippi Dec. 19, 2004. The concert was headlined by such Southern Soul artists as Willie Clayton, Marvin Sease, William Bell, David Brinston, Little Milton, Jeff Floyd, Eddie Cotton and Sir Charles Jones.

Then, around 2:30 p.m. on Feb. 9, 2005, Tyrone Davis died. Round-trip bus-and-accommodation fares were arranged to bring Deep South fans from Jackson, Ms. to Davis' home in Highland Park (Chicago, Illinois) for funeral services.

2. Ode To Tyrone Davis's "Where Are You, Lady"

Chicago-based, Tyrone Davis's prominence in Southern Soul music obliterates any regional prejudice that may confuse newcomers to Southern Soul. "Southern" in the case of Southern Soul music is a state of mind, and Tyrone Davis's music distills the very essence of chitlin' circuit R&B.

Over the years my admiration for "Where Are You, Lady", one of the most country-influenced of all rhythm and blues songs, has grown by leaps and bounds. "Leavin' (On The First Train Smokin')" has long been your Daddy B. Nice's classic number-one Tyrone Davis cut, but I've championed it long enough. Now I'd like to give "Where Are You, Lady?" its deserved time in the sun. The song has layer upon layer of awe-inspiring, emotional texture--a breathtaking attention to personal detail--all focused on a man's loneliness and memories of squandered love. This dramatic framework is woven into a masterpiece of country-drenched melody, with verses that drift past like scudding clouds.

When Tyrone sings:

"Oh how I remember
When I sent you to West Virginia,
How was I know it would hurt me so,
and I would be the one to surrender?"

--The place name "West Virginia" echoes long after the song has worn out its many pleasing repetitions, like a Paradise Lost.

DBN.

*******************

3.

April 1, 2009:

Please Help Keep The Memory of Tyrone Davis Alive

I monitor page rankings based on viewer visits on all the Artist Guides on this site, and I'm always a little shocked and appalled at the relative snubbing the core Southern Soul audience gives the fathers of the music. For today's Southern Soul fans, it's definitely "What have you done for me lately?"

And that's all fine and good. But we need to remember our roots, too, and constantly measure ourselves against the great practictioners of the genre, such as Tyrone Davis.

In honor of Davis, Southern Soul is featuring two key albums, both reissued recently. The first is one of Davis's best late-period CD's, 2003's Come To Daddy . The second is the vintage-sounding Flashin' Back from the late eighties.

Davis was doing incredible work in the closing years of his life, tackling fine material with the greatest of ease, in his own inimitable, laid-back but potent style, and Come To Daddy brings together some of his most memorable songs: "Banging On The Headboard," "Slide On Over," "Whip Appeal" and "Come To Daddy."

Flashin' Back is recommended for grown folks only: that is, those who lived and danced in the eighties. There's a pervasive disco ambience (although by the time the disc was recorded the era was largely over) and the material will sound dated to younger listeners. However, if you're interested in the totality of Davis' phenomenally lengthy career, this album is a solid piece to the puzzle. It contains one masterpiece, "It's A Miracle," which stands out as a classic by any measure, even today.

Finally, your Daddy B. Nice has added an unofficial but arguably complete discography to all of Tyrone's work. Scroll to the section titled "About the Artist."

Please help to keep the memory of Tyrone Davis alive.

--Daddy B. Nice

***********************

4.

September 5, 2009:

I've flip-flopped for the last time. "Leavin" (On The First Train Smokin')" is now back in the number-one spot as Tyrone Davis's top Southern Soul single. DBN.

***********************



If You Liked. . . You'll Love
If you liked Albert King's "I'll Play The Blues For You," you'll love Tyrone Davis' "Where Are You, Lady?"
Honorary "B" Side
"Leavin' (On The First Train Smokin')"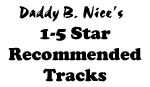 Where Are You, Lady?


CD: Simply
Label: Malaco











Leavin' (On The First Train Smokin')


CD: Call Tyrone
Label: Malaco











Kiss You (Where I Miss You)


CD: Relaxin' With Tyrone
Label: Miss Butch











Try My Love


CD: Legendary Hall Of Famer
Label: Endzone











Turn Back The Hands Of Time


CD: Greatest Hits
Label: Brunswick


Sample or Buy
Greatest Hits








Bangin' The Headboard


CD: Come To Daddy
Label: Future


Sample or Buy
Come To Daddy








I Wish It Was Me


CD: 20 Greatest Hits
Label: Brunswick










It's A Miracle


CD: Flashin' Back (Reissue)


Sample or Buy
Flashin' Back








It's So Good (To Be Home With You)


CD: 20 Greatest Hits
Label: Brunswick










Slide On Over


CD: Come To Daddy
Label: Future


Sample or Buy
Come To Daddy








Tip Toe Through The Bedroom


CD: Love Line
Label: Malaco









Come To Daddy


CD: Come To Daddy (Reissue)
Label: CD Baby









Sugar Daddy


CD: Relaxin' With Tyrone
Label: Malaco









Whip Appeal


CD: Come To Daddy
Label: Future


Sample or Buy
Come To Daddy