NEW!

Corner & Top 10


Concert Calendar
& Mailbag


Comprehensive Index


New CD Reviews


Index to Artist Guides
NEW!


Best of 2015


Top 100 Countdown:
21st Century Southern Soul Artists


Top 100
Southern Soul Songs
21st Century Countdown
(00's – 10's)


Top 100
Southern Soul Artists
(90's - 00's)


Top 100
Southern Soul Songs
(90's – 00's)


Forerunners of
Southern Soul
Southern Soul CD's, MP3's
Best of Pages
About the Music
About Us
Links
Home


Sample or Buy



From artists, their familes, friends and fans. . .





From Daddy B. Nice's archives. . .





Over 100 Southern Soul drawings. . .





Original Daddy B. Nice sketches. . .





All caricatures and satirical renderings are untitled. . .





It's a little piece of history. . .





Who want a keepsake, memento or souvenir. . .





To commemorate their time. . .





In the Southern Soul limelight.





Browse through all the Southern Soul satirical sketches in Daddy B. Nice's archives.





Browse through all the Southern Soul sketches in Daddy B. Nice's archives.





Browse through all the Southern Soul collectibles in Daddy B. Nice's Southern Soul Products Store. . .





"Angel"
Ric E. Bluez
Ric E. Bluez sings like the boy next door, but he has a golden tone, a quality we associate with stars like Bobby Rush, who started out with that golden tone before he added all the other things that make him great. It's a peculiarity of the voice, a charisma, a pull on the human DNA that controls human curiosity.

Raw? Sure. Young and green? Without a doubt.

Heiki Suosalo of "Soul Express," in one of the few reviews to notice the release of Sexy Soul, Ric E. Bluez' debut album, wrote: "As a vocalist, Ric possesses a boyish tenor, not a very strong one."

I respectfully disagree, but that may be because I've heard his music on the radio more than my northern European colleague. Technically, Bluez can lapse into embarrassing, one-dimensional flattening of his notes, a step away from common speech.

But he's also capable of swinging through stanzas, conveying a broad range of feeling and emotive power with complete transparency. Technically speaking, he's got the chops to turn the head of any fellow performer.

Ric E. Bluez songs were popular in the Delta from late 2006 through 2007 (the year of the album's release) on into mid-2008.

During that time span, I heard a succession of Bluez songs that dug their way into my psyche, so much so that I remember the sequence in which they were delivered.

First came "I Wanna make Love To You," with its long, rolling organ choruses, an obsessive song about sexual obsession. Everything about its sound was original, from its rock guitar to its fine Bluez vocal.

Then came the really rhythmic "Somebody's Cheating." It was a grade A groove, first and foremost, with a simple but effective rhythm section and a rock guitar solo.

The killer effect was the Spanish-sounding horns. Either the horn player didn't know his R&B or didn't care. In any case, the exotic Latin accent was inspired. Ric E. Bluez's "Somebody's Cheating" was as good as the more well-known and respected "cheating" songs of T. K. Soul.

Then came the country ballad, "Loving You Ain't Easy." A beautiful slow song, it made a great bookend next to Ms. Jody's "I Never Take A Day Off." Once again, the quality of Ric's vocals stood out. There was a maturity, a sureness, almost a possessed nature to his delivery.

Bluez' vocals always fused with their subjects.
The arrangements were original and writ large, and not only that, "live"--with real instruments--something I didn't factor into my appreciation at the time hearing them on the radio. I now realize the live rhythm section, guitar, horn and keys gave the songs an appealing depth.

Another thing that impressed me about Ric E. Bluez was that he didn't take the short cuts so many artists and producers do in remaking their own versions of classic songs. He didn't just copy and tweak.

Ric E. Bluez could really write songs--good songs.

Although influences could be detected, you never got the impression Bluez was simply copying a classic soul song, tweaking it here and there and adding new words.

Next in terms of air play came two or three songs in a kind of bunch: "Shake," "Running Your Mouth," "That's Why I Love You" and "I Want To Love You." I preferred the latter two, both worthy songs and much more Southern Soul-oriented (love that female background on "That's Why I Still Love You"), to the more generic former two.

Lastly, bringing up the rear for some reason I cannot fathom, deejays began to play "Angel," Bluez's near-masterpiece. You might have been able to listen to this song a time or two without much effect. After that, it burned a brand in your brain.

Unpolished it may have been. But Bluez sang from deep inside himself, and the inspired addition of a deep, gospel-drenched background vocal (which graced, more modestly, many of the tracks on the CD) was the crowning touch.

So to come full circle, Ric E. isn't an accomplished singer, but he has breathtaking flashes of soulful brilliance when you can picture him in front of adoring crowds, and none more so than on the verses of "Angel." When the Clarence Clemons-sounding saxophone bursts into solo in the middle of "Angel, Ric E. takes you into Southern Soul heaven.

Originality, great songwriting, honey-toned vocals, accomplished arrangements. And yet this is an artist who from the dearth of reviews on CD sites like I-Tunes and Amazon seems to be a man without a fan base. Go figure.

Sexy Soul is one of few song collections of the last five years where the music just keeps getting better and better. But. . . . For some reason, this guy is off the map.

Will Ric E. Bluez be like Southern Soul artists Jesse Graham and Maurice Wynn, whose legacy is one-time classics? Or--don't even go there, I suppose--not even that?

Hopefully, Ric E. will persevere. The guy is a natural. And if ever I looked forward to hearing a second album, it'd be in the case of Ric E. Bluez.

Sexy Soul

Listen to Ric E. Bluez singing "That's Why I Still Love You" on YouTube.

--Daddy B. Nice
About Ric E. Bluez
Ric E Bluez was born on November 28, 1969 in Mississippi. His first and only album, Sexy Soul was released in 2007 by Betty Lowe Records in Houston, Texas.
Song's Transcendent Moment
"She's everything I ever dreamed of,
And I know that God sent her from above.
Angel, I love you.
Angel, I love you."
Tidbits
1.

June 30, 2011:

A new singer had your Daddy B. Nice confusing his work with Ric. E. Bluez, to whose "raw" delivery I also compared him to:

6. "(At Midnight I Get Lonely) I Gotta Get Next To You"-----------Ric E. Bluez

"I know that voice," I thought when I heard this tune out of the blue, but it wasn't somebody famous. My guess it's by an artist whose debut, Sexy Soul (2007), was very good. His name is Ric E. Bluez.

(I was wrong. The song was actually Randy "Wildman" Brown. The next time I heard a Brown song, I got it right, while comparing him to a "rough" Ric E. Bluez.)

10. "Just One More Day"--------------Randy "Wildman" Brown

This song may be too sophomorically sung for some readers' tastes, but it does pack a soul punch. Randy "Wildman" Brown, one of the newer deejays at Jackson, Mississippi's WMPR, has a lot to learn about the art of singing, but his raw emotion takes him a lot farther than many other "newbies" with greater technical skills. Imagine a rougher Rick E. Bluez. (Which is, admittedly, pretty rough.)


If You Liked. . . You'll Love
If you liked the "I'm Just A Fool (Part Two)" Remix by J. Blackfoot and Sir Charles Jones, you'll love Ric E. Bluez' "Angel."


EDITOR'S NOTE

Over the last year I've been dropping hints to the younger musicians.

"Be watching because there's going to be something coming on the site that'll be a real blessing for the younger people."

And I've also been telling a lot of deserving new artists to bide their time, that their day to be featured in a Daddy B. Nice Artist Guide was coming, and long overdue.

Now, at last, the day has come.

The great Southern Soul stars are mostly gone. There's a new generation clamoring to be heard.

Rather than waiting years to go online as I did with the original Top 100, this chart will be a work-in-progress.

Each month five new and never-before-featured artists will be showcased, starting at #100 and counting down to #1.

I estimate 50-75 new Artist Guides will be created by the time I finish. The other 25-50 Guides will feature artists from the old chart who are holding their own or scaling the peaks in the 21st Century.

Absent will be the masters who have wandered off to Soul Heaven. And missing will be the older artists who for one reason or another have slowed down, become inactive or left the scene.

The older generation's contributions to Southern Soul music, however, will not be forgotten.

That is why it was so important to your Daddy B. Nice to maintain the integrity of the original Top 100 and not continue updating it indefinitely.

(Daddy B. Nice's original Top 100 Southern Soul covered the period from 1990-2010. Daddy B. Nice's new 21st Century Southern Soul will cover the period from 2000-2020.)

When I constructed the first chart, I wanted to preserve a piece of musical history. I heard a cultural phenomenon I was afraid might be lost forever unless I wrote about it.

There will be no more changes to the original chart. Those performers' place in Southern Soul music will stand.

But I see a new scene today, a scene just as starved for publicity and definition, a scene missing only a mirror to reflect back its reality.

The prospect of a grueling schedule of five new artist pages a month will be daunting, and I hope readers will bear with me as I gradually fill out what may seem at first inadequate Artist Guides.

Information from readers will always be welcome. That's how I learn. That's how I add to the data.

I'm excited to get started. I have been thinking about this for a long time. I've already done the bulk of the drawings.

In a funny way, the most rewarding thing has been getting back to doing the drawings, and imagining what recording artists are going to feel like when they see their mugs in a black and white cartoon. Hopefully----high! An artist hasn't really "made it" until he or she's been caricatured by Daddy B. Nice.

In the beginning months, the suspense will be in what new stars make the chart. In the final months, the suspense will be in who amongst the big dogs and the new stars is in the top twenty, the top ten, and finally. . . the top spot.

I'm not tellin'.

Not yet.

--Daddy B. Nice

Go to Top 100 Countdown: 21st Century Southern Soul

Honorary "B" Side
"I Wanna Make Love"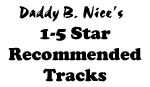 Angel


CD: Sexy Soul
Label: Betty Lowe











I Wanna Make Love


CD: Sexy Soul
Label: Betty Lowe











Lovin' You Ain't Easy


CD: Sexy Soul
Label: Betty Lowe











Somebody's Cheating


CD: Sexy Soul
Label: Betty Lowe










I Want To Love You


CD: Sexy Soul
Label: Betty Lowe










That's Why I Still Love You


CD: Sexy Soul
Label: Betty Lowe









If I Were You


CD: Sexy Soul
Label: Betty Lowe









Runnin' Your Mouth


CD: Sexy Soul
Label: Betty Lowe








Shake


CD: Sexy Soul
Label: Betty Lowe