NEW!

Corner & Top 10


Top 100 Countdown:
21st Century Southern Soul Artists


Top 100
Southern Soul Songs
21st Century Countdown
(00's – 10's)


Concert Calendar
& Mailbag


Comprehensive Index


New CD Reviews
NEW!


Best of 2013


Index to Artist Guides


Top 100
Southern Soul Artists
(90's - 00's)


Top 100
Southern Soul Songs
(90's – 00's)


Forerunners of
Southern Soul


Best of 2012


Best of 2011


Best of 2010


Best of 2009


Best of 2008


Best of 2006-2007
Southern Soul CD's, MP3's
About the Music
About Us
Links
Home


Sample or Buy



From artists, their familes, friends and fans. . .





From Daddy B. Nice's archives. . .





Over 100 Southern Soul drawings. . .





Original Daddy B. Nice sketches. . .





All caricatures and satirical renderings are untitled. . .





It's a little piece of history. . .





Who want a keepsake, memento or souvenir. . .





To commemorate their time. . .





In the Southern Soul limelight.





Browse through all the Southern Soul satirical sketches in Daddy B. Nice's archives.





Browse through all the Southern Soul sketches in Daddy B. Nice's archives.





Browse through all the Southern Soul collectibles in Daddy B. Nice's Southern Soul Products Store. . .





"Love Freak"
Chuck Roberson
Composed by Maurice Davis and James Smith
August 11, 2013:

Read Daddy B. Nice's....

November 4, 2012: CHUCK ROBERSON: The Devil Made Me Do It (Desert Sounds) Four Stars **** Distinguished Effort. Should please old fans and gain new.

....new CD review, re-posted to this page in "Tidbits" #6. (Scroll down.)

***********

October 21, 2012: NEW ALBUM ALERT

Bargain-Priced THE DEVIL MADE ME DO IT CD

Recommended Single: "Chuck Strut"

See Daddy B. Nice's #2 "Breaking" Southern Soul Single for August 2012.

*******************

See "Tidbits" below for the latest updates on Chuck Roberson.

To automatically link to Chuck Roberson's charted radio singles, awards, CD's and other references, go to "Roberson" in Daddy B. Nice's Comprehensive Index.

*************************

Daddy B. Nice's Original Critique:

Chuck Roberson is the quintessential journeyman of Southern Soul, with all the professionalism and resilience the word implies. Although mentored through most of his 90's LP's on Ecko Records by R&B producer John Ward, the hit-maker for Lee "Shot" Williams, Barbara Carr, Ollie Nightingale and so many other Southern Soul artists, Roberson has never broken through with a bona fide, incontestable hit song, although "Love Freak," from the 2000 CD of the same name, comes close.

Instead, Roberson has toiled away in the middle ranks of adult R&B vocalists, dispensing not especially distinguished material, frequently covering the hits and themes of the day (1999's "Back Up Lover," 2001's "Candy Man," 2002's "Keep It In The Bedroom," and 2003's "I Forgot To Be Your Lover"), but without the blinding talent or sheer authoritativeness of stars like Tyrone Davis, Johnnie Taylor or Bobby "Blue" Bland.

"Love Freak," is the most self-assured of Chuck Roberson's songs, blending his easy-going way of styling a vocal with a serviceable melody and a peppy horn and organ-embellished arrangement. The keyboard in particular seems to mesh with the timbre of Roberson's bordering-on-speech vocal, giving "Love Freak" the momentum if not the bluesy depth of a classic dancehall rocker.

"Got in my car,
Drove as fast as I could.
'Cause once I got there,
I knew it was all good.

All she had on
Was a negligee.
She said, 'Tonight's the night,
You can have it your way.'"

Chuck Roberson could never have dragged Southern Soul music into the limelight of international recognition the way Johnnie Taylor and his fellow stars of the Deep South circuit did. However, he's played the clubs, he's recorded the albums, he's done it consistently over many years, and as the influx of young artists into Southern Soul grows, it's only fitting to recognize and honor the "soldiers" such as Roberson without whose contributions the "generals" couldn't have won the war.
--Daddy B. Nice
About Chuck Roberson
Chuck Roberson was born in the late 1940's in Augusta, Georgia and moved with his family to Florida, where he spent his formative years. He began his professional career in the 70's, issuing a series of singles on small regional labels in the South.

After a disappointing attempt at a Philadelphia-based disco career, Roberson returned to the South and chitlin' circuit-style rhythm and blues in the mid-80's, writing material for Johnnie Taylor's Lover Boy and scoring a regional hit with the single "Lollipop Man," reissued in 1997 on the Meet Me Tonight CD.

Chuck Roberson's career took a major step forward when he signed with R&B powerhouse Ecko Records, and his output in the 90's, aided and guided by R&B producer John Ward, resulted in a series of LP's that solidified Roberson's reputation as a reliable and credible purveyor of chitlin' circuit rhythm and blues.

The prolific Roberson continued to record close to an album a year into the early 00's, including 2003's A Woman Wants A Freak. His output tapered off (only the Expressions of Yesterday CD, privately printed in 2005) until Dylann DeAnna, a longtime Roberson admirer, brought out a new Chuck Roberson CD on his CDS label in 2009.

Roberson remains one of the most consistently-played artists on contemporary Southern Soul radio. For updates on Chuck's career since this critique was written, scroll down to "Tidbits" section.

Chuck Roberson's discography:

1990 Lollypop Man (Vision)

1996 Something Good for You (Ecko)

1997 Meet Me Tonight (Ecko)

1999 Love Power (Ecko)

2000 Love Freak (Ecko)

2001 I'm Your Candy Man (Ecko)

2002 Let's Party (Ecko)

2003 A Woman Wants a Freak (Ecko)

2005 Expressions of Yesterday (Cruise On)

2009 For Real This Time (CDS)

2011 Deep South Southern Soul (CDS)

2012 The Devil Made Me Do It

******************



Song's Transcendent Moment
"It's been so long
Since I had such a thrill.
Ooo-weee baby,
The way you make me feel."

Tidbits
1.

November 29, 2006.

Ecko Records has released The Best Of Chuck Roberson, a survey of Chuck's signature songs. The disc includes two new tracks and a remix of the "Lollipop Man." This compilation is a no-brainer for Chuck Roberson fans. DBN.

2.

August 31, 2009: New Album Alert: FOR REAL THIS TIME (CDS)

For Real This Time

Comparison-Priced For Real This Time CD, MP3's

Single to watch: "I Want You To Rock Me"

3.

November 7, 2009:

"A Change Is Gonna Come" and "At The Hideaway" from Chuck's FOR REAL THIS TIME CD will be featured on Daddy B. Nice's Top Ten "Breaking" Southern Soul Singles for November 2009.

DBN

4.

December 10, 2009:


CHUCK ROBERSON: For Real This Time (CDS) Three Stars *** Solid. The artist's fans will enjoy.
Chuck Roberson's For Real This Time is an excellent outing that will please his core audience. CDS Records continues and even improves on its all "live-instrument" style, with its spare, respectful homage to sixties and early-seventies, vintage-soul arrangements. Special mention has to go to guitarist Mike Gallaher, who practically steals the album, and--to a lesser extent--the restrained horn section of Quinton Ware and Mike McDaniel.

Chuck is in good vocal form--engaging, friendly and well-balanced. But you do finish the CD knowing he still hasn't recorded a song that would convert anyone to Southern Soul. He still hasn't had a bona fide "Southern Soul hit."

Most artists of Chuck's stature and longevity have a signature tune that thrust them into the public eye: Theodis Ealey's "Stand Up In It," Carl Marshall's "Good Loving Will Make You Cry," Mel Waiters' "Hole In The Wall."

And yet, even allowing for the slippery nature of that term "Southern Soul hit," it's safe to say Chuck Roberson has never had one. He's acquired his reputation through a journeyman's consistency, a little "smoke and mirrors," and a professional tenacity that illustrates the old Benjamin Disraeli axiom: "The secret of success is constancy of purpose."

The best and most hummable cuts on For Real This Time are "I Want You To Rock Me," "At The Hideaway" (with a great guitar lick) and "A Change Is Gonna Come." "The Lollipop Man Can" and "Show Me What You're Working With" deserve special mention.

CDS's Dylann DeAnna has taken upon himself a kind of personal crusade to reprise and rejuvenate the careers of Southern Soul's second-rank performers--witness the recent Barbara Carr album, Savvy Woman--and For Real This Time follows the same formula, matching pristine background around a tried and true vocalist.

All but one of the songs are done in the usual mid-tempo, Roberson style: nice-guy, easy-going, don't-ruffle-any-feathers. However, Chuck's version of "A Change Is Gonna Come" is an eye-opener. It's obviously performed as a "tribute" song, but in imitating the more operatic Cooke style Roberson achieves a range and an intensity seldom if ever before hinted at.

It raises the question of why Roberson has never ventured beyond the emotionally-even, middle-of-the-road vocal stylings that have been his bread and butter over the years. A recent press release from his label provides some insight, advertising the CD as "Chuck Roberson and that Old School sound. . . Chuck has made an album for all those who still love the old-school Tyrone Davis sound."

The thing is, if you're imitating or emulating Tyrone Davis (as opposed to, say, Sam Cooke), you're walking a very fine line--let's call it a Bing Crosby kind of casualness--which even Tyrone the Master frequently slipped from during his prolific recording career. That was why quality material was so crucial to Davis, who ransacked every Southern Soul hit within sight and covered it.

But for Chuck Roberson, who is not the singer Tyrone Davis was, to walk that tightrope-fine line verges on mediocrity more often than not. Good clean fun, mind you, but light fun.

The mostly-admirable "At The Hideaway" is an example. The guitar on the well-put-together composition is better than the vocal. Chuck's vocal is just middling, nothing to write home about. And Chuck seems to be content with that--and pretty much always has.

That's why Chuck's rendition of Sam Cooke (which sounds live) is such a revelation. On "A Change Is Gonna Come" Chuck sings better than he does on any of "his" songs. Is it because he's trying to imitate Sam Cooke? His voice is sweeter and more emotional. Why does he put so much more feeling--and so many more vocal nuances--into this song as opposed to his own?

It makes you wonder if Chuck wasn't born to imitate--and do it really well. And it's as if now that Johnnie Taylor (not to mention Tyrone Davis) is dead, Chuck no longer has a really great artist to imitate--that is, to make him excel.

In the meantime, Roberson's music yearns to join that upper echelon of the music, and that monumental single--that "holy grail" of a Southern Soul hit song--still beckons. Chuck is getting up in years--I'd guess somewhere in the early-sixties about now--but don't count him out. Stranger things have happened.

--Daddy B. Nice

Bargain-Priced For Real This Time CD, MP3's

5.

March 1, 2011: NEW ALBUM ALERT

Bargain-Priced Deep South Southern Soul CD, MP3's

Comparison-Priced Deep South Southern Soul CD

Recommended Singles: "Jamming With The Blues," "Deep South Southern Soul"

See Daddy B. Nice's Top Ten "Breaking" Southern Soul Singles for February 2011

6.

August 11, 2013: Re-Posted from Daddy B. Nice's New CD Reviews:


November 4, 2012: CHUCK ROBERSON: The Devil Made Me Do It (Desert Sounds) Four Stars **** Distinguished Effort. Should please old fans and gain new.
I suspected this CD would be a winner when I first heard Chuck's new "Chuck Strut" single last summer. The nifty, muted (think MJ's "Billy Jean"), disco rhythm track insinuated itself into Daddy B. Nice's Top Ten "Breaking" Southern Soul Singles in August at:

2. "Chuck Strut"----------Chuck Roberson 

This is a new and much better-tempo-ed and more melodic version of the "Chuck Strut" that graced Roberson's 2003 Woman Wants A Freak CD. In fact, Chuck hits this one out of the Southern Soul ball park. Congratulations to Desert Sounds producers/writers Pete Peterson and Eric "Smidi" Smith for helping make it happen.

"Chuck Strut" has a cruising vibe and I can imagine people driving and--yes--even waiting in traffic a little more patiently while listening to this light-hearted Chuck Roberson fare. Chuck is in fine form. He's not out to impress you. He's out to soothe you, to give you a lift, and that he does as well as--and perhaps better than--he's ever done before.

In the microbrewery of contemporary Southern Soul singers, Roberson has always been "lite" and imitative. But on his new album, The Devil Made Me Do It (Desert Sounds, 2012), the downsides of derivation--for example, his uncanny conjuring of Roy C on the album's last cut, "After Our Love Affair"--are outweighed by the joy, wit and skill Roberson takes in surveying the current scene and creating his own portrait.

After "Chuck Strut" the song that practically jumps out of the stereo console is "They Got A Room," an inspired rendition of the single Millie Jackson and Jesse James made popular last year as "Let's Get A Room Somewhere."

Millie Jackson and Jesse James were willing participants in the motel fun in "Let's Get A Room Somewhere." On the other hand, Chuck Roberson's lyrics in "They Got A Room"--from a third person perspective--give the story its own special twists, for instance:

"I went by her mama's place
And she wasn't there,
I said, 'Please don't tell me
She's in a room somewhere.'"

Chuck's version is at least as good, maybe better, with lazy, saucy horns and a rhythm section to grovel for. I drifted off for a few seconds and drifted back and thought I was listening to reggae's premier reggae section, Sly & Robbie.

Eric "Smidi" Smith on programming gets the credit, but it's all tied together by the elaborate and playful fretwork of Stevie J. on guitar.

Stevie J., who plays guitar throughout, contributes country-style inflections to his bluesy runs on Roberson's "Hometown Blues." Halfway through the song, we're treated to a full-blown steel guitar verse that all but turns the song inside-out.

"I'll Take Care Of You" will remind hardcore fans of Bobby Jones' "You Ain't Got No Proof" and/or Ghetto Cowboy's "Staying In Love With You," two other songs with kangaroo-bouncing, background tracks by--coincidentally--Desert Sounds producers Pete Peterson and Eric "Smidi" Smith.

Roberson returns to cover-song mode with less success in "Woman Enough," a redo of the already-classic Karen Wolfe single, "(If You're) Man Enough (To Leave, I'm Woman Enough To Let You Go)." The song doesn't grate--in fact, it's pleasant to hear the melody in Chuck's light and unfettered delivery.

But unlike the Millie Jackson/Jesse James original, which had a desultory air and tempo that Roberson could easily improve upon, Roberson's remake of "Man Enough" suffers when compared to the soulful emotional depth of the Karen Wolfe original.

This tendency to retool published music in a streamlined, sometimes-vanilla style has been Chuck's Achilles heel historically, but with The Devil Made Me Do It he buries those questions under an avalanche of otherwise fine tracks, including "It Should Have Been Me" (featuring the album's well-cast background singers, Levy Marie and Misty Lundey), "Spare Me The Heartache" (a seriously-sung ballad) and the distinctive, mid-tempo" It's Not Over."

But it's "Chuck Strut" that will define this CD for years to come. It's got the Georgio Moroder through Donna Sumner thing going, and Chuck's vocal is (never thought I'd say this) nothing short of amazing. Chuck deserves all the credit in the world. He still believes, and this album is good listening from beginning to end.

Sample or Buy Chuck Roberson's The Devil Made Me Do It CD, MP3's.

*************




If You Liked. . . You'll Love

If you can imagine Chic's "Le Freak" de-disco-fied and transformed into a Southern Soul hit, you'd be pretty close to Chuck Roberson's "Love Freak."




Honorary "B" Side

"I Want You To Rock Me"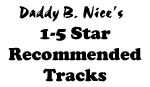 Love Freak


CD: Love Freak
Label: Ecko










I Want You To Rock Me


CD: For Real This Time
Label: CDS











Chuck Strut


CD: The Devil Made Me Do It
Label: Desert Sounds










At The Hideaway


CD: For Real This Time
Label: CDS









A Change Is Gonna Come


CD: For Real This Time
Label: CDS









A Woman Wants A Freak


CD: Woman Wants A Freak
Label: Ecko









Back In The Day


CD: It's A Beach Thang Vol. 4
Label: Ecko









Back Up Lover


CD: Soul Blues Hits Vol. 2
Label: Evidence









Booty Scoot


CD: The Best Of Chuck Roberson
Label: Ecko









Candy Man


CD: I'm Your Candy Man
Label: Ecko









Deep South Southern Soul


CD: Deep South Southern Soul
Label: CDS









Jamming With The Blues


CD: Deep South Southern Soul
Label: CDS









We're Gonna Have A Party


CD: For Real This Time
Label: CDS








Lollipop Man


CD: Expressions Of Yesterday
Label: Cruise On








Love Power


CD: Love Power
Label: Ecko








No Time Like The Present


CD: The Best Of Chuck Roberson
Label: Ecko