NEW!

Corner & Top 10


Top 100 Countdown:
21st Century Southern Soul Artists


Top 100
Southern Soul Songs
21st Century Countdown
(00's – 10's)


Concert Calendar
& Mailbag


Comprehensive Index


New CD Reviews
NEW!


Best of 2013


Index to Artist Guides


Top 100
Southern Soul Artists
(90's - 00's)


Top 100
Southern Soul Songs
(90's – 00's)


Forerunners of
Southern Soul


Best of 2012


Best of 2011


Best of 2010


Best of 2009


Best of 2008


Best of 2006-2007
Southern Soul CD's, MP3's
About the Music
About Us
Links
Home


Sample or Buy



From artists, their familes, friends and fans. . .





From Daddy B. Nice's archives. . .





Over 100 Southern Soul drawings. . .





Original Daddy B. Nice sketches. . .





All caricatures and satirical renderings are untitled. . .





It's a little piece of history. . .





Who want a keepsake, memento or souvenir. . .





To commemorate their time. . .





In the Southern Soul limelight.





Browse through all the Southern Soul satirical sketches in Daddy B. Nice's archives.





Browse through all the Southern Soul sketches in Daddy B. Nice's archives.





Browse through all the Southern Soul collectibles in Daddy B. Nice's Southern Soul Products Store. . .





"My In-Laws (Ain't Nothin' But Outlaws)"
Dr. "Feelgood" Potts
Composed by Robert Potts
June 1, 2010:

"My In-Laws (Ain't Nothing But Outlaws)" has taken over the number-one spot on Daddy' B. Nice's Recommended Singles for Dr. "Feelgood" Potts. From 2007's Going Down To Memphis, where, incidentally, Dr. Potts still performs locally, the blues number has solidified "Dr. Feelgood's" reputation as an authentic blues master who successfully crosses over to the chitlin' circuit-Southern Soul market. Scroll down to "Tidbits #1 for an analysis of the song and its impact.

--Daddy B. Nice

**********************

See "Tidbits" below for the latest updates on Dr. "Feelgood" Potts.

To automatically link to Dr. "Feelgood" Potts' charted radio singles, awards, CD's and other references, go to "Potts, Dr. 'Feelgood'" in Daddy B. Nice's Comprehensive Index.

**********************

Daddy B. Nice's Original Critique:

Dr. "Feelgood" Potts is the father of famed chitlin' circuit singer Sheba Potts-Wright, whose career has eclipsed her daddy's with the success of such hits as "Slow Roll It" and "Lipstick On His Pants." But through it all Sheba has remained loyal to her father, singing stellar back-up on his best recordings.

That extra dimension has enriched Dr. "Feelgood's" music but by no means been the governing factor in its success. Potts is a seasoned musician and performer, and an engrossing character for Southern Soul fans because of his relative obscurity (even within the chitlin' circuit) until signing with Memphis' Ecko Records in the early years of the new century. It's then that his artistic identity began to emerge.

Dr. "Feelgood" Potts plies the bluesman-as-jokester tradition of Bobby Rush, Clarence Carter (the "Strokin'" phase) and chitlin' circuit legend Poonanny, and the song most responsible for Potts' growing notoriety is undoubtedly 2004's "Make It Talk," a well-executed and hilarious rip-off of Theodis Ealey's monster hit, "Stand Up In It." "Rip-off" is not a derogatory word in this instance, but an aesthetic description of the ferocity with which Potts rewrites Ealey's contemporary classic.

"Now I've been hearing a whole lot of talk going around lately," he begins, "about what a woman wants in the bedroom."

"Clarence Carter said he be 'strokin,'
Bobby Rush said he 'be wearing it out,'
Now there's another guy going around
Talking about how a woman wants a man to 'stand up in it.'

But let me tell you what a woman told me. . .
'You can lick it, and you can stick it,
Oh, you can stand up in it all night long,
But if you really want to please a woman,
You've got to make that monkey talk.'"

Stephanie McDee had a minor chitlin' circuit hit a few years ago with a song called "Monkey Talk." The funniest exchange from that track came when Stephanie reported to her "gal" friend:

"This man came up to me the other night,
Told me, 'I see you dancing on the dance floor,
Shaking your thing, popping your coochie.'
He had the nerve to ask me,
'Can I make my monkey talk?'
I told him, 'Yeah, girl,
I can make my monkey talk,
But you will never know it, Joe Brodie.'"

Dr. "Feelgood's" "Dance Your Rump Off" is a dance-jam vehicle in the same vein as "Make It Talk," and although it's less well-known, it's actually even more entertaining. Potts' vocal is full of nuance rare in an up-tempo rocker. He blusters yet he's intimate. The rhythm lurches like a ferry in a bad storm, and daughter Sheba contributes a great back-up vocal.

Potts' "You Can't Keep Your Pants Up (And Your Zipper Shut)" is another "feel-good" number, with lyrics to rival Poonanny or the late Jimmy Lewis:

"She told me,
'You won't pay no bills.
You won't pay no rent.
You go down to the casino,
And gamble off every cent.

'You've been with Big Booty Judy,
And Bad Betty, too.
Well, I've done got tired
Of you giving me the blues.'"

But it's on the slow-tempo number, "Just What The Doctor Ordered," that Dr. "Feelgood" proves he's more than just a novelty act. The honey-thick timbre of his voice fits the sexual attraction at the heart of this relaxed love parable to perfection.

"You're just what the doctor ordered.
One dose of your love, and I got well.
You're just what the doctor ordered,
I know all of my friends, they can tell."

Potts is best doing what he does here, mimicking speech. It's as if he begins each phrase as a monologue and then delivers a singing "spin" to it. The result is a pleasant and soulful authenticity. "Just What The Doctor Ordered" stays in the mind long after you've heard it, and you're left wondering if Dr. "Feelgood" Potts, in the tradition of The Love Doctor, might become the next middle-aged performer to leave a big mark on Southern Soul.

--Daddy B. Nice
About Dr. "Feelgood" Potts
Born in Greenwood, Mississippi, Robert ("Dr. Feelgood") Potts was a musical prodigy from a young age, and in 1967, while attending Mississippi Valley State University, he decided to move to Memphis and pursue a musical career. He performed, recorded, composed, and worked in local television in the Memphis region for many years, and in 1995 he started his own record label.

Potts' first CD, Love Starved (RLP), was recorded in 1997. The cover was notable for its stunning representation of bedroom finesse: a sophisticated-looking Potts, replete in elegant robe, rings, sun glasses and slippers, reposing on the side of a bed.

In 2000 Potts released Blues Me 4 You Lose Me, which remains obscure, and in 2002 Potts signed with Ecko Records. The resulting CD (in effect his debut album) entitled Dr. "Feelgood" Potts, contained a wealth of strong material, including Deep South radio hits "Dance Your Rump Off," "Let's Get A Quickie," and "You Can't Keep Your Pants Up."

Dr. "Feelgood" put out another Ecko LP less than a year later, 2004's Make It Talk, again scoring major airplay on the Stations of the Deep South with the tunes "Make It Talk" and "Just What The Doctor Ordered."

Potts has graced an inordinate number of sampler albums in a very short period of time, among them On The Chitlin' Circuit: Southern Soul Hits, Soul Blues Hits Vols. 2 & 3, Juke Joint Saturday Night Vol. 2 and Beach Music Party: Beach Music Hits, all published by Ecko Records.

Robert "Dr. Feelgood" Potts Discography

1998 Love Starved (RLP)

2003 Dr. "Feelgood" Potts (Ecko)


2004 Make It Talk (Ecko)

2007 Going Down To Memphis (RLP)




Song's Transcendent Moment
"They'll come over to your house
And eat up all of your food.
Then they'll go out in the street
And they will talk about you."
Tidbits
1. January 31, 2008

Like Bobby Rush's 2007 blues CD Raw, Dr. Feelgood's blues CD Going Down To Memphis, (Pottstown 07) made hardly a blip on Southern Soul playlists throughout most of 2007.

While Rush's Raw was the subject of praise from "Living Blues" magazine and the mainstream blues fans, Potts' effort seemed to be in a kind of "limbo."

And then, the funniest thing happened. Potts' "My In-Laws (Ain't Nothin' But Outlaws)" took off, and just kept getting more and more popular.

The question even Dr. Feelgood is undoubtedly asking himself is, "Why?" And, "Why now?"

"My In-Laws" is just a straight blues song you've heard a thousand times before. The most obvious thing it has going for it is the lyrics, which detail the domestic crimes of in-laws, which evidently struck a nerve--a humorous chord--with a lot of listeners.

But important as the lyrics and the message have been to the song's success, they're not the entire reason. Once you get your requisite chuckles from the lyrics a few times, you fall back once more on the basics of the blues exercise. And suddenly you're thinking, "Wow. This guy is good. This band rocks. And this guy knows how to suck on that mouth harp."

The combination of the great execution and great message has resulted in what would have appeared out-of-reach even a year ago: Dr. "Feelgood" on people's lips--not just a little, but a lot. And a hit--"My In-Laws"--that is not only Potts' least derivative (in spite of the blues base) but most probably his biggest ever.

DBN

If You Liked. . . You'll Love
If you liked the the easy-going blues and wry topicality of Chick Willis's "Obama," you'll love Dr. "Feelgood" Pott's "My In-Laws."
Honorary "B" Side
"Just What The Doctor Ordered"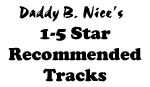 My In-Laws (Ain't Nothin' But Outlaws)


CD: Going Down To Memphis
Label: Robert Potts











Just What The Doctor Ordered


CD: Make It Talk
Label: Ecko


Sample or Buy
Make It Talk








Dance Your Rump Off


CD: Dr. "Feelgood" Potts
Label: Ecko










Make It Talk


CD: Make It Talk
Label: Ecko


Sample or Buy
Make It Talk








You Can't Keep Your Pants Up (And Your Zipper Shut


CD: Dr. "Feelgood" Potts
Label: Ecko









All These Changes


CD: Make It Talk
Label: Ecko


Sample or Buy
Make It Talk







Aphrodisiac


CD: Dr. "Feelgood" Potts
Label: Ecko









Here's Your Drawers


CD: Dr. "Feelgood" Potts
Label: Ecko









Juke Joint Blues


CD: Going Down To Memphis
Label: Robert Potts









Let's Get A Quickie


CD: Dr. "Feelgood" Potts
Label: Ecko









One Way Street


CD: Dr. "Feelgood" Potts
Label: Ecko









Wake Up And Smell The Coffee


CD: Love Starved
Label: RLP


Sample or Buy
Love Starved






A Dab Of Your Love


CD: Going Down To Memphis
Label: Robert Potts








All Blues Saturday


CD: Make It Talk
Label: Ecko


Sample or Buy
Make It Talk






Hoochie Contest


CD: Dr. "Feelgood" Potts
Label: Ecko