NEW!

Corner & Top 10


Concert Calendar
& Mailbag


Comprehensive Index


New CD Reviews


Index to Artist Guides
NEW!


Best of 2022

The Original Chart (1990-2010)

21st Century Chart (2000-2020)
NEW!

The New Generation Chart (2010-2030)
Southern Soul CD's, MP3's


Best of Pages
About the Music
About Us
Links
Home

"Taxi"
J. Blackfoot
November 30, 2011: Obituary

Only a few days after the passing of fellow southern Soul artist Lee "Shot" Williams, J. Blackfoot (born John Colbert) has died following a long struggle with pancreatic cancer on November 30, 2011 at Methodist Le Bonheur Germantown Hospital, east of Memphis, Tennessee.

An iconic figure in southern rhythm & blues for two generations, Blackfoot was the 32nd-ranked artist on Daddy B. Nice's Top 100 Southern Soul Artists, which covered the twenty years from 1990-2010.

--Daddy B. Nice

Memorial Details:

John "J. Blackfoot" Colbert, Jr. (b. November 20th, 1946-d. November 30th, 2011) passed away quietly at a local Memphis hospital surrounded by family, friends and loved ones.

Wake

Friday December 9th @ 4:00 pm - 7:00 pm
Bethlehem Missionary Baptist Church
918 Looney Ave
Memphis, TN 38107

Memorial Celebration

Saturday, December 10 @ 11am
Christ Missionary Baptist Church
480 South Parkway East
Memphis, TN 38106

Funeral Services Provided by
E.H Ford Mortuary Services
3390 Elvis Presley Blvd Memphis, TN 38116 901-345-9958

**************

January 23, 2011:

Ms. Jody's "No Ordinary Pussycat" (w/ J. Blackfoot) wins BEST SOUTHERN SOUL COLLABORATION OF THE YEAR: See 4th Annual "Daddies," Southern Soul Music Awards

*************

See "Tidbits" below for the latest updates on J. Blackfoot, including Daddy B. Nice's enthusiastic comments on Blackfoot's extended version of "Meow," with the deejay-fan prologue (Tidbit #5).

To automatically link to J. Blackfoot's charted radio singles, awards, CD's and other references, go to "Blackfoot, J." in Daddy B. Nice's Comprehensive Index.

***************

Daddy B. Nice's Original Critique

J. Blackfoot reportedly picked up his musical name as a young man walking the tarred sidewalks of Memphis barefoot. And like the perennial "black sheep" of the family, he's not the first "relation" you'd introduce to someone on whom you were trying to make a good first impression with your Southern Soul "family"--that's for sure. Because as much as J. Blackfoot's recordings have a way of working themselves into your memory and eventually your heart, you can never quite shake the notion that by today's standards they're somewhat old-fashioned, a little "dowdy."

Blackfoot's memorable mid-eighties' record, "Taxi" (not to be confused with Harry Chapin's pop hit of the same name), laid down the musical formula for almost all of his hits through the years: taciturn compositions, full-blown orchestral arrangements, and melodies that insinuate themselves slowly but surely into the listener's mind, thanks to Blackfoot's personable sandpaper falsetto.

"Just One Lifetime" rises above Blackfoot's more pedestrian fare like a phoenix from the ashes. It incorporates the trademark elements of Blackfoot's style but pays stricter attention to the technical details, and it adds another dramatic dimension in the voice of Ann Hines, with whom Blackfoot duets. When Hines suddenly joins in Blackfoot's exclamations of love, goose pimples sprout on the back of your neck, so sharp is the contrast between the femininity in her vocal and the masculinity in Blackfoot's.

"Just one lifetime,
Of loving you, honey,
Won't be long enough."

Fans of The Love Doctor's "Lies (You Said It, No I Didn't)," a duet with Thomisene Anderson that electrified the chitlin' circuit in 2001 with its evocation of a somehow-more-vivid, homespun reality, will find its antecedent here in the back-and-forth motion of Hines' and Blackfoot's affecting vocals. And fans of Glenn Jones' ornately produced ballad, "Baby Come Home," will find in "Just One Lifetime" the seeds from which Jones' Southern Soul classic grew.

As "Just One Lifetime" closes, the arrangement dovetails fittingly into an acapella verse with spare guitar and woodblock that could be a primer for Southern Soul vocalists.

"I'll love you until
All the rivers run dry.
Until the sun and the moon
Fall from the sky."

In another Blackfoot song, "Two Different People" from the Same Place, Same Time CD (Basix, 2001), Ann Hines begins provocatively:

"If I ever saw you
In another woman's arms,
I wouldn't get upset,
Because I know you don't mean no harm."

Blackfoot replies:

"If I ever caught you
Plugging on another man,
You'd better run for cover,
Because I don't think I'll understand."

So begins a fascinating give-and-take between "two different people, caught up in a love affair," the female surprisingly confident and tolerant, the male jealous and possessive. And, as in "Just One Lifetime," Ann Hines' folksy vocal--personal, imperfect, and unflinchingly simple--endears the listener with its reality, its sense of "realness".

However, listeners accustomed to the "urban smooth" sound of contemporary R&B should proceed with caution. As sophisticated as Blackfoot's music may sound to an "insider's" ear, "outsiders" may find it as cracked and wrinkled as folk art--the aural equivalent of a sepia-toned, Depression-era photograph.

--Daddy B. Nice
About J. Blackfoot
J. Blackfoot was born John Colbert in 1947 in Greenville, Mississippi and grew up in Memphis, Tennessee. Acclimated into the Memphis music scene in the glory days of Otis Redding, Colbert sang with one of the incarnations of the Barkays, then moved on to become the lead singer of another local group, the Soul Children, notching over a dozen R&B hits beginning in 1968.

In the early eighties Colbert re-invented himself as "J. Blackfoot" and in 1983 he released his debut CD, City Slicker. The single "Taxi" followed and brought Blackfoot widespread R&B recognition. In 1984 "Taxi" climbed into the R&B Top Ten.

Since then, with few exceptions, J. Blackfoot has been remarkably consistent, issuing some dozen or more albums over the intervening years, including Loveaholic (1991, with "Just One Lifetime"), Reality (1995, with "I Messed Up"), Stealing Love (1997, with "Your Mouth Wrote A Check"), Having An Affair (1999, with "Put A Little Something Down On It") and Same Place Same Time (2001, with a charged rendition of "Just Got Paid").

Blackfoot's catalog of material spans twenty years. He is one of the last living links to the Ray Charles-Z. Z. Hill style of "countrified" rhythm and blues, and "Just One Lifetime," written by longtime chitlin'-circuit songwriters Lester Snell and Homer Banks, is one of the most recognized songs in Southern Soul.

Today, with his best work behind him, Blackfoot is generally considered one of Southern Soul's senior statesmen.

Song's Transcendent Moment
"Taxi, take me to my baby's place
Just as fast as you can.
Taxi, don't get me there too late.
Sure don't want to lose her.
The freeway will be quicker.
Her new love is coming to get her.
I'm going out of my mind,
I'm going out of my mind.
She's my reason for living."
Tidbits
1.

September 4, 2006. J. Blackfoot's new album, It Ain't Over Till It's Over, out since April of this year, is a long-overdue "comeback" effort by the performer. I have to admit I had become less enamored with Blackfoot's more recent albums, which seemed to drift away from his strengths (unabashedly sentimental ballads rich in the details of everyday life) for uneven forays into funk and other styles.

Happily, I can report that an album I came to with low expectations has surprised me with its overall excellence, living up to its title It Ain't Over Till It's Over (JEA/Right Now) and more.

Not only does the disc boast great ballads in the vintage Blackfoot style ("Let It Flow," "I'm Just A Fool For You"), but the songwriting and arranging are superb.

The talented back-up singing (Why don't more young artists follow Blackfoot's example?) includes not only J.'s longtime duet-partner Ann Hines, who at this point is as much a part of the Blackfoot style as J. himself, but Lenny Williams, uncredited (on the CD) and fresh off his triumphant 2005 debut single, "Can't Nobody Do Me Like You," not to mention another big artist of 2005, Archie Love.

Bargain-Priced It Ain't Over Till It's Over CD is a stellar addition to the Blackfoot catalog. DBN.

2.

November 25, 2007. The big news from J. Blackfoot in 2007 was his reprise single of "I'm Just A Fool For You" starring Sir Charles Jones, whom we all came to know (via the record) was J. Blackfoot's nephew. The single was even more inspired than Blackfoot's duet with talented vocalist Lenny Williams on the original.

Why? Because the melodious track morphs into Sir Charles Jones' "Is Anybody Lonely" via one of the most compelling bridges--J. phones Sir Charles and they converse while the Blackfoot song dissolves into "Lonely"--heard in any year. Before the Jones' classic meanders back to the Blackfoot original, Sir Charles has tugged on the reader's emotions in ways that have eluded him on his own recent records. And when Sir Charles finally croons that, "Uncle J., I got so tired washing my own damn clothes," he achieves an emotional peak exhilarating by even his own high standards. A must for the Southern Soul aficionado, and a great move by J. Blackfoot!

DBN.

3.

Author's Update: March 1, 2009

Old school, he certainly is, notwithstanding Daddy B. Nice's drawing of him as a much younger man, but J. Blackfoot doesn't let any dust settle on him. In 2006, he teamed up with the extraordinary soul vocalist Lenny Williams to produce a one-of-a-kind ballad, "I'm Just A Fool For You," then in 2007 he turned around and did it again, pairing with his nephew Sir Charles Jones to create one of the great songs of that or any year, "I'm Just A Fool (Part 2)," which featured a grafting of the Sir Charles hit, "Is Anybody Lonely" with the original "I'm Just A Fool." That tune earned Blackfoot a lofty number-two ranking on Daddy B. Nice's Top Southern Soul Singles of 2007.

While 2008 passed without a solo CD, Blackfoot did what he does best, collaborating with his old group The Soul Children on the album Still Standing, which netted a Southern Soul hit late in the year with its first cut, "Long Ride Home."

All of these songs, although melodically varied and interesting on their own merits, evoked J. Blackfoot's constant, career-long characteristics: deep, soulful, gospel-like emotion and everyday domestic-love situations.

However, at this juncture in Blackfoot's career, your Daddy B. Nice would like to feature J.'s signature ballad from long ago, "Taxi." Although I'm never averse to foisting my own opinions on readers, it's a fact that I always keep my ear to the ground, listening and watching for how the public reacts to a performer. And over the last couple of years, I've noticed that whenever I hear a Deep South radio advertisement for a Southern Soul concert featuring J. Blackfoot, the song that the commercial plays in the background is "Taxi," from J.'s ironically-titled debut CD City Slicker way back in 1983. "Taxi" has never grown old--it remains Blackfoot's most durable classic--and when you listen to it today its admirable musicality and personableness are of one and the same fabric as Blackfoot's most recent hits cited above.

Last year your Daddy B. Nice revised Peggy Scott-Adams' number-one Southern Soul song-ranking, electing her first classic, "Bill," as her most representative Southern Soul offering. And in the same vein, I'm doing the same with J. Blackfoot.

Therefore, I've made two changes to my catalog-ranking of J. Blackfoot songs. I've moved the previous number-one and number-two-rated Blackfoot songs, "Just One Lifetime" and "Put A Little Something Down On It" (under whose influence I was particularly effected in the mid-00's) downward a couple of notches, and I have moved "Taxi" into the number-one spot and "I'm Just A Fool" (you pick your version) into the number-two spot. This, I think (at this time, at any rate), is the most accurate barometer of the esteem in which these songs are held, and in fact the music with which J. Blackfoot's audience most enthusiastically connects with. You can see these changes in Daddy B. Nice's Recommended Tracks (right-hand side of this page) and in Daddy B. Nice's Top 100 Southern Soul Singles (90's--00's), where Blackfoot holds down the celestial-neighborhood, number-32 spot.

--Daddy B. Nice.

4.

New Album Alert: August 23, 2009, 2009

Wolf Wolf Meow

Bargain-Priced Wolf Wolf Meow CD

First single to watch: "Dirty Woman" (with David Brinston)
Daddy B. Nice's #7 "Breaking" Southern Soul Single for August 2009

Single to watch: "Meow"

5.

September 26, 2009

Here are Daddy B. Nice's comments on J. Blackfoot's Extended Version of "Meow," the title cut of his new album, from a special story posted on Daddy B. Nice's 2009 Corner entitled "Scratchin' for Singles."

After Chico and I had discussed a few other new singles, including Falisha's "You Don't Miss Your Water" and Frank Lucas's "The Man With The Singing Ding-A-Ling," and O. B. Buchana's new one, "Did You Put Yo Foot In It" (with Mr. Sam), not to mention Stan The Man's "Body Work, Body Shake," I asked him to play J. Blackfoot's "Meow." I'd heard an extended "talk" version in particular that I liked.

"This guy (J. Blackfoot) is continually overlooked," I told Chico. "But year after year, he comes up with something great."

Chico played the song on the air, but before the first verse was completed, I called him back.

"I'm a dissatisfied customer, Chico. That's not the version I want to hear. There's another version, with a long dialogue between Dr. J as the deejay and a lady listener. She's calling in for help with her sex life. It's like the old Jimmy Lewis-Peggy Scott-Adams routines."

(See Peggy Scott-Adams' "Mr. Right Or Mr. Wrong.")

"It's really great and really funny. It really emphasizes the underlying groove of the song."

Chico hadn't heard it, so of course J. Blackfoot's extended version of his "Meow" became the new single to go scratchin' for.

Here's how that extended dialogue goes:

"Is this Dr. J.?"

"You got it." (J. says)

"Look, Dr J. You don't know me, but my name is Angie."

"Wait a minute," (J. says.) "Who recommended me to you?"

"Well, my friend Deniece said she had this cat problem one time, and you took care of it."

"Yes, I remember your friend." (J. says) "I took care of her. I took care of her right. Now what seems to be your problem?"

Remember. This dialogue is taking place over the rhythm track--one of the most powerful in Southern Soul in recent years, and reminiscent of Carl Sims' "It Ain't A Juke Joint (Without The Blues)."

"Well, see. . . " (Angie says, getting ever more passionate and inarticulate.) "Look, Dr. J., I'm just going to be honest with you. I'm having cat problems. See, my man Houston, every time that happens. . . Grrrrrrrrrrrrrrr. He knew just what to do. And when she was cold at night, he knew how to make her real warm."

"In other words, he don't love you like he used to love you." (J. says) "He don't pay attention to you like he used to. I'm going to tell you. You called the right man. You called Dr. J. And I'm going to take care of you right. Now if you want me to come to you, or if you want to come to me, it don't matter. I do house calls, 24/7, I'm available day and night. You call me, I'm going to do it to you right."

"Oh, Dr. J." (Angie says in a near-swoon.)

And then the song segues into the first verse of "Meow." And you would not believe the jolt of adrenaline it gives the song. We're talking a whole 'nother level. "Meow" is a good song on its own merits, but it is a great song with the chitlin' circuit-style dialogue as a prologue.

Evidently, the record label is pushing a radio single with just a snippet of the deejay gimmick at the beginning and the end. They are making a huge mistake if they don't release the extended version ASAP. Then, when J. gets to that great line--"I'm a dog, I'm genuine, I'm canine"--it packs a knockout punch.

The verson of the song Chico is playing (with a small prologue in which J. says, "I don't discriminate, I facilitate.") is not the long version I've described above.

I've also heard the same version played by Handyman at WMPR (Jackson, Ms.).

Proactive readers and listeners can hear the extended version on J. Blackfoot's new album, Wolf Wolf Meow, Track #9, "Meow (Pussy Cat Remix)".

Pleazzzzzzzz, Dr. J. Send deejays the extended version!

--Daddy B. Nice



If You Liked. . . You'll Love
If you liked Ivory Joe Hunter's "Since I Met You Baby," you'll appreciate where J. Blackfoot is coming from in "Just One Lifetime."
Honorary "B" Side
"I'm Just A Fool For You (w/ Lenny Williams)"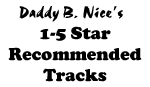 Taxi


CD: City Slicker
Label: Sound Town


Sample or Buy
City Slicker




I'm Just A Fool For You (w/ Lenny Williams)


CD: It Ain't Over Till It's Over
Label: JEA/Right Now






Just One Lifetime


CD: Loveaholic
Label: Basix






Meow


CD: Woof Woof Meow
Label: JEA/Right Now






Two Different People


CD: Same Place, Same Time
Label: Basix






Let It Flow


CD: It Ain't Over Till It's Over
Label: JEA/Right Now






Man Made Over


CD: It Ain't Over Till It's Over






Your Mouth Wrote A Check


CD: Stealing Love


Sample or Buy
Stealing Love




Better To Have And Not Need


CD: At His Best
Label: Basix






Just Got Paid


CD: Same Place, Same Time
Label: Basix






May The Best Man Win w/ Lynn White


CD: Lynn White: At Her Best
Label: Blues Works






Meow


CD: Woof Woof Meow
Label: JEA/Right Now






If It Don't Make Dollars


CD: It Ain't Over Till It's Over
Label: JEA/Right Now






Let Me Put You Up (For The Night)


CD: At His Best
Label: Basix