NEW!

Corner & Top 10


Concert Calendar
& Mailbag


Comprehensive Index


New CD Reviews


Index to Artist Guides
NEW!


Best of 2014


Top 100 Countdown:
21st Century Southern Soul Artists


Top 100
Southern Soul Songs
21st Century Countdown
(00's – 10's)


Top 100
Southern Soul Artists
(90's - 00's)


Top 100
Southern Soul Songs
(90's – 00's)


Forerunners of
Southern Soul
Southern Soul CD's, MP3's
Best of Pages
About the Music
About Us
Links
Home


Sample or Buy



From artists, their familes, friends and fans. . .





From Daddy B. Nice's archives. . .





Over 100 Southern Soul drawings. . .





Original Daddy B. Nice sketches. . .





All caricatures and satirical renderings are untitled. . .





It's a little piece of history. . .





Who want a keepsake, memento or souvenir. . .





To commemorate their time. . .





In the Southern Soul limelight.





Browse through all the Southern Soul satirical sketches in Daddy B. Nice's archives.





Browse through all the Southern Soul sketches in Daddy B. Nice's archives.





Browse through all the Southern Soul collectibles in Daddy B. Nice's Southern Soul Products Store. . .





"Baby Come Home"
Glenn Jones
Composed by Glenn Jones and Raymond Watkins
October 1, 2010:

Never underestimate the power of the printed word. After all these years of undeserved obscurity and unavailability, chronicled on these pages by Daddy B. Nice, Glenn Jones' Southern Soul masterpiece "Baby Come Home" is available. Now everyone can with the click of a mouse listen to the YouTube version of this wonderful tune: the epitome of Southern Soul.

"Baby Come Home" by Glenn Jones

--Daddy B. Nice

********************

(Scroll down to "Tidbits" section for the latest updates on Glenn Jones.)

********************

Daddy B. Nice's Original Critique:

Prior to 1998 and the release of "Baby Come Home," Glenn Jones' considerable body of material wasn't of much interest to the Southern Soul-inclined listener. The typical Jones song was an "urban smooth" ballad in the mold of Freddy Jackson and Luther Vandross.

But like so many other black artists approaching the new millennium, Glenn Jones sniffed the R&B currents blowing Southern Soul his way and took a big chance, left the major labels that had been his bread and butter, and signed with a small label (SAR).

The result, "Baby Come Home," from the CD It's Time, became a one-of-a-kind hit single (#5 on the R&B charts) and one of the "Ten Most Played Records For 2000," according to "Billboard Monitor."

And yet, even the commercial and critical accolades given this single failed to do justice to the one-on-one, plaintive intimacy the song evoked in listeners.

The song concerned an ambivalent lover's plea for reconciliation.

"Yes, she's out of my life,
But I can't get her out of my mind.
There's no use in trying,
Just a waste of time."

Jones' lean, yearning tenor was the centerpiece, but the song (written by Jones and Raymond Watkins) was also stunningly original in musical conception. An oboe-like melodic line, a faux-violin swirl of background color, and not least a stirring female chorus (Pam Trotter, Audrey Wheeler, and Cheryl Jones) helped to lift the unique melody far above the standard ballad fare.

"So then I go out in the streets,
And to all the strangers I meet,
When they smile at me,
I can't help but think how it used to be."

If "Baby Come Home" fell a little short of the artistic heft of Sam Cooke's "A Change Is Gonna Come," Tyrone Davis's "Where Are You, Lady," or Latimore's "Let's Straighten It Out," it nevertheless deserved to rank as one of the worthiest successors to those Southern Soul benchmarks.

And the fact that Jones has neither preceded nor succeeded "Baby Come Home" with anything remotely in its class is simply further evidence that a great song only comes along once in a great while--sometimes only once in a lifetime.

Glenn Jones marks the Southern Soul borderline with classic slow-jam urban R&B. Anyone who wonders what makes a Southern Soul ballad different from an "urban" ballad will find the answer by comparing the gospel-tinged R&B classic "Baby Come Home" with just about any other song in Jones' own urban-smooth catalog.

--Daddy B. Nice
About Glenn Jones
Glenn Jones was born in 1962 in Jacksonville, Florida. He began his career as a gospel singer, working with the Reverend James Cleveland and the Mighty Clouds of Joy, among others. Urged to try secular music by producer Norman Connors, Jones signed with RCA in 1983, issuing a series of R&B LP's and songs, including "I Am Somebody," "Talk Me Into It," and "Show Me," a duet with Dionne Warwick.

Jones moved to Jive in the late eighties, solidifying a reputation as a soulful, slow-ballad crooner, reaching the R&B runner-up spot in 1987 with his hit, "We've Only Just Begun." He recorded another hit, "Here I Go Again," for Atlantic.

But it was the release of "Baby Come Home" on the It's Time CD (SAR, 1998) that pushed Jones into the heart of Southern Soul rotations on the Stations of the Deep South. The LP sold 200,000 copies, a remarkable feat for adult R&B, and the single endeared Jones to the growing ranks of chitlin' circuit-oriented deejays.

In 2002 Jones signed with Peak Records, yet another independent label. He continues to be based in Philadelphia.

Glenn Jones' Discography:

1983 Everybody Loves a Winner RCA

1984 Finesse RCA


1986 Take It From Me RCA


1987 Glenn Jones Jive/Novus


1990 All for You Jive/Novus


1992 Here I Go Again Atlantic


1994 Here I Am Atlantic


1996 Feel the Fire P-Vine


1998 It's Time SAR


2002 Feels Good Peak


2006 Forever: Timeless R&B Classics Shanachie


Song's Transcendent Moment
"So baby, come home,
Where your heart belongs to me.
Home is where you know
You have a family."

Tidbits
1. August 2, 2006. Glenn Jones has a new album out on Shanachie Records. The disc, Forever: Timeless R&B Classics, features old-school ballads such as "Where Is The Love?" and the Bobby Womack standard, "I Wish He Didn't Trust Me So Much." Sadly, Jones does not include "Baby Come Home," his own peerless classic, even though the recording isn't on any other available discs.

2. May 19, 2007. Your Daddy B. Nice still gets a lot of "friendly" criticism for having Glenn Jones on the Top 100 Southern Soul chart. All of it vanishes the minute I hear "Baby Come Home" come over the radio, as I did one night last week while listening to WMPR (Jackson, Mississipi) on the Internet. It was a Saturday night (when I rarely tune in) and a deejay I had never heard of before (I believe he later said his name was C. E. Robinson) was playing some very good soul oldies. He played the Chi-Lites' "Have You Seen Her?" (which sounded fantastic) and then queued into Glenn Jones' "Baby Come Home."

Talk about pure Southern Soul. The vocal. The tempo. The melody. The sliver of organ-sounding keyboard. The female back-up, especially. "Baby Come Home" is a veritable primer on how to write and arrange a Southern Soul ballad. You can hear the template underlying the hits of today--"It's Okay" by Steve Perry for example.

But let's face it: "Baby Come Home" is on a whole other level. I don't know if artists like Glenn Jones and Luther Vandross will always be on this Top 100 chart (Vandross' "Think Of You" is his one-shot Southern Soul crossover hit), but I do know a chart based on the great Southern Soul songs (which this chart is) can certainly justify including them. And bottom line, folks: they play 'em on the radio in the dirty, deep South. DBN.

3. Author's Update: August 31, 2008

I was very pleased this week to hear an advertisement of an upcoming Southern Soul concert headlining Glenn Jones. (August 31, 2008, in Vicksburg, with O. B. Buchana, Cupid and Lebrado. See Daddy B. Nice's Concert Calendar.) The premier track from the ad was Jones' singular Southern Soul classic, "Baby Come Home." To hear this song (described below) promoting a concert a decade after its release was sweet indeed, and proof that Jones still has relevance for the Southern Soul fan.

Like the late Luther Vandross's hit, "Think About You," "Baby Come Home" is that rare crossover-into-Southern Soul track by a predominately "urban-smooth" artist, and like Vandross's classic, it still swoops past the Southern Soul rank and file competition like a conquering hero, illustrating for one and all what pure verse-and-chorus R&B can be when performed to perfection. DBN.




If You Liked. . . You'll Love
If you liked Joe Cocker's and Jennifer Warnes' "Up Where We Belong," you'll be equally drawn to Glenn Jones' "Baby Come Home."
Honorary "B" Side
"Oh Girl"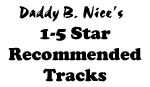 Baby Come Home


CD: It's Time
Label: SAR










Oh Girl


CD: Glen Jones
Label: Jive/Novus










I Wish He Didn't Trust Me So Much


CD: Forever: Timeless R&B Classics
Label: Shanachie









Every Time


CD: Feels Good
Label: Peak









I Think It's Time


CD: It's Time
Label: SAR








24/7


CD: It's Time
Label: SAR








Feels Good


CD: Feels Good
Label: Peak








Here I Go Again


CD: Here I Go Again
Label: Atlantic








We've Only Just Begun (The Romance Is Not Over)


CD: Glen Jones
Label: Jive/Novus