NEW!

Corner & Top 10


Concert Calendar
& Mailbag


Comprehensive Index


New CD Reviews


Index to Artist Guides
NEW!


Best of 2015


Top 100 Countdown:
21st Century Southern Soul Artists


Top 100
Southern Soul Songs
21st Century Countdown
(00's – 10's)


Top 100
Southern Soul Artists
(90's - 00's)


Top 100
Southern Soul Songs
(90's – 00's)


Forerunners of
Southern Soul
Southern Soul CD's, MP3's
Best of Pages
About the Music
About Us
Links
Home


Sample or Buy



From artists, their familes, friends and fans. . .





From Daddy B. Nice's archives. . .





Over 100 Southern Soul drawings. . .





Original Daddy B. Nice sketches. . .





All caricatures and satirical renderings are untitled. . .





It's a little piece of history. . .





Who want a keepsake, memento or souvenir. . .





To commemorate their time. . .





In the Southern Soul limelight.





Browse through all the Southern Soul satirical sketches in Daddy B. Nice's archives.





Browse through all the Southern Soul sketches in Daddy B. Nice's archives.





Browse through all the Southern Soul collectibles in Daddy B. Nice's Southern Soul Products Store. . .





"Wiggle, Wiggle, Wiggle, Jiggle, Jiggle, Jiggle"
Mr. X
Composed by Mark Safford
Everyone starts somewhere; everyone begins as an "unknown." Mark Safford, aka Mr. X, got his start in Southern Soul by submitting his songs to Lewis Clark, aka The Love Doctor, a fellow gospel singer who helped jump-start the whole Southern Soul movement in the early OO's with the compositions of another young man who went on to become a star: Sir Charles Jones. Jones wrote "Slow Roll It," the Love Doctor's signature tune.

However, by the mid-point of the new decade, The Love Doctor--a singer, not a writer--was already bereft of good new material. He had prolonged his career with the Jimmy Lewis-written vehicle, "Lies (You Said It, No I Didn't)," with the legendary back-up singer, Thomisene Anderson, in 2004.

That same year he'd put out a gospel album, There's No One Like Mama, a collection of church hymns surrounding a title tune which may or may not have been scavenged from the Sir Charles Jones gospel-tinged song of the same time: "Take Care Of Mama." And a couple of years later, The Love Doctor would release a forgettable album of very poor material entitled Stupid (Hep'Me, 2007).

But in between There's No One Like Mama and Stupid The Love Doctor discovered the songwriting of Mark Safford, an Alabama gospel singer who also had visions of making it in secular music. The results of this collaboration were Let's Have Some Fun (Hep'Me, 2005) and At His Best (Hep'Me), two Love Doctor albums that not only exclusively featured the songs of Mark Safford but in so doing extended The Love Doctor's career.

The next year, 2008, marked Safford's "coming-out" party. On August 30th of that year your Daddy B. Nice posted the following:

ALERT:

Senator Jones has just issued a CD by an artist named "Mr. X." Many of the songs are taken track for track from the Love Doctor's At His Best and Let's Have Some Fun CD's. The arrangements are almost identical. Only the vocals are different. The singer is definitely not The Love Doctor. What's going on in Love Doctor/Senator Jones-land? Stay tuned. . . DBN

A few months later, I posted the following:

Update: January 10, 2008 (Re: Mr. X mystery artist re-recording The Love Doctor's songs)

The artist Mark Safford has taken on the pseudonym Mr. X. He has already published two CD's, the first one Sit Down On It--described below--and the second one, Wiggle Wiggle Wiggle Jiggle Jiggle Jiggle, making two new CD's in one year. Here is what I wrote about Mr. X in Top 25 Singles of 2008:

"Talk about amazing debuts. Mr. X took a set of songs the Love Doctor had left as flat and wooden as Pinocchio and breathed fresh life into them. It was almost as if the Love Doctor and Senator Jones had handed the relay baton to Mr. X (Mark Safford) and said, "Go for it." "Make It Do What It Do," "Sweetie Pie" . . . All underwent incredible transformations, but that wasn't enough for the technically-breathtaking Mr. X. He released a second CD a few months later, with the wonderful, chitlin' circuit-friendly dance cut, "Wiggle Wiggle Wiggle Jiggle Jiggle Jiggle," that overshadowed anything on the first disc."

In "This Little Place" Mr. X sings:

"I know a place
Where we can go.
It sits out on
The side of the road.
We can party
All night and day.
24 hours
The music will play.
Grown folks party
At this club.
Don't need no gangsters
And don't need no thugs."

You know you're getting the guy-next-door, not the the teenager-next-door, when you listen to Mr. X's music. Mr. X has the chitlin' circuit running like blood through his veins.

Listen to Mr. X singing "Wiggle Wiggle Wiggle, Jiggle Jiggle Jiggle" on YouTube while you read.

"Girl I like the way you move
When you're dancing on the dance floor.
The way you move your sexy body
Oh, it puts me in the mood.

"You got on your red dress, baby
And you're stepping in your high-heeled shoes.
I don't know how you do it,
But I sure like the way you move.

--Mr. X sings in "Wiggle Wiggle Wiggle, Jiggle Jiggle Jiggle."

Musically, Mr. X songs seldom fail. "Wiggle" is straight, classic, Motown-inspired r&b with a relaxed Southern feel, a hybrid you never hear nowadays outside the South, and therefore all the more precious.

"Wiggle Wiggle Wiggle, Jiggle Jiggle Jiggle" features a vocalist in the mode of Marvin Sease, not hyper-talented but on the other hand perfectly calibrated for accessible, everyman-friendly performance.

"Sit Down On It" is cut from the same mold. The vocal is strong and clear but never overblown or intimidating. Both songs highlight a whiskey-toned tenor that never breaks its hammer-lock hold on the simple things in life related in simple, direct fashion.

"Sweety Pie" adds a touch of amorous vulnerability to Mr. X's oeuvre, although his habit of delivering notes without vibrato or modulation of any kind (a technique he borrowed from The Love Doctor) keeps the song grounded and somewhat one-dimensional.

"This Little Place" features the same simplistic style in praising a "hole-in-the-wall" juke joint.

It's possible the lack of ornamentation in Mr. X's vocals may deter some potential fans. As with The Love Doctor, Mr. X is searching for a rough-hewn, throwback style, a style that couldn't be further from the dominant urban R&B of the last two decades, from Luther Vandross to R. Kelly.

Mr. X's "Make It Do What It Do" grafts this country-R&B style to the salt-of-the-earth experience of common people in a way that is guaranteed to separate fans from detractors:

"We've been together
For so long.
Don't want you to ever
Leave me alone.

Gotta make our love
Last for a lifetime.
Hold it together,
Don't let it unwind."

This is straight-ahead love and commitment. No satire, no irony.

"I gave you everything,
Everything that you want.
And I gave you everything
That you need.

We've got to hold on,
We've got to be strong,
And learn not to never
Treat each other wrong."

Then comes the chorus, a phrase that pulls together all of the confounding ambiguity and reverse-elitism and dark mystery of the poor Black South.

"Make it do what it do.
Make it do what it do.
Just me and you.

Make it do what it do,
Me and you.
Make it do what it do.
Just me and you."

Then come the really illuminating stanzas:

"Makes no difference
If the sun don't shine.
I'm gonna keep you
From the welfare line.

Keep clothes on your back,
And shoes on your feet.
Keep food on the table
For the kids to eat.

I'm going to do
All of these things
Because I know you're so sweet
And I don't want to ever
See you out on the street."

It's sad to think that only a handful of current Southern Soul stars could write lyrics this unashamedly blue-collar: Unckle Eddie, Bobby Rush, Ms. Jody. And nothing could obviously be farther from the bling-bling, Benz consumer gratification of most mainstream urban r&b.

"Makes no difference
If the sun don't shine.
I'm gonna keep you
From the welfare line."

This is one of the most vivid and uncompromising couplets in contemporary rhythm and blues.

--Daddy B. Nice
About Mr. X
Mark Safford, aka Mr. X, was born and raised in Selma, Alabama, an area rich in traditional gospel groups. A longtime Gospel singer, Safford was (and remains) lead singer and manager of the Selma-based trio The Joyful Sounds.

Safford began writing secular rhythm and blues songs and in 2005 his compositions were featured on The Love Doctor's Let's Have Some Fun album, released on the Senator Jones label, Hep'Me Records.

The Love Doctor, also known as gospel singer Lewis Clark, reprised many of those Safford-written songs in 2007 on his At His Best CD.

Safford made his debut as the solo artist Mr. X on Senator Jones' Hep'Me Records in 2008. Sit Down On It, which collected the same songs released by the Love Doctor two years earlier, was immediately followed by Wiggle Wiggle Wiggle, Jiggle Jiggle Jiggle, which featured the Southern Soul single and title tune and other Safford songs not included on Sit Down On It.

Mark Safford joined Tony Gideon's Sound Mindz label in 2010, releasing a retrospective album titled The Best of Mr. X.


Song's Transcendent Moment
"Hey, fellas in the club,
Sipping on your drinks.
When they see your sexy body moving, baby,
I know what they think.

But you don't never stop moving.
You just never stop your grooving.
But if one of those fellas
Could take you home tonight,
Ain't no telling
What they might do.

When you wiggle wiggle wiggle,
From side to side,
And you jiggle jiggle jiggle,
You make the grown men cry."


If You Liked. . . You'll Love
If you liked Tyrone Davis' "Banging The Headboard," you'll love Mr. X's "Wiggle Wiggle Wiggle, Jiggle Jiggle Jiggle."


EDITOR'S NOTE

Over the last year I've been dropping hints to the younger musicians.

"Be watching because there's going to be something coming on the site that'll be a real blessing for the younger people."

And I've also been telling a lot of deserving new artists to bide their time, that their day to be featured in a Daddy B. Nice Artist Guide was coming, and long overdue.

Now, at last, the day has come.

The great Southern Soul stars are mostly gone. There's a new generation clamoring to be heard.

Rather than waiting years to go online as I did with the original Top 100, this chart will be a work-in-progress.

Each month five new and never-before-featured artists will be showcased, starting at #100 and counting down to #1.

I estimate 50-75 new Artist Guides will be created by the time I finish. The other 25-50 Guides will feature artists from the old chart who are holding their own or scaling the peaks in the 21st Century.

Absent will be the masters who have wandered off to Soul Heaven. And missing will be the older artists who for one reason or another have slowed down, become inactive or left the scene.

The older generation's contributions to Southern Soul music, however, will not be forgotten.

That is why it was so important to your Daddy B. Nice to maintain the integrity of the original Top 100 and not continue updating it indefinitely.

(Daddy B. Nice's original Top 100 Southern Soul covered the period from 1990-2010. Daddy B. Nice's new 21st Century Southern Soul will cover the period from 2000-2020.)

When I constructed the first chart, I wanted to preserve a piece of musical history. I heard a cultural phenomenon I was afraid might be lost forever unless I wrote about it.

There will be no more changes to the original chart. Those performers' place in Southern Soul music will stand.

But I see a new scene today, a scene just as starved for publicity and definition, a scene missing only a mirror to reflect back its reality.

The prospect of a grueling schedule of five new artist pages a month will be daunting, and I hope readers will bear with me as I gradually fill out what may seem at first inadequate Artist Guides.

Information from readers will always be welcome. That's how I learn. That's how I add to the data.

I'm excited to get started. I have been thinking about this for a long time. I've already done the bulk of the drawings.

In a funny way, the most rewarding thing has been getting back to doing the drawings, and imagining what recording artists are going to feel like when they see their mugs in a black and white cartoon. Hopefully----high! An artist hasn't really "made it" until he or she's been caricatured by Daddy B. Nice.

In the beginning months, the suspense will be in what new stars make the chart. In the final months, the suspense will be in who amongst the big dogs and the new stars is in the top twenty, the top ten, and finally. . . the top spot.

I'm not tellin'.

Not yet.

--Daddy B. Nice

Go to Top 100 Countdown: 21st Century Southern Soul

Honorary "B" Side
"Sit Down On It"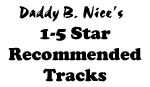 Wiggle, Wiggle, Wiggle, Jiggle, Jiggle, Jiggle


CD: Wiggle, Wiggle, Wiggle, Jiggle, Jiggle, Jiggle
Label: Hep'Me











Sit Down On It


CD: Sit Down On It
Label: Hep'Me


Sample or Buy
Sit Down On It









This Little Place


CD: Wiggle, Wiggle, Wiggle, Jiggle, Jiggle, Jiggle
Label: Hep'Me










Can You Slip Away for Christmas


CD: Sit Down On It
Label: Hep'Me


Sample or Buy
Sit Down On It








Make It Do What It Do


CD: Sit Down On It
Label: Hep'Me


Sample or Buy
Sit Down On It








She Put A Stroke On Me


CD: Wiggle, Wiggle, Wiggle, Jiggle, Jiggle, Jiggle
Label: Hep'me










Sweety Pie


CD: Sit Down On It
Label: Hep'Me


Sample or Buy
Sit Down On It







Another Lonely Night


CD: Best Of Mr. X
Label: Sound Mindz









Can We Dance To A Slow Song


CD: Wiggle, Wiggle, Wiggle, Jiggle, Jiggle, Jiggle
Label: Hep'Me









I Wanna See Whatcha Working With


CD: Best Of Mr. X
Label: Sound Mindz









It Takes More Than A Notion


CD: Wiggle, Wiggle, Wiggle, Jiggle, Jiggle, Jiggle
Label: Hep'Me









Let's Stay Together


CD: Sit Down On It
Label: Hep'Me


Sample or Buy
Sit Down On It







Louisiana Festivities


CD: Sit Down On It
Label: Hep'Me


Sample or Buy
Sit Down On It